Mirasol Resources (OTCPK:MRZLF) is a mineral exploration company that follows the "prospect generator" business model, which dilutes their interest in their projects substantially but also cuts down on costs (and risk) by having larger mining companies "earn in" to the project by taking on the expenses of later-stage drilling to further define the economic feasibility of a project. Basically, prospect generators allow larger mining companies to earn 70%+ ownership of their property by making payments and spending money developing the project.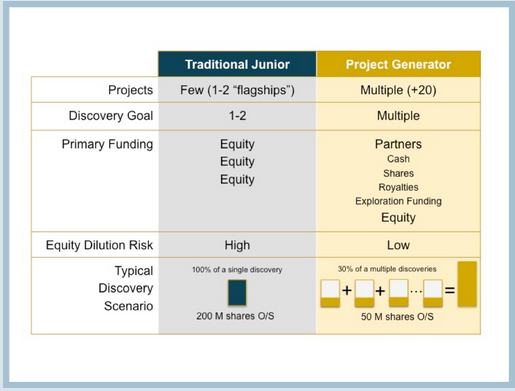 Mirasol Resources might be the safest of the prospect generators because of their large cash hoard. The company had more than C$18M in cash and only C$0.7M in liabilities as of December 31st, 2015. The company currently has three projects that are moving forward: the Virginia Project in Santa Cruz, Argentina (with ~15M ounces of silver); the Claudia Gold Project in Santa Cruz, Argentina, currently being developed by a subsidiary of AngloGold Ashanti (NYSE:AU); and the headline Atlas Gold/Silver Project in Chile, currently being developed by Yamana Gold (NYSE:AUY).
While I have the utmost respect for the company and its management, and believe it is the highest quality, safest way to gain exposure to mineral exploration in South America, I think it will underperform the gold/silver mining sector in the near term. While I wouldn't recommend shorting the company (or any gold/silver miner, as the space is poised to continue its run over the next few years), I believe investors should sell their positions at these levels in favor of other companies that have a better chance of outperforming the sector in the near term.
My reasons for this recommendation are very simple: the company's partner in the Atlas Project, Yamana, will probably not be able to drill out and further define the project in Chile during the South American winter (more specifically, there shouldn't be any drilling from early July to early October). The lack of news on this company's headline project might keep the share price down during this time period.
It's not all bad news, though. Yamana's drilling through December of last year yielded one pretty interesting hole (out of six), with 150+ grams of silver per ton of ore over 14 meters (three of the other five holes had notable mineralization, too, but they were in a completely different area, and either too deep or too low grade to be game-changing), and their drilling program through March tested this high-silver area more extensively, but I believe that anything but spectacular results will be shrugged off by the market.
Even though we seem to be nearing the end of the vicious bear market in gold and miners, investors still don't seem to care much about anything but the best of drill results. Nevertheless, it is definitely worth mentioning. The results of the January-March drilling should be out in May or June, and they could have an effect on Mirasol's share price, but I personally don't expect them to.
It is also encouraging to see that Yamana has drilled a lot more than they were contractually obligated to. With over 2,500 meters drilled through December, and another 2,500 meters expected to have been drilled through last March, Yamana drilled more than double the 2,000 meters they were contractually obligated to. I believe Yamana is truly committed to go through with the 51% earn-in agreement, which has them spending $10M exploring this project and paying $2M to Mirasol in total.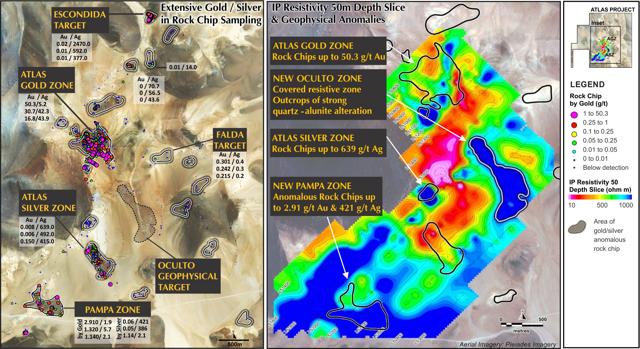 Yamana wants to make more high grade gold/silver intercepts to confirm the resources and economic viability of making this a mine. Source
The problem I have with Mirasol in the near term, however, is the exact timeline of these payments. The details of the contract (available on Sedar) make it clear that Yamana has paid less than $200K to Mirasol thus far ($25K in March 2015, and $155K in March 2016). Mirasol will receive another $1.8M+ if Yamana completes the 51% earn in, but those payments won't be owed until much later ($400K in March 2017, and $1.4M+ in March 2018).
Basically, incredible drill results from earlier this year could bump the stock up, but there's also the risk Yamana gives up on the earn-in agreement entirely, too, if the drill results underwhelm (or gold prices tank). I don't give either of these scenarios a very high chance of playing out, so let's assume they don't. If that's the case, the project will be on hold until drilling resumes around late October. This is not very encouraging for Mirasol's short-term prospects.
Let's look at Mirasol's other two significant projects now.
The most recent partnership they've formed is with a subsidiary of AngloGold Ashanti for their Claudia Project in Santa Cruz, Argentina. Their March 1st announcement of the deal was certainly welcome news for investors, as the news flow for this company was quite sparse before then. But again, when we dive into the details, we see again that the initial commitments from their joint venture partners are quite minimal. AngloGold Ashanti will pay Mirasol $100K and commit $2M to exploring the property within the first year, with a $300K payment and $3M exploration expenditure to take place in 2017, and a final $600K payment by March 2018. Considering the deal was just signed a little over a month ago, we can't expect drill results for several months. No help there.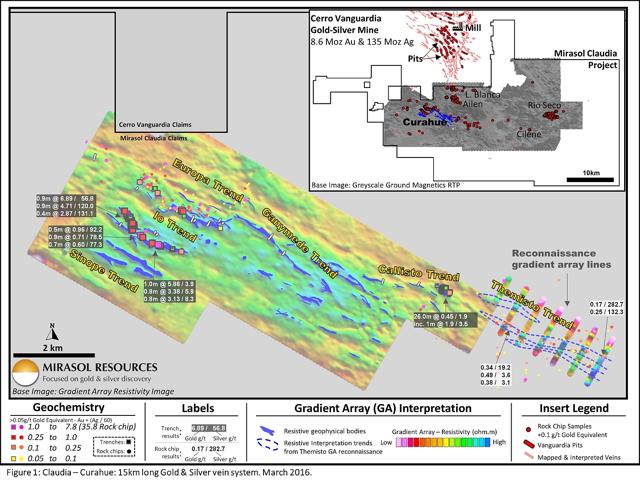 As you can see, the Claudia Gold Project is a perfect fit as an expansion of AngloGold Ashanti's Cerro Vanguardia mine. Source
I just want to point this out to you one more time: the company is still on a rock-solid foundation, with stellar management and C$18M in cash, and I would ultimately recommend the company to long-term investors. Nevertheless, with only a few hundred thousand coming in this year, and regular cash burn of C$3M per year, I don't think this bodes well for the company's share price in the near term.
Let's take a quick look at Mirasol's third major project, the Virginia Project, also in Santa Cruz, Argentina. The development of this project is more advanced than the others, but perhaps less exciting due to the lack of a strategic partner, and its size. With only ~15M ounces of silver resources, it probably won't be of interest to a large mining company. It might have worked as an expansion to an existing mine, but it's not that close to any other operations. Goldcorp's (NYSE:GG) Cerro Negro mine is about 50km away, so perhaps close enough to truck the ore, but aside from the small size, there are other problems with this proposal: Cerro Negro is primarily a gold mine, so the mill there might not work well with Virginia's silver-rich ore, and Goldcorp probably wouldn't be interested in adding silver to their production profile right now even if geology and recoveries weren't a problem.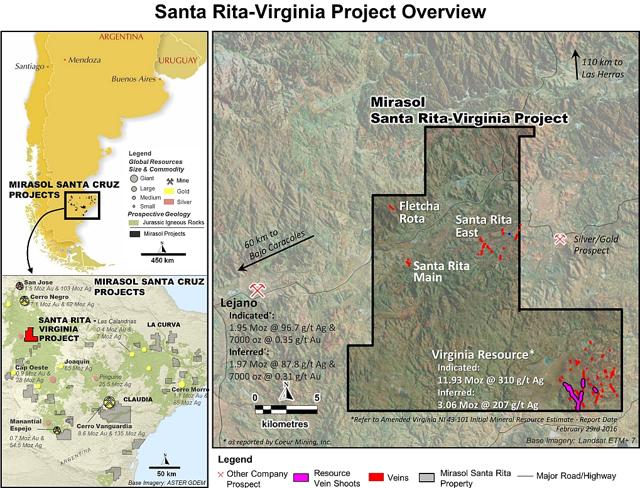 Mirasol needs to increase the size of the resource, and silver prices need to go up, before this project interests a potential partner. Source
Also, it's also worth mentioning the company's Rubi Project in Chile. It has the potential to be a massive porphyry copper mine, and it's just a matter of time before they find another partner to continue developing it, but since interest in building a copper mine is low right now due to the current pessimism on the copper price, I do not believe they will find a joint venture partner in the near term.
Eventually, this project might be the biggest and most important one for the company, but confidence in the copper price needs to return before it becomes exciting again. The company also has their La Curva Gold Project available, but considering its location, I don't see a partner stepping in until later. Their other projects are too early-stage to warrant a joint venture.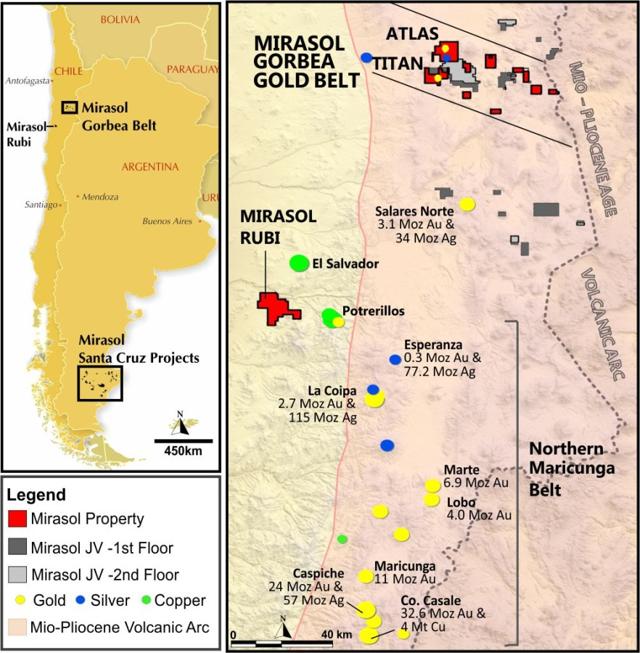 The Rubi Project has been available since First Quantum Minerals (OTCPK:FQVLF) relinquished all interest in it about a year ago. Note its strategic location near the large El Salvador and Potrerillos copper mines. Source
Conclusion
Mirasol Resources is a best-in-class mineral exploration company following the prospect generator model, which has given them a comfortable cash position without dilution. However, barring the announcement of another deal, or truly spectacular drill results at their Atlas Project, I do not see the company outperforming its peers in the short term. Drilling will stop at the Atlas Project from early July to early October for winter, so there might be a lack of good news to drive the share price up significantly during the second half of this year, which might create an amazing buying opportunity for this top-quality explorer.
The company's shares are most liquid on the TSX-V under MRZ, where tens of thousands of shares trade daily. Investors might consider selling their positions and looking to buy back in later this year, when the share price could be driven back under C$1.00. Their cash position will decrease by about two million dollars in the upcoming months before they receive more payments from their strategic partners.
2017 and 2018 look much better for the company: they'll be getting large payments from their two partners if they decide to move forward (which I fully expect), more drill results will be announced at the Atlas Project (which have more potential to generate excitement in the higher metal price environment I expect), and they'll have a better chance to make deals for their other projects.
If you can see past the short-term headwinds, and have the courage to buy this company, you have a chance to own 25% interests in multiple mines that should eventually be worth hundreds of millions or over a billion. You'll need patience, since these projects will take years to build, but downside risk is well covered by the company's cash position and business model (which also prevents shareholder dilution). I highly recommend jumping in with both feet if there is a pullback below C$1.00 later this year.

Observe the strong insider buying at C$1.00 and below. Source
Disclosure: I/we have no positions in any stocks mentioned, and no plans to initiate any positions within the next 72 hours.
I wrote this article myself, and it expresses my own opinions. I am not receiving compensation for it (other than from Seeking Alpha). I have no business relationship with any company whose stock is mentioned in this article.
Editor's Note: This article covers one or more stocks trading at less than $1 per share and/or with less than a $100 million market cap. Please be aware of the risks associated with these stocks.