People who read my articles know that I hedge almost every trade in order to trade market neutral and benefit from secular and cross/intra sector changes. Especially in times like this where the economy seems to worsen while stocks keep rallying.
Industrial production is terrible. The industrial production index is about 2% lower than a year ago and has been declining since November of 2014. Almost every decline like this ended in a recession. Most of the times the recession started when industrial production peaked. However sometimes, industrial production peaked and started declining before economists called a recession.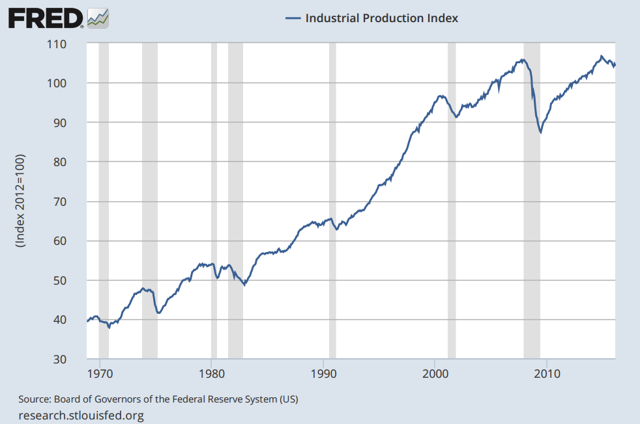 Click to enlarge
The ISM manufacturing index could be a nice tailwind for industrial production. Industrial production could climb back into growth territory. However, the correlation between industrial production and the ISM index became less because of the USD. The ISM jump in May 2015 has completely been ignored by industrial production.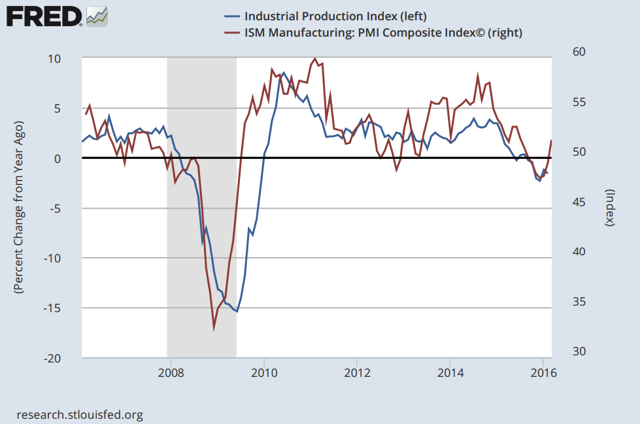 Click to enlarge
Caterpillar (CAT) has been suffering significantly. Revenue has fallen to pre-crisis levels.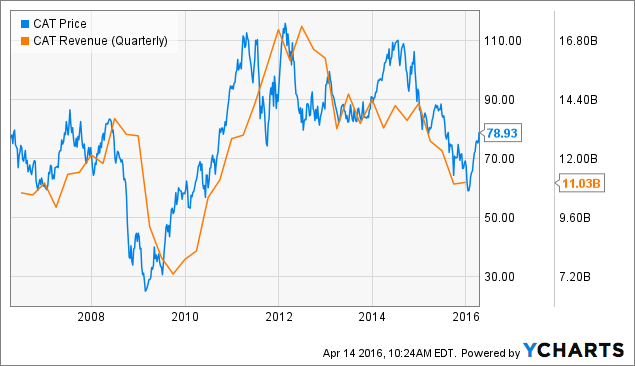 CAT data by YCharts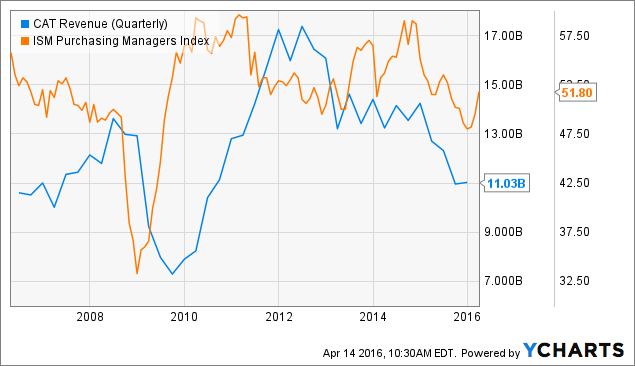 CAT Revenue (Quarterly) data by YCharts
Moreover, the correlation between industrial production and ISM is low but the correlation between ISM and Caterpillar's revenue is a total disaster. If ISM worsens we see a huge decline in revenues while strong ISM figures are almost entirely ignored.
I have Caterpillar on the short side of my watchlist. On the long side I chose the SPDR Industrial Select Sector ETF (XLI). In other words: this trade is about Caterpillar underperforming its peers. Hence the title of this article.
The circumstances that I mentioned above are the perfect bull case for this trade. Moreover, I expect the USD to strengthen a bit which will provide more upside for the trade.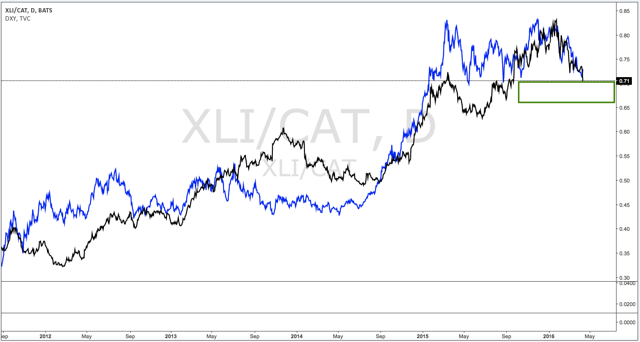 Click to enlarge
The XLI/CAT spread is displayed by the black line. The blue line is the USD index.
I will add the trade to my portfolio if the spread enters the green 'zone'. I drew this zone because Caterpillar could rally some more because of commodities and general market sentiment.
In addition to all that has been said I want to add that this is a trade with a 3-6 months horizon. I am not saying that people should sell their Caterpillar shares. This trade is purely based on mid-term market changes.
Disclosure: I/we have no positions in any stocks mentioned, but may initiate a long position in XLI over the next 72 hours.
I wrote this article myself, and it expresses my own opinions. I am not receiving compensation for it (other than from Seeking Alpha). I have no business relationship with any company whose stock is mentioned in this article.
Additional disclosure: XLI longs will be hedged with CAT shorts