By James Wang, ARK Analyst, Devices/Gateways
We believe TV executives should feel paranoid about the rise of Netflix (NASDAQ:NFLX). At the current trajectory, our research forecasts Netflix will become the largest US video network by 2019. With Amazon Prime Video (NASDAQ:AMZN), YouTube, Hulu and a host of niche players also experiencing rapid growth, streaming is set to become the new TV, with a new set of winners and losers.
In 2015, Netflix's 43 million US subscribers viewed an average of two hours of video a day. At 31 billion hours of viewing per year in total, Netflix already is larger than networks like A&E and Scripps, but still is behind major networks like Time WarnerTWX and ViacomVIA.1 Unlike linear TV networks that are constrained by a legacy business model (fixed content window, high margin structure, limited data, etc.), Netflix continues to grow both domestic subscribers as well as viewing time per subscriber. Even if its growth were to moderate, ARK believes that Netflix will surpass the largest TV networks soon.
Netflix's Projected US Penetration
To estimate Netflix's US subscriber growth, ARK plotted its US broadband penetration and applied a logistic regression or S Curve. The logistic function effectively shows the three stages of technological diffusion - rapid early growth, steady growth and eventual saturation. It reflects Netflix's US subscriber growth particularly well, predicting 62% penetration or 69 million subscribers and 60% growth by 2020, as shown in the chart below.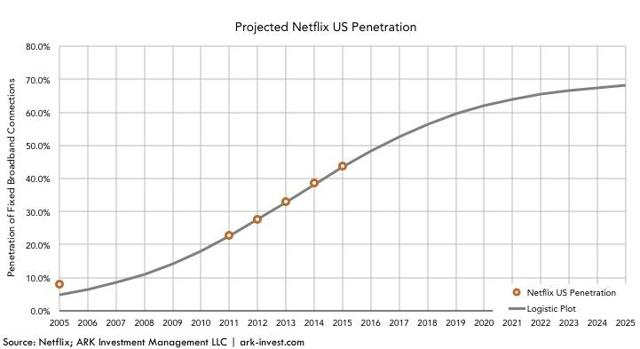 Click to enlarge
New Content Drives Viewing Hours
To fuel its global expansion, Netflix anticipates spending $5 billion on content in 2016, or 50% more than in 2015. If such content is successful in attracting and appealing to viewers, it should drive both subscriber growth and the engagement (viewing hours) of existing subscribers. ARK expects that Netflix will increase its spending on content by 22% per year over the next five years, which we believe could lead to 10% growth in viewing time per subscriber per year as detailed in the chart below. In this scenario, the average US Netflix subscriber would watch three hours and 20 minutes a day by 2020 vs. two hours in 2015, a fairly conservative estimate given the five hours of video, on average, that Americans currently watch per day.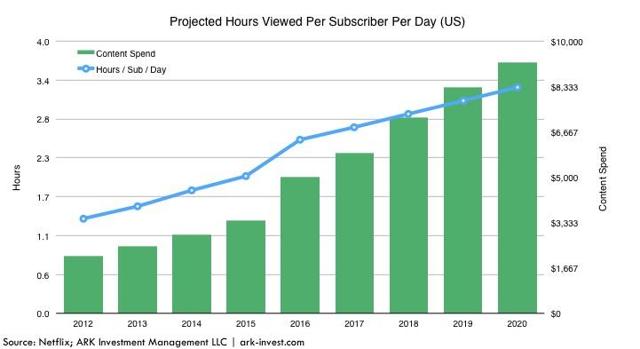 Click to enlarge
Netflix is Overtaking TV
If Netflix's subscribers grow to 69 million and their viewing time increases to three hours and 20 minutes a day, Netflix will deliver 83 billion hours of video a year, which is more than any US multichannel TV network (excluding sports). In the chart below, ARK depicts the total hours of video delivered by various US TV networks since 2014 against Netflix's estimated video delivered over the next five years. If TV viewership were to remain constant, which ARK believes would be a conservative assumption, Netflix would eclipse the largest TV network by 2019.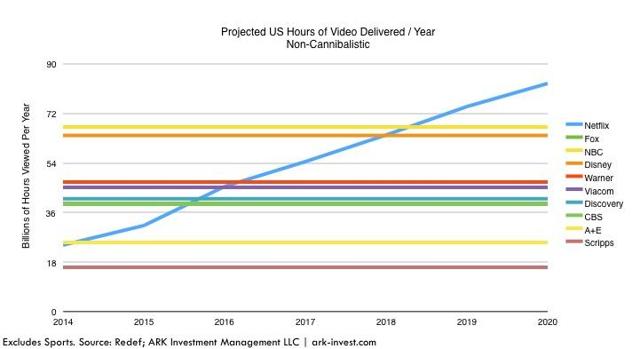 Click to enlarge
This scenario, however, is likely too optimistic for TV. The migration of viewers from TV to online has caused TV viewing to decline for the last five years, especially among younger viewers. People who used to pay for a cable or satellite TV service, also known as cord cutters or cord shavers, and those who have never subscribed to a traditional pay-TV service, or cord nevers, are driving a secular trend that we believe will erode TV viewership more dramatically over the coming years. Given this "cannibalistic scenario," ARK believes that Netflix could become the largest US TV network as early as 2018.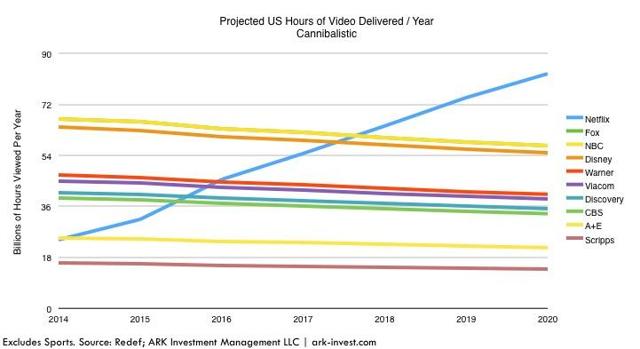 Click to enlarge
What Does This Mean?
If Netflix were to become the most watched US "network" by 2018-2019, what will the ramifications be for the media industry?
Traditional networks may not be able to compete for top tier content
While becoming the most watched "network" would be significant, Netflix is using the US as a launching pad to become the world's largest global subscription video service. With 175 million projected subscribers worldwide by 2020, Netflix will gain incredible leverage and content buying power. ARK believes that in 2020 Netflix could spend roughly $9 billion on content, twice the outlay of Time Warner this year. Already, TV networks are struggling to keep up with Netflix's content purchasing power. By 2020 if Netflix has the largest global subscriber base, we believe traditional TV networks may no longer be able to put in competitive bids and, as a result, might surrender the rights to the best shows to Netflix and Amazon.
TV advertisers will defect to digital
While advertisers have remained loyal to TV in the face of declining ratings, we believe that they are unlikely to remain loyal. In an early sign of advertiser defection, Viacom's (NYSE:VIA) US advertising revenue declined throughout 2015. We think similar declines likely will spread to other networks during the next few years.
More Demand for YouTube (NASDAQ:GOOG) (NASDAQ:GOOGL), Facebook (NASDAQ:FB) and Snapchat Video Ads
Marketing dollars pulled from TV will follow audiences. Although Netflix has stated it is not interested in external advertisements, ad supported digital services could see accelerated growth. YouTube currently supports hundreds of millions of hours of video a day and is growing at 50% a year.2 Facebook just crossed 100 million hours a day.3 Snapchat serves eight billion video clips daily to its users.4 These three networks are well positioned to soak up the outflow of ad dollars from TV.
ARK believes that Netflix will be a disruptive force in the media world for years to come. Within the next few years, Netflix may become the dominant video subscription network both domestically and abroad. TV networks in the US that currently are hostage to high profit margins and legacy business models have said that they will make the transition to digital when it makes sense for their businesses. By the time they make the transition, ARK believes it may be too late.
Disclaimer: ©2015, ARK Investment Management LLC. All content is original and has been researched and produced by ARK Investment Management LLC ("ARK") unless otherwise stated. No part of this content may be reproduced in any form, or referred to in any other publication, without the express written permission of ARK. All statements made regarding companies, securities or other financial information on this site or any sites or articles relating to ARK are strictly beliefs and points of view held by ARK and are subject to change without notice. Certain of the statements contained in ARK original content may be statements of future expectations and other forward-looking statements that are based on ARK's current views and assumptions and involve known and unknown risks and uncertainties that could cause actual results, performance or events to differ materially from those expressed or implied in such statements. Information contained in ARK content has been obtained from sources believed to be reliable, but is not guaranteed. This content has been distributed for informational purposes only and should not be considered as investment advice or a recommendation of any particular security, strategy or investment product. Any reference to a particular company or security in ARK original content is not an endorsement by ARK of that company or security or a recommendation by ARK to buy, sell or hold any particular security. Investors should determine for themselves whether a particular service, strategy, product or security is suitable for their investment needs or should seek such professional advice for their particular situation. By visiting and/or otherwise using the ARK website in any way, you indicate that you understand and accept the terms of use as set forth on the website and agree to be bound by them. If you do not agree to the terms of use of the ARK website, please do no access the ARK website or any pages thereof.