My last article titled "Crazy Contrarian Theory: SunEdison Inc." inspired a lot of hate mail, and sparked nearly 400 comments, all with very good feedback and discussion. I'm thankful for all of it. Despite the stock price staying very low since April 7 th, my Crazy Contrarian Theory has started to look a little less crazy. I remain steadfast in my long position in SunEdison (SUNE) and here is why:
Today's 8K filing points to no material misstatements of financials.
This is huge for SunEdison because as I said in my last article,
"What we do know is that 6 months ago (the last time we received a financial report from SUNE) the company had a solid project pipeline and great assets…. [and] unless there is massive fraud, [their financials/assets] are not worthless and should be enough to sustain life."
What the 8K confirmed today was: yes, there were some mistakes made in their tone, but their reported numbers are all still good. Meaning their liquidity should not be as concerning as most people thought. Take a look at their Cash Walk reported (and now confirmed to be true) back in January: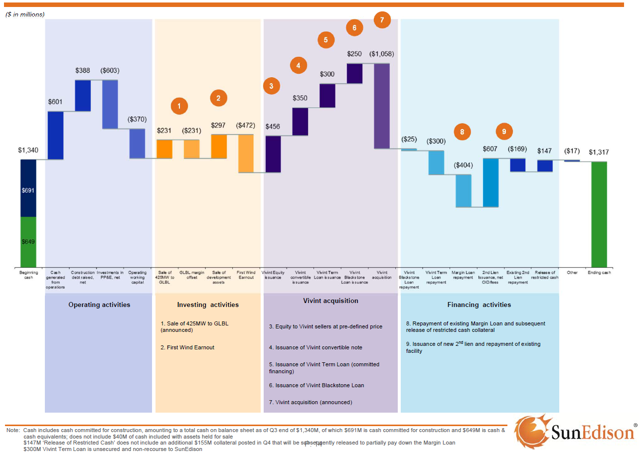 Click to enlarge
Today's 8K confirms that the first candle on the chart, the initial $1.34 billion, is materially correct. Now follow along until you get to candle 3, the Vivint Equity Issuance. It is important to note that candle 3 through 8 can be removed thanks to the cancellation of the VSLR acquisition. That includes money out going and incoming, and what you are left with is $1.81 billion just before candle 8. Now if you take that number and finish the cash walk you are left with roughly $1.345 billion dollars. That figure is actually $28 million higher than what they were anticipating having after the Vivint deal. Of that $1.345 billion, $654 million is cash and cash equivalent (the remaining $691 is tied to construction projects).
Now, we can assume that there were hiccups with asset sales. Take for example, the HECO deal that was pulled out because of bankruptcy fears. SunEdison had said to have invested $42 million into this project, and once completed, the sale would be worth $336 million. For the sake of argument, lets subtract this from the forecasted value of SunEdison's cash holdings and we STILL get $1.009 billion in total cash or about $318 million in cash and cash equivalent. So even without the cash from the HECO deal, they are still in pretty good shape. With that said, regulators have started to question HECO s decision to pull out of the project, claiming that they did so "pre-maturely" and they may still be obligated to go through with the contract after all.
I don't know about you, but I think that even if they had asset sales fall through, having $318 million in cold hard cash sounds like a company with some life in them. They may be distressed, but far from destroyed. Then there's this:
"SunEdison in talks to sell Indian solar stakes to Fortum"
This sounds like a company that is undergoing restructuring, not bankruptcy. A sale of assets of this size to an outside firm, even at pennies on the dollar, would inject even more flexibility into their liquidity position.
My point is that people who are spouting that SunEdison is broke, are not paying attention to the numbers. Today's 8K coupled with news that they are actively selling assets points to greener days ahead. Perhaps not in the near future, but certainly after some healthy restructuring.
When faced with these numbers the $2.6 million bond payment that was missed on April 1st is a small drop in their bucket. So why didn't they pay it?
It could have been used as a negotiating tool to bring creditors to the table and let them know that they are serious. Keep in mind they still have a VSLR lawsuit they are trying to settle, so this could be an attempt to keep as much cash on hand as possible.
Once again, I could be wrong. Please do your own due diligence and be very careful with this stock as it is volatile right now. Hopefully the quiet period will be lifted with the release of the 10K very soon. As a reminder, though it has been an exciting month for traders, this is nothing but a mole on the back of SunEdison's long history as a company.
Disclosure: I am/we are long SUNE.
I wrote this article myself, and it expresses my own opinions. I am not receiving compensation for it (other than from Seeking Alpha). I have no business relationship with any company whose stock is mentioned in this article.
Editor's Note: This article covers one or more stocks trading at less than $1 per share and/or with less than a $100 million market cap. Please be aware of the risks associated with these stocks.