Shares of GoPro (NASDAQ:GPRO) popped 20% in a day on news that senior Apple (NASDAQ:AAPL) designer Danny Coster is joining the company as the VP of Design. The stock is now trading at 7.9x EBITDA, a slight premium to our 6.9% projected EBITDA CAGR ($2.5 billion revenue/$250 million EBITDA in 5 years). As we have established in a previous article, we believe shares are fairly valued in the $13.50-$17 range, with greater emphasis placed on the lower end of that range. That doesn't give investors much of a margin of safety at these levels.
Moreover, the stock is technically overbought. The 20% jump on Wednesday, 4/13, shot shares above their 50-day SMA for the first time in the past 6 months. From this standpoint, it certainly feels like this big swing up will be followed by a technical drop back to below the 50-day SMA ($12.84).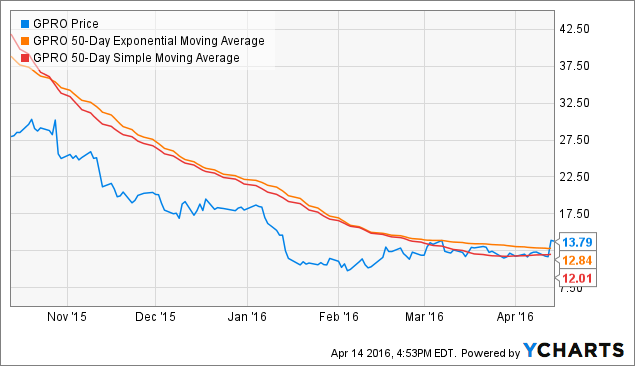 GPRO data by YCharts
For the reasons listed above, we do not love the stock at these levels. We become slightly bullish, however, when looking at the Q1 revenue estimate. We think there is significant upside to the Street's consensus revenue estimate of $169 million.
There has been lots of talk of GoPro sales degradation, but our channel checks suggest GoPro cameras are still selling at a relatively strong rate. GoPro remains the top-selling action camera on Amazon (NASDAQ:AMZN), Target (NYSE:TGT) and Best Buy (NYSE:BBY). GoPro products occupy 5 of the 6 best-selling spots for action cameras on Amazon.com and all 6 of the top-selling spots on Target.com. GoPro products also occupy the top 6 best-selling spots for action cameras on Bestbuy.com. Overall, GoPro products are still the best-selling action cameras on the market. The revenue estimate, though, calls for a 53.4% decline in revenues. While revenues will surely be down given a difficult Hero 4 comp, we think the 53.4% projected decline is too dramatic.
Relative search interest also serves to show that the Q1 revenue estimate is too low. While Google trends shows that GoPro search interest has fallen dramatically from its December 2014 peak, the decline hasn't accelerated in recent months. January through March 2015 search interest is markedly higher than January through March 2016 search interest, but this decline in search interest (-12.8-13.6%) is similar to the decline in December 2015 search interest versus December 2014 search interest (-14%). In other words, the Y/Y change in December was actually worse than the Y/Y change in January, February and March (the months that constitute Q1). Despite this, the 53.4% projected decline in Q1 sales is markedly worse than the 31.1% decline in Q4 sales.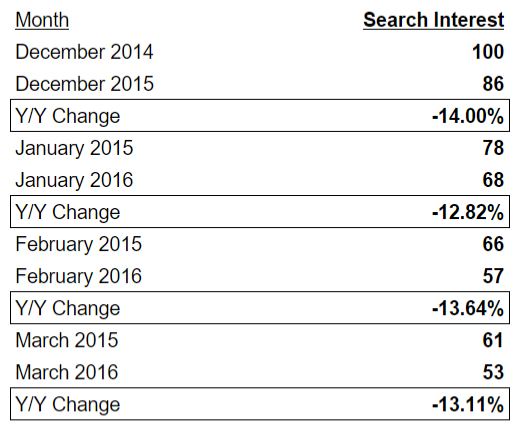 According to SimilarWeb, GoPro had 28.65 million desktop and mobile visits in 4Q15. That number shrank to 25.55 million desktop and mobile visits in 1Q16, a sequential decrease of 10.8%. The Q1 revenue estimate, though, marks a 61.3% sequential decline in revenue.
In our model, we assume significant ASP degradation to the ~$200 level. This represents accelerated ASP degradation from Q4's -18% rate to -25%. We assume the company can sell 900,000 cameras in the quarter, the lowest shipment volume since 2Q14 and a 33% Y/Y decline (versus 16% Y/Y decline in Q4). Under these conservative assumptions of accelerated declines in units shipped and ASP, we still arrive at $183 million in revenue for Q1. We think there is upside to our estimate, and wouldn't be surprised if the company sold 1 million cameras in the quarter. This would put Q1 revenues in the ballpark of $200 million.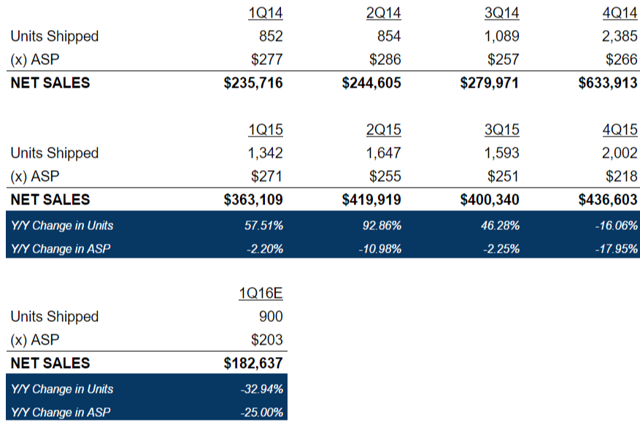 Click to enlarge
In sum, we think management set the bar low with the revenue guide of $160-$180 million, giving the company ample room to outperform estimates set at the midpoint. This would certainly explain the bullish insider sentiment over the past 3 months, with insiders buying in excess of 410,000 shares while disposing of only 12,000 (a 34:1 buy to sell ratio). Despite a potential earnings beat on the horizon, we are not compelled by the current valuation and think we are due for a technical pullback. We will wait on the sidelines but closely gauge the stock price as we head closer to the Q1 ER.
Disclosure: I/we have no positions in any stocks mentioned, and no plans to initiate any positions within the next 72 hours.
I wrote this article myself, and it expresses my own opinions. I am not receiving compensation for it (other than from Seeking Alpha). I have no business relationship with any company whose stock is mentioned in this article.