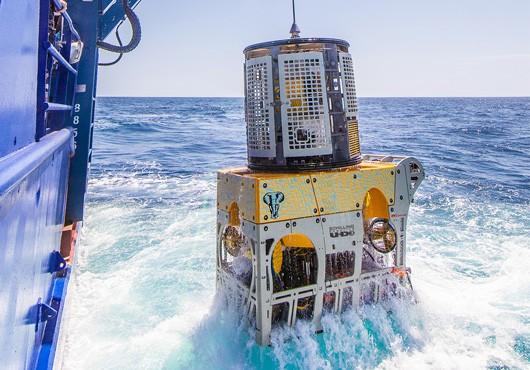 Source: subseanews.com
Vendors that sell equipment and services to land drillers have been ravaged by the rout in oil prices. Subsea tech vendors like FMC Technologies (NYSE:FTI) have lived off backlogs built up when oil prices were above $100. The company showed cracks in the second half of 2015 when revenue began to decline. Q4 revenue of $1.4 billion was off 8% sequentially and Q1 2016 revenue is expected to fall another 10% to $1.3 billion.
Through cost-cutting the company has been able to keep EBITDA margins consistent at 14%. With a dearth of new orders revenue is likely to remain in the doldrums for some time. Barclays projects big oil will focus on repairing its balance sheet and shun offshore drilling projects for several quarters; by 2018 E&P for the sector should rebound, which portends nearly two years of revenue and earnings declines for FMC Technologies. At $28 FTI trades at 8.2x run-rate EBITDA, which is outside my 5x - 7x range.
FMC Technologies Is Worth $24
Based on a bottoms up analysis FTI is worth $24 or 14% below where it currently trades.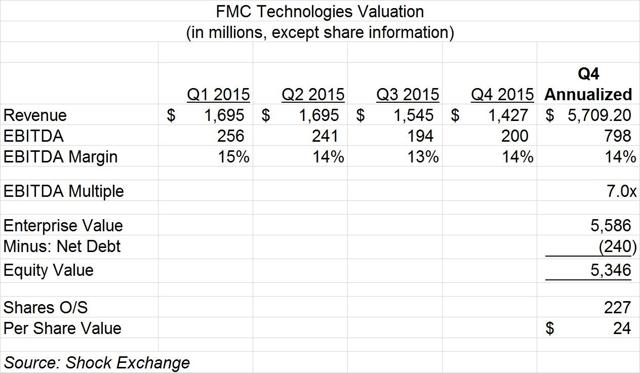 Click to enlarge
Run-Rate Revenue
Run-rate revenue of $5.7 billion equates to Q4 results annualized. It is also only 10% below the $6.3 billion reported for full-year 2015. The revenue estimate is optimistic in my opinion.
EBITDA
Run-rate EBITDA of $798 million assumes a 14% EBITDA margin. It implies that management can continue to cut costs in lockstep with revenue declines. Management could potentially keep margins steady for a few more quarters but at some point margins may break support.
EBITDA Multiple
A multiple of 5.0x to 7.0x is appropriate for an industry leader in a cyclical industry in decline. I chose the top end of the range given the company's stable revenue vis-a-vis land drillers.
Enterprise Value
The company's enterprise value (equity and debt) is $5.6 billion.
Equity Value
After subtracting net debt (debt less cash and equivalents) of $240 million, I derived an equity value of $5.3 billion.
Per Share Price
I assumed 227 million shares outstanding which was sourced from Yahoo!. The per share price is about $24.
Conclusion
FTI has traded sideways since Q4 2015. I expect management to continue to cut costs and maintain EBITDA margins next quarter. By the second half of 2016 the stock should begin to trade closer to its intrinsic value as revenue and EBITDA continue to fall. Avoid FTI.
Disclosure: I am/we are short FTI.
I wrote this article myself, and it expresses my own opinions. I am not receiving compensation for it. I have no business relationship with any company whose stock is mentioned in this article.