Earlier this week, I wrote an article on SunEdison, Inc. (NYSE:SUNE) stating that the stock was due for a bit of a comeback due to increased buying of the company's bonds, albeit at very low prices. Whether from good timing or good luck, the company released an 8-K outlining the findings of an investigation led by the audit committee and independent directors which resulted in SUNE rising by 58% on Thursday. The company reported:
The Independent Directors have determined that as of the date of the independent counsel report, there were no identified material misstatements in the Company's historical financial statements as well as no substantial evidence to support a finding of fraud or willful misconduct of management, other than with respect to the conduct of one former non-executive employee as described below. However, the independent counsel materials identified issues with the Company's overly optimistic culture and its tone at the top.
The report identified weaknesses in controls with respect to forecasting cash flows, but otherwise did not find any evidence of fraud or material misstatements outside of one isolated incident by an employee who was since terminated. I would have expected that this news would have a positive impact on the price of the company's bonds, given that this removes one of the biggest black clouds over the company.
As per my previous article, there are three series of convertible debentures which have pricing readily available on Morningstar:
2.75% coupon maturing 01/01/2021
2.375% coupon maturing 04/15/2022
The series maturing in 2021 had 10 trades go through on Thursday along with two more from Wednesday and closed at $12.25 per $100 par value, more than doubling in price from its last trade on 4/7 at $6. However, the combined par value of all 12 of these trades was just $104,000 compared to the millions traded on previous days: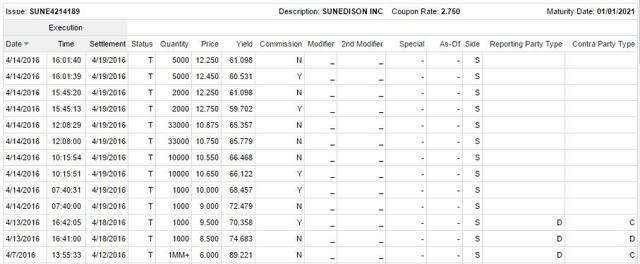 Click to enlarge
The series maturing in 2018 had more substantial volume, but remained flat at $9 compared to its close on 4/12:

Click to enlarge
The series expiring in 2022 had no volume on 4/14.
This fairly muted response was not the reaction I was expecting in the bond market given this news. I was hoping to see millions of par value traded at substantially higher prices on all three series. Perhaps these unsecured senior debentures are too far down the totem pole for bond traders to get excited about a lack of fraud, given that there is substantial fear that the company could announce bankruptcy at any time with a bond payment being missed earlier this month and another one due soon.
With the increase in the stock price coming as I had hoped and the bond market being unimpressed with this latest update, I have become substantially less positive on the stock. I took some profits on the call options that I had and bought puts to match the amount of my remaining call option position to effectively set up a straddle around the 50 cent mark. The call options are worth more and offer unlimited upside potential so I am still technically bullish on the stock, though I have substantial doubt that SUNE can continue its run. I stand to profit from big moves in either direction, as long as the stock does not stagnate in the 40 to 60 cent range.
I suggest that any recent buyer of SUNE take profits if they have them, or set themselves up for some protection from the downside risk because judging from the lack of interest in the bond market, this spike in the stock price after the positive news on Thursday may not last long.
Disclosure: I am/we are long SUNE.
I wrote this article myself, and it expresses my own opinions. I am not receiving compensation for it (other than from Seeking Alpha). I have no business relationship with any company whose stock is mentioned in this article.
Additional disclosure: I have an equal amount of call and put options at a strike price of 50 cents.
Editor's Note: This article covers one or more stocks trading at less than $1 per share and/or with less than a $100 million market cap. Please be aware of the risks associated with these stocks.