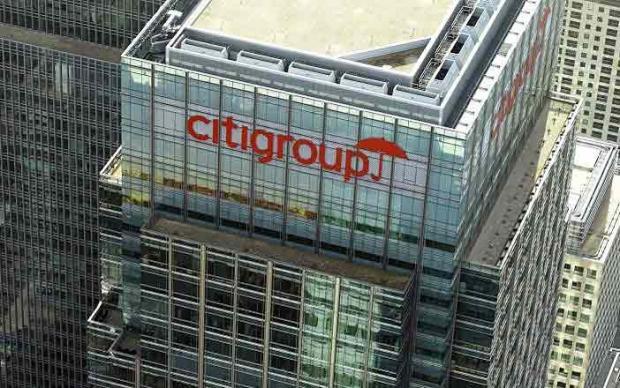 Citicorp (NYSE:C) is set to report quarterly earnings Friday. Analysts expect revenue of $17.46 billion and eps of $1.03. The revenue estimate implies a 5% decline sequentially. Investors should focus on the following items:
Capital Markets Outlook
Citicorp's Q4 2015 segment revenue (excludes $2.9 billion revenue from Citi holdings) of $15.5 billion was down 3% Y/Y, but off sequentially by double digits.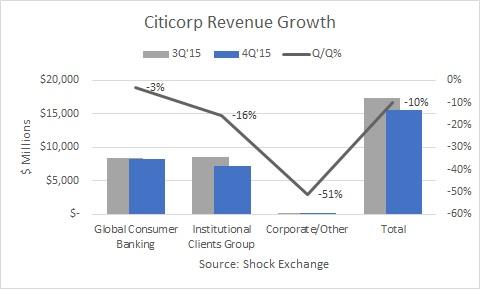 Revenue from Global Consumer Banking (53% of revenue) was off 3% and Institutional Clients Group (47% of revenue) was down 16%. This segment houses Investment Banking, the Private Bank, Corporate Lending and Markets & Securities, amongst others. Revenue from Markets & Securities declined 20% from $4.0 billion in Q3 2015 to $3.2 billion in Q4 -- accounting for the lion's share of the Institutional Clients Group fall off. Global equity markets have been in the doldrums for 2016, particularly in emerging markets. Citigroup as well as rivals have been reeling from low interest rates, volatile trading and a free fall in commodities.
The IPO market has also been down as many firms have had to scrap public offerings due to turbulence in the financial markets. It portends that the market for cash draining start ups could be a thing of the past. Citigroup previously warned that revenue from equities and fixed income trading was down for the first two months. 2016 could be a difficult year for the segment, and it won't get any better with recession fears and uncertainty over Fed rate actions.
Energy Exposure
The energy boom since the Financial Crisis created a lot of jobs. That boom was financed by bank debt and high yield bonds. Now that oil prices are over 50% below their Q2 2014 peak oil drillers are having a tough time servicing that debt. According to the EIA, onshore oil producers' debt service as a share of operating cash flow surpassed 80% in Q2 2015. Bankruptcies are on the rise and they are bound to hit the loan portfolios of big banks. Of Citigroup's $572 billion loan portfolio, about $58 billion (nearly 10%) is related to energy.
Total expenses for Q4 2015 grew 4% sequentially, outstripping revenue growth. Meanwhile, provision for credit losses (23% of total revenue) increased 36% Q/Q to $2.5 billion. A credible scenario is that Citigroup's revenue could decline while operating expenses continue to grow due to an increase in provision for credit losses. If that scenario plays out it could upend Citigroup and the entire market. All eyes are on Citigroup to determine if energy debt remain the market's black swan.
Disclosure: I/we have no positions in any stocks mentioned, and no plans to initiate any positions within the next 72 hours.
I wrote this article myself, and it expresses my own opinions. I am not receiving compensation for it. I have no business relationship with any company whose stock is mentioned in this article.