Lumber Liquidators (NYSE:LL) has liquidated a lot more than lumber for many investors. In the 3 years since I started following this stock it has returned on average 56.8% annually for those brave enough to short the name.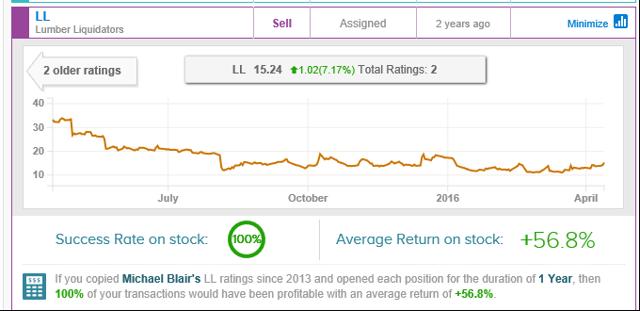 Click to enlarge
Source: Tipranks
The dramatic fall in the stock price followed a collapse in earnings after a scandal regarding quality issues surrounding allegations of formaldehyde in Lumber Liquidators' flooring products.
The Center for Disease Control earlier this year reported that the risks of cancer arising from formaldehyde in Lumber Liquidators' flooring from China was triple what it had previously calculated.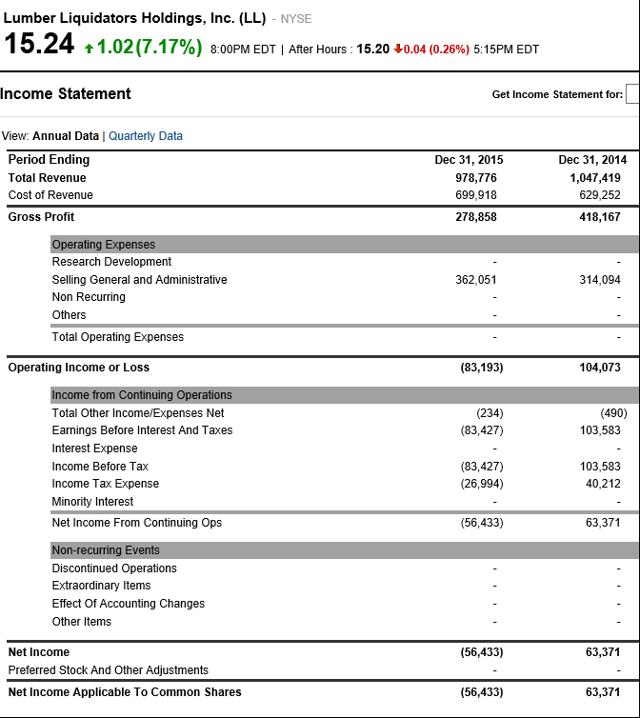 Click to enlarge
Source: Yahoo.com
Lumber Liquidators stock has dropped more than 80% since its peak of over $100 a share just before Whitney Tilson exposed the scandal and took a large short position.
The question is what now? In my view, the company still has a broad distribution system and despite the scandal lost only about 6% of its revenues. Margins fell more sharply now doubt based on aggressive merchandising and pricing to keep customers coming into the stores. Recently, the company settled with California regulators for $2.5 million and gave assurances that it would in future meet tough California standards for formaldehyde content in flooring.
Are those reasons to be bullish? I don't think so. Too little, and I believe too late.
Lumber Liquidators claims to have over 2 million customers. The company in all likelihood has exposed more than 1 million people to a higher risk of cancer. The reputational damage is enormous and consumer confidence in the company must be suffering. The result is a continuing sharp decline in same store sales.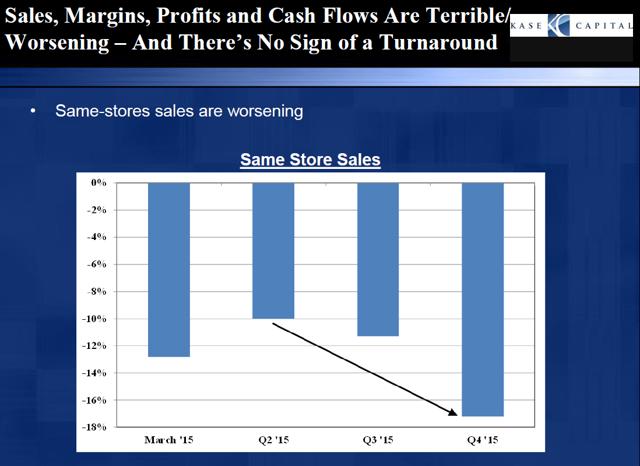 Click to enlarge
Source: Tilson Funds presentation
While Lumber Liquidators may survive, the short term risks are all to the downside:
Continuing operating losses
Substantial legal costs and exposure
Shaken customer confidence
Lack of management credibility
This story remains bearish. There is a reasonable possibility of a bankruptcy. Avoid the stock or, if you are aggressive, buy puts.
Disclosure: I/we have no positions in any stocks mentioned, and no plans to initiate any positions within the next 72 hours.
I wrote this article myself, and it expresses my own opinions. I am not receiving compensation for it (other than from Seeking Alpha). I have no business relationship with any company whose stock is mentioned in this article.