Trying to keep a pulse on economic mega-trends is essential for investors. While company stocks tend to rise and fall in line with the decisions and fortunes of individual companies, markets rise and fall according to mega-trends. Perhaps the most important macro-economic factor to watch right now is the labor market. Overall, data points to an improving labor market, but there are some things to be concerned about.
According to the most recent JOLTS data, 5.4 million people were hired this past February, marking the most rapid hiring seen since the Great Recession. People voluntarily quitting their jobs also increased, ticking up from 2.9 million to 3.0 million, which suggests that many people are feeling more positive about the labor market. After all, you're less likely to quit your job if you don't feel good about your prospects of finding another job. New job openings, however, remained flat.
Still, while it's easy for investors to focus on the positive news, but there are some concerns with the JOLTS data and labor market. If you're using the labor market data to justify your trades and trading strategy, you should also look at the "dark linings" of the current data, as there are some things to be concerned about.
Mind you, nothing in my analysis points to reasons to panic. Instead, my analysis points to some factors and conditions investors and others should watch going forward. While markets and economic data are largely positive, if these trends continue, it could point to weak markets in the future. While turbulence would not surprise me, nothing I've found yet suggests that the next town turn is imminent.
Growth of service jobs? Grow of low wages?
The biggest gains in employment in February were in the retail trades, with 48,000 jobs being added. This increases the trend of the retail trade sector expanding even as other sectors stall, or in the case of manufacturing, decline. Interestingly, the Markit service sector PMI for February recorded a slight contraction, coming in at only 49.7. This marks the first contraction since October of 2013.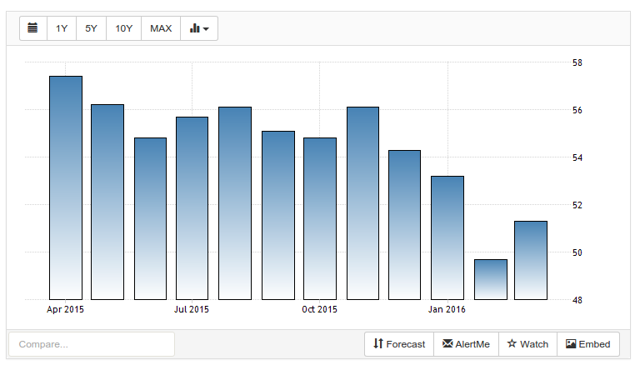 While job growth is important, we must also consider the quality of jobs being created. Service sector jobs have earned a reputation for being lower paid, and offering less career advancement than other sectors. Yes, there are decent paying management jobs, but the service sector relies on a large number of low wage jobs. In fact, digging into BLS data, we find that average service sector wages come in at only $17.77, compared to a national average of over $25 dollars.
Take a look at the below chart, which shows a sharp increase in the number of people working in the leisure and hospitality industry. In 2000, this sector was already rapidly adding jobs, after declining during the Great Recession, the industry expanded at an even more rapid pace.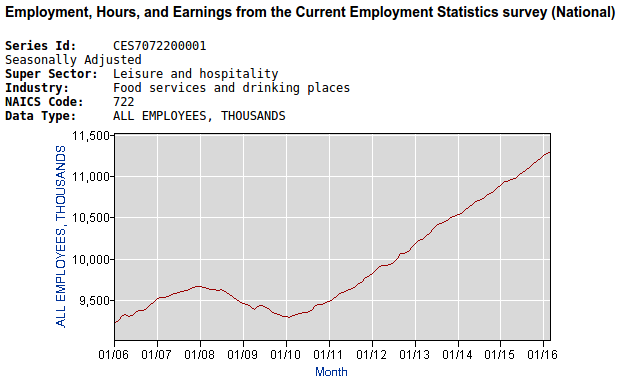 The above data suggests that an increasing number of people are working low wage jobs. It's also worth noting, however, that high wage jobs, have also been increasing. The below analysis from Heidi Shierholz, the chief economist at the department of labor, shows that both lower wage jobs (jobs earning less than $20 dollars per hour) and high wage jobs have accounted for most of the growth between 2013 and 2015. Job growth between these two points, however, has been slow.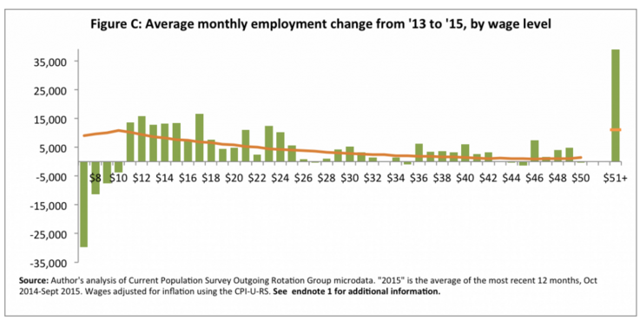 Manufacturing continues to be gutted
It's fair to wonder if we can build an entire economy based on services. Is it really possible to build an economy on the "I mow your lawn, you wash my dishes" of doing services for one another? Some believe that for a country to remain economically prosperous, it needs to continue to create things, and that is often taken to mean manufacturing.
The manufacturing sector, however, lost another 29,000 jobs in February. The vast majority of these jobs were lost in the durables industry (-24,000), which machinery (-7,000), primary metals (-3,000), and semiconductors and electronic components (-3,000).
These losses continue even as the rest of the economy appears to be doing relatively well and hints at the further re-entrenchment of the American economy. While the United States does still produce quite a number of things, such as software and movies, high-paying opportunities remain sparse for Americans without a college education and years of specialized training.
Labor force participation rate remains low
Participation in the labor force remains well below historical norms, although it did tick up in February, reaching 62.9 percent, up from 62.7 percent in January. Labor force rates have been closely watched due to the popular theory among pessimists that more people are dropping out of the labor pool all-together, and as they leave the workforce, this improves unemployment rates.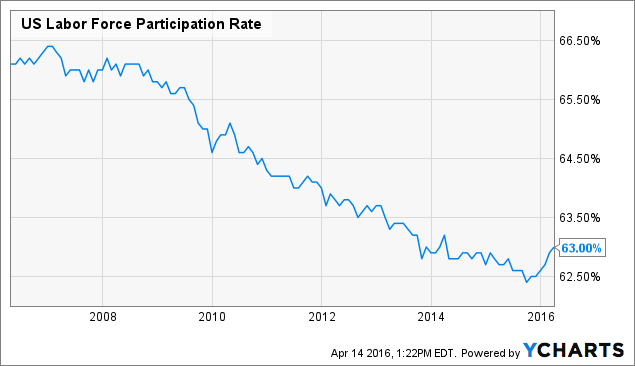 US Labor Force Participation Rate data by YCharts
It's important to remember, however, that the participation rate was not designed as a substitute for unemployment rates. High numbers of college students and retirees will impact the rate and weigh it down, even though from an economic stand point young people going to school and people retiring is not necessarily a bad thing. Given how many boomers are reaching retirement, it is unlikely that the labor force participation rate will be reaching pre-recession levels any time soon.
Take away: Low paying jobs a long-term threat to economy
While hiring has picked up, wages remain stagnant. In fact, in February wages actually declined by .1%, tempering expectations after January saw wages rise .5%. Currently, wage increase are only slightly ahead of inflation. Continually stagnant wages are likely the result of more Americans working in lower paying jobs in the service sector and elsewhere.
Over the long haul, stagnant wages may temper consumer spending, especially as housing costs rise and if oil bounces back. Consumer spending currently accounts for more than 70% of the GDP, but experts are warning that said spending likely won't be an engine of growth any time soon.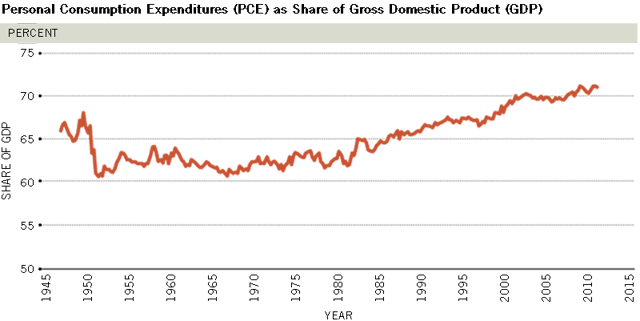 Stagnant wages hint at a potential contradiction within the economy itself. While the economy has been growing, must of that growth has resulted in low-paying jobs. Over the long run, however, low wages will restrain consumer spending, which in turn will restrain growth.
It's hard to predict what will cause the next recession, but stagnant wages and restrained consumer spending are among the more likely candidates. Unless the U.S. economy starts generating better paying jobs and wages pick up, restrained spending may cause the economy to contract in the not-so-distant future, and this, in turn, will cause markets to sink.
For now, investors need to continue to keep a close eye on labor market data, and they also need to dig deeper than the headlines to discover what's really going on.
Disclosure: I/we have no positions in any stocks mentioned, and no plans to initiate any positions within the next 72 hours.
I wrote this article myself, and it expresses my own opinions. I am not receiving compensation for it (other than from Seeking Alpha). I have no business relationship with any company whose stock is mentioned in this article.