The biotech sector continues to show resiliency in recovering from a deep bear market it is just emerging from. Not even pariah Valeant's (NYSE:VRX) continuing travails seem to be a headwind. The biotech indices took the news that the company had received a notice of default from holders of its 5.5% Notes due 2023 as a result of the delay in filing its 10-K. Luckily this is easily cured by filing that annual report before early June which the company had planned to do anyway.
Although default is unlikely at this time, chatter is picking up the company will need to divest some assets to pay down its ~$30 billion debt load which now is in junk territory. Valeant has called in the investment banks to explore options.
Bidders are reportedly kicking the tires on its biggest gastrointestinal product, Xifaxin, as well as aesthetics products Obagi and Solta and skin care product CeraVe. Look for an article later today on why this might be a good thing for an undervalued biopharma named Progenics Pharmaceuticals (NASDAQ:PGNX). It should be taken as a positive that news out of Valeant does not be seeming to be hitting other pharma names which had been the case until recently.

In news that has made headlines within the sector over the past few days. Sean Parker of Facebook (NASDAQ:FB) and Napster fame will inject $250 million into the immuno-oncology research field in an effort to boost cancer survival rates. This is in addition to the $600 million the serial entrepreneur put up to launch the Parker Foundation last year, with a particular focus on life sciences.
He will give the money as a grant to 6 cancer centers nationwide. These centers will form the "Parker Institute for Cancer Immunotherapy" and will include over 40 laboratories and more than 300 researchers from across the 6 sites. Given how closed the IPO window has been so far in 2016 for small biotech companies, it is good to see money still being allocated to these focus areas outside the drug giants.
Thursday the IMS Institute for Healthcare Informatics released figures showing that spending on prescription drugs in the U.S. rose 12% to a record $425 billion last year, fueled by new and costly drugs for cancer and hepatitis C. This leads to a couple of observations.
The secular tailwind for both the pharma and biotech sectors remains firmly in place as the population ages and new treatments get approved. The FDA approved 56 news compounds in 2015, the second most ever.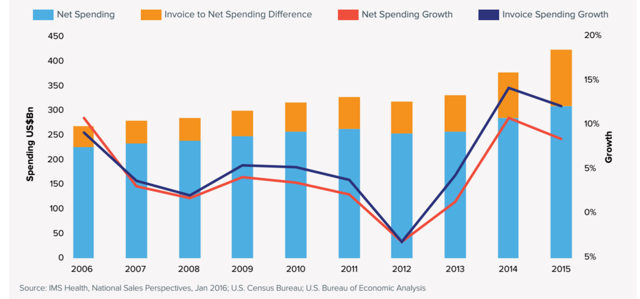 Click to enlarge
Second, the election-driven rhetoric about drug price "gouging" will remain firmly in place through at least through November of this year. It is important to remember that the $425 billion headline figure does not include discounts and rebates which can be substantial in many areas including HCV. The average net price increase for branded drugs was just 2.8% in 2015, versus 12.4% using wholesale prices. Not that politicians ever let the facts get in the way of a good sound bite especially in an election year.
Brazil, desperate to control the spread as well as the fear of Zika virus, will allow Intrexon (NYSE:XON) to deploy its genetically engineered mosquitoes, throughout the country to help control the spread of the Aedes aegypti mosquito, the primary vector for transmitting dengue, Zika and chikungunya viruses to humans. This event triggered Stifel Nicolaus to reiterate their Buy rating on Intrexon with a $57 a share. I would be surprised if other analysts don't follow suit in the coming week. The news definitely has helped the stock over the past day or two.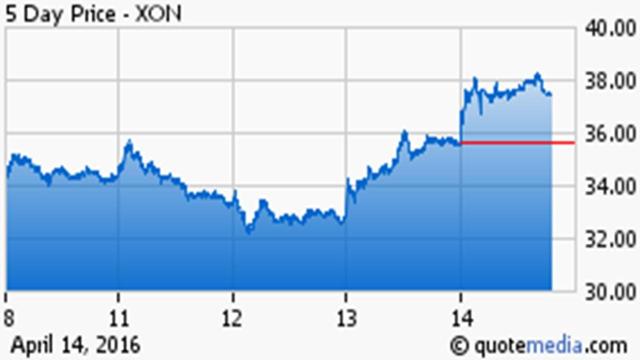 Click to enlarge

Redhill Biopharma (RDHL), a small biopharma concern with a market capitalization of approximately $150 million is getting a lot of positive action recently. This Israel-based late clinical-stage focuses on proprietary and orally-administered drugs for the treatment of inflammatory and gastrointestinal diseases.
FBR Capital reiterated its Buy rating and whopping $33 price target on Redhill on Wednesday. Its analyst noted "RedHill Biopharma continues its strong start in 2016 with the recent announcement of positive results from the ongoing CEASE-MS Phase II study with RHB-104 in multiple sclerosis and the initiation of the anticipated Phase II study with Bekinda as a treatment for irritable bowel syndrome (IBS), which provide insight into future valuation growth, as both indications are not in our models and represent multi-billion dollar markets. With multiple late-stage products near completion of study, we believe RDHL's pipeline is positioned near term to create tangible value, including the potential to realize revenues in 2Q16 from initial sales of Rizaport in Europe for acute migraine, which we believe would be a catalyst for the stock".
Roth Capital reissued its Buy rating on April 5th with a $26 price target saying the company had "positive momentum" building. Late in March both Nomura Securities and H.C. Wainwright both issued Buy ratings on Redhill. This is one of the small cap holdings in the Biotech Forum portfolio that I think is very promising so we will dig into its investment case on our Spotlight feature today.
After no analyst commentary pretty much for five months, a small drug maker named ANI Pharmaceuticals (NASDAQ:ANIP) is finally getting some notice from analysts in recent weeks. Oppenheimer reiterated their Buy rating and $49 price target yesterday. Roth Capital came out last week reissuing their Buy rating and $51 price target.
I have been building a position in this small concern. It has been unfairly smeared with the fallout from Valeant Pharmaceuticals as have a number of small drug makers. However, it has made some smart, small and strategic acquisitions in recent months. The stock is also clawing back some of its recent losses as ten days ago the company boosted revenue, EBITDA and EPS guidance significantly for 2016. The company should see big boosts to revenues and earnings in FY2016 & FY2017 and is cheap given those consensus growth estimates.
Neurocrine Biosciences (NASDAQ:NBIX) also has gotten some buzz from analysts recently. Jefferies reiterated their Buy rating and $60 price target yesterday. Prior to that JP Morgan did the same on Tuesday with a $63 price target. Its analyst said the stock will benefit as the company is presenting at the American Association of Neurology next week and also at the American Psychiatric Association on May 14th. Piper Jaffray was even more bullish earlier in the month placing a $96 price target and reiterating its Buy rating.
This is not one I own but the company does have two late stage drug candidates in development that both have $2 billion in peak sales potential, according to Jaffray. Funding seems to be in place. The company's roughly $4 billion market capitalization is also in the range that a lot of drug giants will be looking for deals now that big mergers seem to be off the table due to regulatory actions. Might be worth a deeper look.
Note: New analyst ratings are a great place to start due diligence, but nothing substitutes for deeper individual research in this very volatile sector of the market. Many of the small cap names highlighted in the "Analyst Insight" will eventually appear in the "Spotlight" section, where we do deeper dives on this type of promising but speculative small cap concern.

As noted in the Analyst Insight section above our spotlight feature will be on Israel-based Redhill Biopharma. The company is getting some serious mentions in the analyst community of late. Four separate analyst firms have reiterated Buy ratings and issued price targets ranging from $25 to $33, even the lowest target is twice the stock's current price of $12.65.
Redhill is focused primarily on the development and commercialization of late clinical-stage, proprietary, orally-administered, small molecule drugs for the treatment of inflammatory and gastrointestinal diseases, including cancer. As can be seen here, the company has a deep pipeline for a concern with a market capitalization of just over $150 million.
The company has also been in the news as it continues to move its developing pipeline along. Earlier in the month, Redhill announced it has initiated a Phase 2 clinical trial assessing BEKINDA (ondansetron) for the treatment of patients with diarrhea-predominant irritable bowel syndrome (IBS-D). This compound is already approved for sale in this country for the prevention of chemotherapy-, radiotherapy- and surgery-induced nausea and vomiting. BEKINDA is also already in a Phase 3 study for the treatment of acute gastroenteritis and gastritis in ongoing with top-line data by the end of June.
In late March, Redhill provided encouraging interim results for a Phase 2a clinical trial on another compound RHB-104, as add-on therapy to interferon beta-1a for in 18 patients with relapsing-remitting multiple sclerosis. The interim date showed promising results compared to interferon beta-1a alone. The same compound is in a Phase II trial for the treatment of Crohn's Disease as well currently.
The company believes its compound RHB-105 is a potential blockbuster. FDA has granted this compound a Qualified Infectious Disease Product designation under the GAIN Act along for additional five years of market exclusivity in addition to existing exclusivity for a total of eight years market exclusivity. The company is meeting this month with the FDA to discuss a planned confirmatory Phase 3 study with RHB-105 for the treatment of H. pylori infection. This is estimated to be a $1.4 billion annual market just in the United States. This infection is the strongest risk factor for the development of gastric cancer and peptic ulcer disease, and is associated with iron deficiency, B12 deficiency and drug malabsorption.
The company ended the 2015 fiscal year with $58 million in cash on hand. Redhill burned through $17.8 million overall last year with $6 million of that coming in the fourth quarter as trial development accelerated. Even using that quarterly burn rate, the company would be well funded deep into 2018 so capital raises seem unnecessary at this time. This is a positive given the difficulty of doing a secondary offering in this space at the present time.
In short, the company has everything I look for before making a small investment in a promising but speculative small cap concern in the biotech & biopharma space. It has multiple "shots on goal" in addressable markets, a strong balance sheet, upcoming trial milestones and robust analyst support. I strongly urge all aggressive growth investors to read through the company's recent investor presentation that gives more details on its pipeline development and important milestones in 2016 as they consider in this "under the radar" biopharma name.

Thank You & Happy Hunting
Bret Jensen
Founder, Biotech Forum
Disclosure: I am/we are long ANIP, PGNX, RDHL.
I wrote this article myself, and it expresses my own opinions. I am not receiving compensation for it (other than from Seeking Alpha). I have no business relationship with any company whose stock is mentioned in this article.