CSX (NYSE:CSX) has announced first quarter results this week, reporting declining revenues and earnings in comparison to the prior year's quarter. Yet the company's shares do not look too bad right here, the valuation is rather attractive and the income potential is good, too.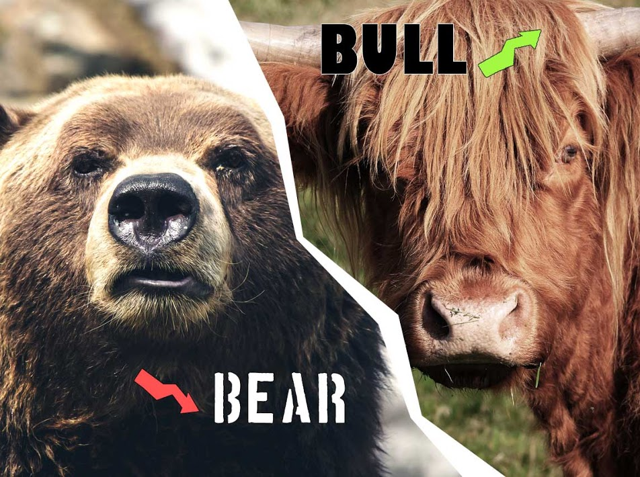 Click to enlarge
During the first quarter of 2016 CSX grossed revenues of $2.62 billion, down 13.5% over last year's first quarter. This number, however, does not only represent lower volumes (which are bad for the company), but also lower fuel surcharges (which are neutral to CSX's earnings). As CSX's fuel costs are lower, due to the lower price of oil in comparison to the prior year, the company is able to lower its prices (which leads to lower revenues). The revenue decline of 13.5% thus is not as bad as it looks like on first sight.
CSX nevertheless had to report lower net income and earnings per share as well, the company's bottom line was $360 million (down from $440 million in Q1 2015), earnings per share totaled $0.37.
CSX's volumes were down 5% in comparison to the prior year's quarter, which was mainly due to lower coal transportation volumes. Coal declines were partially offset by higher volumes in other categories such as automobiles/vehicles and vehicle parts. CSX's operating ratio was 73.1%, which is a very solid number and shows the company's strong fundamentals.
When we look at volume trends for April, we see that volumes did not improve so far, quite the contrary, volume trends got worse in the first week of April: Volumes were down five percent year on year in the first quarter, but are down 10.3% in April (so far). This, of course, is not a very reliable number regarding total Q2 volumes yet, since we are only in the first month of the current quarter. Coal once again was the leading contributor to CSX's volume declines in April so far, with coal carloads dropping by a whopping 47% year on year. Adjusting for the impact of lower coal transportation volumes, CSX's April volumes were down just 3% year on year (for comparison, CSX's first quarter volumes -- excluding the impact of lower coal volumes -- were flat). We thus see a slight worsening in the second quarter, but since this quarter has just started I would not put too much emphasis on that.
The fact that CSX is doing relatively fine when we exclude lower coal transportation volumes is reassuring for investors, as coal volumes could easily increase once natural gas becomes more expensive again (which is likely, as the natural gas rig count is at record lows right now, which will mean lower supply in the future).
The price decline CSX has seen over the last months has lead to a declining valuation, which makes CSX's shares more attractive right now than they were during most of 2015: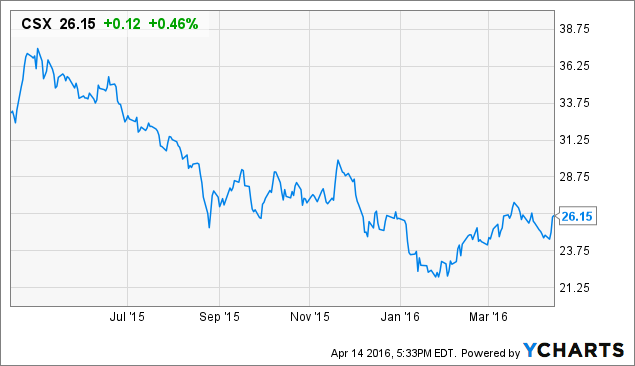 CSX's shares are down 18% year on year and currently trade 29% below their 52 week highs from last spring. At the current valuation of $26 the company's shares are attractive, I believe.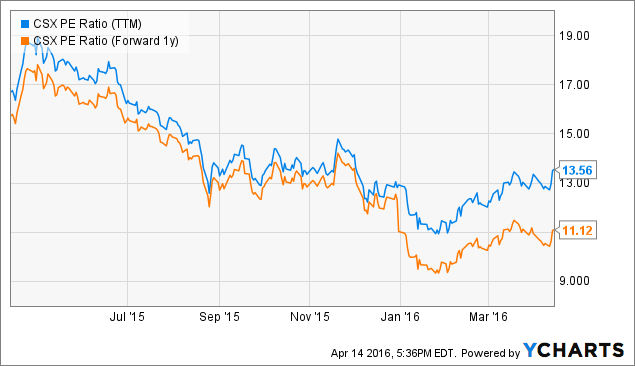 CSX's trailing price to earnings ratio has come down to below 14 over the last months, which means CSX trades with an earnings yield of 7.3% right now -- a much lower valuation than the broad market's valuation of 23.0 times earnings, which gives the S&P500 index an earnings yield of just 4.3%. The current valuation of 13.6 times earnings is also low in comparison to how the company was valued in the past. At 11.1 times forward earnings CSX looks attractively priced in terms of the company's future profitability as well.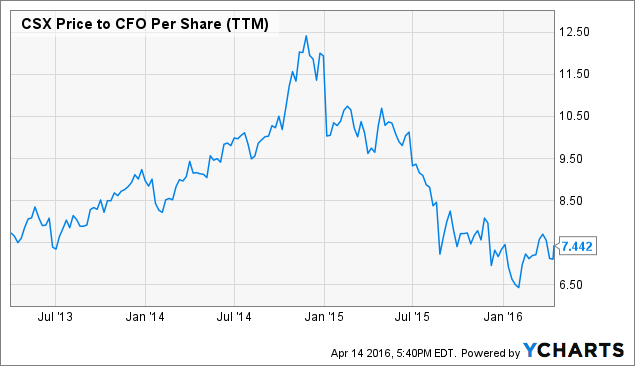 Looking at CSX's cash flows, we get the impression of a low valuation as well: The company trades at 7.4 times operating cash flows, which gives CSX an operating cash flow yield of 13.5%. This allows CSX to invest a lot of capital into its business, and at the same time keep shareholder returns at an attractive level: The company's dividend yield is 2.8% (which is higher than the yield for 30 year treasury bonds), and the company's dividend is about to get increased again: After making four dividend payments of $0.18, the last one of these was announced in February, CSX will very likely increase its dividend with its next announcement again (as the company has done in recent years). Another $0.02 increase would bring CSX's dividend yield to 3.1%, which is very compelling in the current low interest rate environment. CSX also returns cash to its owners via share repurchases, those have lead to a 27% share count decrease over the last ten years -- over a long time frame this is a huge contributor to a company's earnings per share growth, and thus also allows the company to increase its dividend at an attractive pace.
Takeaway
CSX has reported a small revenue decline and lower earnings for the first quarter, but adjusted for lower coal volumes the company's operations do not look bad. Volumes declined by a bigger amount in April so far, investors should keep an eye on that, but it is too early to speculate about second quarter volume trends.
CSX's valuation has come down a lot over the last year, and at just 7.4 times cash flows and 11 times forward earnings, the company's shares (which offer a 2.8% dividend yield which is about to get increased) look compelling.
Disclosure: I/we have no positions in any stocks mentioned, but may initiate a long position in CSX over the next 72 hours.
I wrote this article myself, and it expresses my own opinions. I am not receiving compensation for it (other than from Seeking Alpha). I have no business relationship with any company whose stock is mentioned in this article.