Waste Management WM is likely to be one of the more boring stocks to invest in along with the likes of Travelers Insurance TRV (which I have written about here) and Proctor and Gamble PG. But as many of us know, often with the boredom comes security and peace of mind knowing that you do not need to monitor an investment every day. An added bonus is collecting a nice --hopefully growing-- dividend while you wait for your shares to appreciate in value. There are 3 characteristics that make Waste Management a very attractive, long-term investment.
1) History of Strong Returns to Shareholders
2) Effective Management & Sound Financials
3) Recession-Resistant with the ability to provide steady cash flows
Returning Value to Shareholders
Waste Management has been focused on returning value to shareholders through dividends and share buybacks over the past 15 years, and in 2015 they returned $1.3 billion to shareholders through dividends and share buybacks. Dividends have increased an amazing 4000% - yes, four thousand percent. The company's board of directors has now increased the quarterly dividend for 13 years in a row and as of today's writing shares yield 2.9%.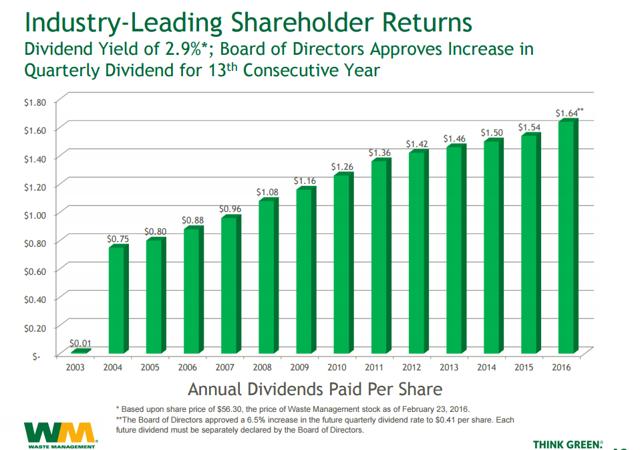 Click to enlarge
In addition to the 13 year history of providing increasing dividends to shareholders, the average diluted share count has decreased 27.4% over the same time period. This one-two punch certainly creates enormous value for shareholders over the long term with this company.

Between the growing dividend and buying back shares we of course want to make sure that the company is not stretching themselves too thin to simply appease investors. It's important, as with any potential investment; to take a look at how management is achieving these results and the company is financially responsible and not sacrificing growth.
Company Management & Financials
Waste Management is generating healthy levels of cash from its operations that easily support its share buybacks and increasing dividends, but also leave room for the company to increase its capital expenditures if needed for the development of new technologies and expanding its infrastructure.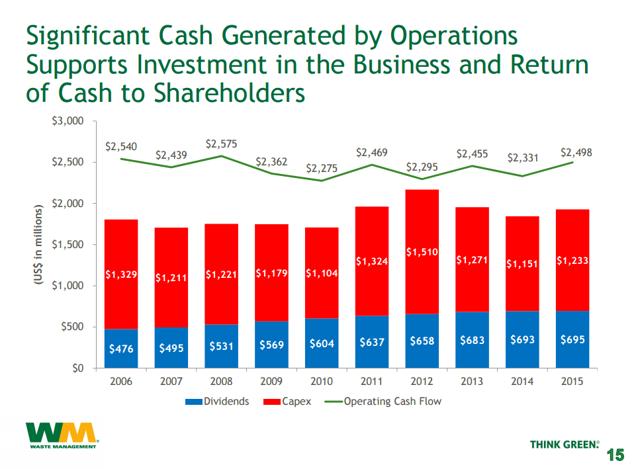 Click to enlarge
This cash flow is also remarkably stable as Waste Management has over 21 million customers, none of which make up more than 1% of total revenue. That level of diversification is second to none and allows investors to rest easy knowing that the company is not dependent on several large customers.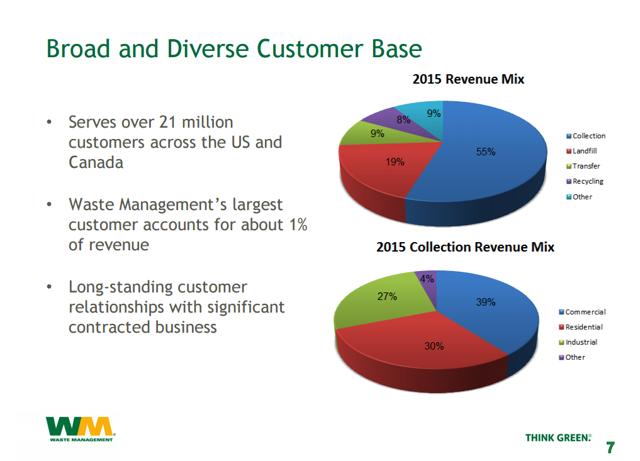 Click to enlarge
In addition to its well-diversified customer base, Waste Management offers a recession-resistant service that is needed in good times and bad alike. Garbage is being created on a daily basis and I do not see that changing anytime soon. During the latest financial crisis we see that while revenues, margins, and earnings all took a hit, they remained healthy and have rebounded.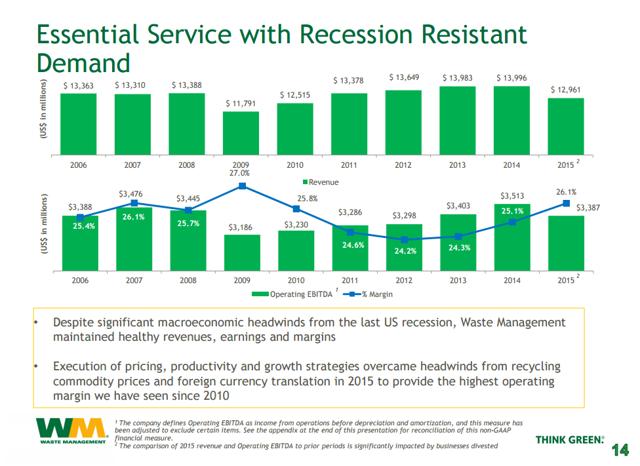 Click to enlarge
Looking at Waste Management's return on invested capital, we see that they have handily outperformed their competitors over the past five years, and have been increasing it steadily the past 3 years. We also see that the company has exceptional credit ratings from S&P, Fitch, and Moody's with all three rating Waste Management as "stable". These strong credit ratings give the company the access to capital that is needed to grow the business for the future and develop new technologies. The company has a balanced debt maturity profile and a low net debt to EBITDA ratio of 2.7 for 2015 which gives the company additional flexibility to operate effectively to accommodate for any market changes.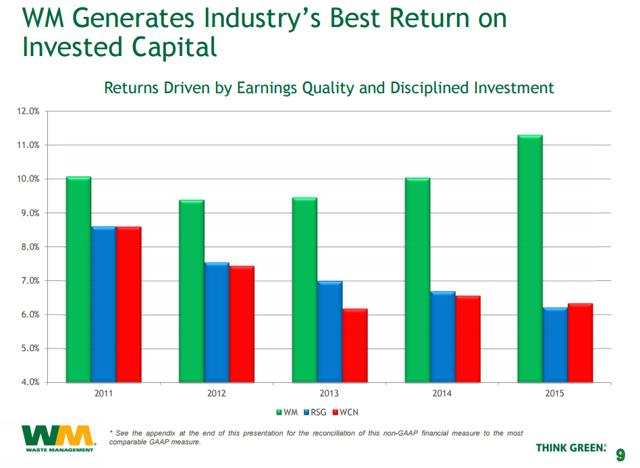 Click to enlarge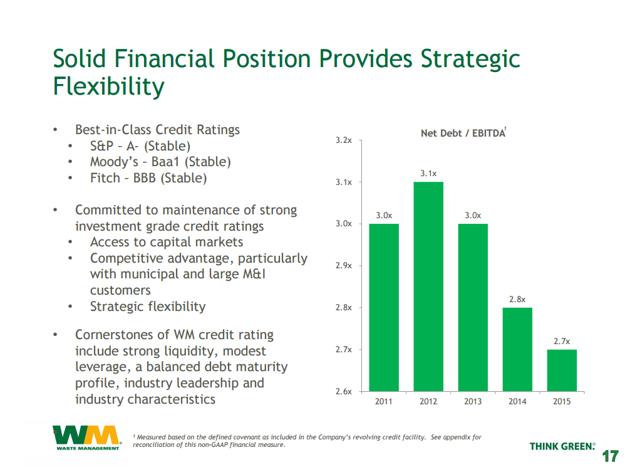 Click to enlarge
Conclusion
Waste Management is certainly a best-of-breed company in its segment. The company is capable of strong cash flows and revenues that are resistant to economic downturns, and are using them to return value to shareholders. The company has a strong balance sheet and are reducing debt, which they have accomplished the past 4 years in a row. All of these factors make for a compelling argument to place Waste Management in a retirement account if you're looking for a reliable long-term investment with a strong history and steady future ahead of it.
Disclosure: I/we have no positions in any stocks mentioned, but may initiate a long position in WM over the next 72 hours.
I wrote this article myself, and it expresses my own opinions. I am not receiving compensation for it (other than from Seeking Alpha). I have no business relationship with any company whose stock is mentioned in this article.