Alcoa looks like it might have established a nice base to move up this year. Even though we don't believe the stock will move soon, we do believe it is showing bullish tendencies. This leads to the possibility of putting together a short options trade this year.
Alcoa, Inc. (AA) engages in the production and management of primary aluminum, fabricated aluminum, and alumina. The company operates in four segments: Alumina, Primary Metals, Flat-Rolled Products, and Engineered Products and Solutions. The Alumina segment engages in mining of bauxite, which is then refined into alumina. The Primary Metals segment produces aluminum.
May through December was not a good time for Alcoa as the stock lost 50% of its value. Its losses in the fourth quarter we due to the aluminum prices falling. It will not be news when I state that Alcoa's value will follow the foot steps of the aluminum market for 2012.
While the price of aluminum could fall further in the near term, most analysts do agree that it will go up in 2012. In Asia, obviously everyone is looking to China for growth and in the North America it is the auto industry. North American vehicle production is expected to hit 13.2 million, up from 12.4 million in 2011. The aluminum orders of the major auto makers have maxed out at projections every month. The aerospace industry is expected to continue to increase demand while trucks and trailers are also expected to grow.
2009 235,000 trucks were sold
2010 273,000 trucks were sold
2011 377,000 trucks were projected
2012 is expected to have an additional 9% increase
With the aluminum market looking good, we expect AA to grow long term. It is no secret that Goldman Sachs downgraded Alcoa from buy to neutral in early December, not expecting much movement in the stock the early going of 2012.
Believing Alcoa will go up in 2012, at some point, offers not only a goods long term investment candidate, but also a short term options play with very little risk and good returns. If we look at Alcoa's long term chart, we see a positive divergence taking place in the RSI. This is a good indication of strength in AA's growth and a possible indication of a move up still. It broke through its bearish trend lone the first week of January.
Because of these indicators, we believe a Bull Call Spread would be a good low-risk, high-return option strategy here.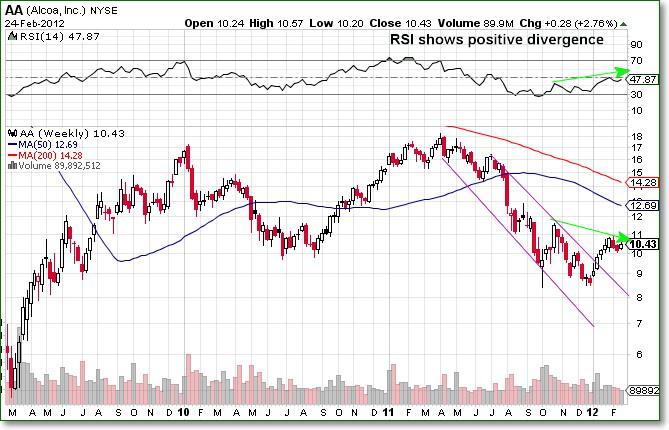 The Option Play
Making sure we give our strategy enough time incase of a short term downward move, we like the October 2012 call options. Here is how we would like to make this trade:
Sell an October 2012 '12' call option (presently priced at $0.58)
Buy an October 2012 '13' call option (presently priced at $0.33)
Starting Debit: ($0.25)
Max Risk: $0.25
Max Reward: $0.75
Breakeven: 12.25
Since we are presently trading at 10.43, we need a breakeven move of 17.5% and a maximum profit move will take us up 24.6%
Reasoning behind the Trade
Having broken through the long term bearish trend and observing the positive divergence that often signals a trend change, we believe that Alcoa may have built its foundation and now has the ability to move up. We do not believe that it is at the beginning of a long term upward trend just yet. But, we do believe, based upon past movement, that it is quite possible for the stock to move 25% in a short period of time. We have a 6 week period movement from the end of December that tallied about 29.5%, so the move is possible.