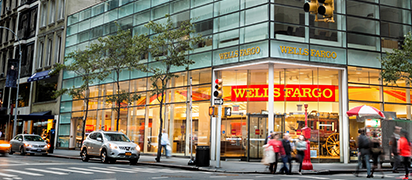 Wells Fargo (NYSE:WFC) has widely been considered the strongest of the TBTF banks for years as it deftly navigated the crisis due to its lower risk business model and prudent management. The company's earnings growth potential is generally less than the Bank Of America's (NYSE:BAC) and Citi's (NYSE:C) of the world simply because WFC is already so good; the company's profitability levels are and have been very strong for a long time. This means that WFC attracts a different investor than the others and it also means expectations are very high. The company's Q1 report delivered earlier this week was received with a resounding thud and WFC did not trade to the upside the way that JPMorgan (NYSE:JPM) did.
(click to enlarge)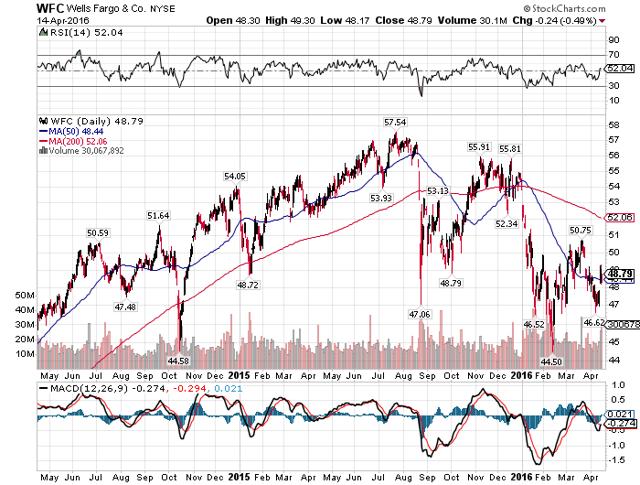 Click to enlarge
The company's quarter looked quite different from JPM or Bank of America as those institutions posted very strong results with lots of positives. For WFC, Q1 was a different beast and that is why the stock reacted the way that it did.
To start, the most significant difference between the strong quarter that BAC produced - for instance - and what WFC produced, is that WFC's consumer business was very weak. That segment posted a sizable profit - as it always does - but higher loss provisions and significantly higher noninterest expense sent total profit tumbling. This is a marked departure from what the other big banks have reported thus far and considering WFC's strength has always been its consumer business, it's strange and a little concerning. In addition, loan and deposit growth both moved higher and while loan growth was marginal, WFC continues to rapidly grow deposits. This is obviously beneficial but apart from deposit growth, the all-important consumer segment was very weak indeed.
The weakness in the consumer business doesn't even account for the bank's rather significant exposure to energy. That distinction belongs to the wholesale banking business, which saw provisions roughly triple from last quarter's $126 million in provisions. We all knew every bank was going to report significant, additional provisions in Q1 due to energy and WFC certainly did not disappoint. Oil and gas loans accounted for $17.8 billion in exposure, good for less than 2% of the book. While that is in-line with what other TBTF banks have, Wells didn't have sources of strength to offset weakness during Q1. BAC's losses were also significant due to energy exposure but its consumer business is ripping higher; WFC doesn't have that benefit.
I don't want to paint an unduly gloomy picture of WFC's business because the company is far from struggling. Revenue, loans, deposits, etc. all continue to grow as WFC chugs along. However, there is more to the story than just status quo as WFC's business composition appears to be shifting, and not for the better.
The weakness in the consumer business is notable as junior lien mortgages and credit card loans declined significantly. Credit card loans are a significant source of growth for JPM and BAC and it would seem that perhaps those two are taking share from WFC. At the very least, WFC's consumer business' areas of strength are being more than offset by its areas of weakness.
Wells' efficiency ratio of 58.7% is actually slightly elevated from recent quarters but is still strong by today's standards. Wells has some room to produce margin expansion but gains will be incremental at best. Wells is already so efficient with not only its expenses, but also its ability to produce revenue that margin expansion is going to be hard to come by. That means revenue growth and profit growth should be pretty closely tied and that further implies WFC's EPS growth potential is capped.
That by itself isn't a problem but WFC's valuation premium over the other banks necessitates that it continue to outperform. A big piece of owning WFC is the capital returns but at the same time, 11.7 times this year's estimates is a lofty valuation these days for a large bank. WFC has deserved its premium valuation in the past but does it deserve the same magnitude? Perhaps or perhaps not, that is for the market to decide. But with the consumer business showing considerable weakness and the energy complex causing more than its fair share of losses, it may be time for WFC to be re-rated slightly lower.
One thing I'm sure of when this year's CCAR results come out is that WFC will get whatever it asks for. WFC has proven a tremendous ability to create capital and that hasn't changed. The buyback will be substantial and drive EPS growth and the dividend - currently well in excess of 3% - will go materially higher. WFC places a very high priority on returning capital and that is great for investors that want that kind of thing; there is certainly a place for it. But for those investors looking for growth, WFC's Q1 certainly derailed that.
While I would never consider shorting WFC anywhere close to current levels, I fear upside may be capped. Growth is going to be hard to come by this year unless WFC's consumer business does a complete 180 and begins growing. But with broad-based weakness in that segment and the energy loan meltdown, that seems a tall task. I think if WFC had reported a blowout quarter and its energy losses weren't so bad, it would trade for 12.5 to 13 times this year's earnings but with substantial growth concerns emerging, 11 is probably closer to where it will trade. That's bad news as it means upside from here is likely very limited and could mean the stock may drift sideways or down for the remainder of the year.
Which direction it ultimately takes is unlikely to be material because WFC's valuation is right near where it probably deserves to trade. WFC's PE premium over the rest of the TBTFs is shrinking because the fundamental gap between them is closing. JPM and BAC reported very bright quarters and WFC simply didn't; the gap should close. WFC will be good for its yield forever and it may have some growth levers to pull that we don't know about yet. But for now, Q1 tells me that WFC is probably the least attractive of the TBTFs to own right now.
Disclosure: I/we have no positions in any stocks mentioned, and no plans to initiate any positions within the next 72 hours.
I wrote this article myself, and it expresses my own opinions. I am not receiving compensation for it (other than from Seeking Alpha). I have no business relationship with any company whose stock is mentioned in this article.