Investment Case: Diversified metals miner, sector-relative quality contrarian value
If you looking for a deep value commodity stock that is off the beaten track Grupo Mexico (OTCPK:GMBXF) is positioned to be one of the greatest beneficiaries of a copper recovery. It is the lowest cost producer of copper in the world. Grupo Mexico is a diversified metals miner with an expansive transportation division across Mexico.
Commodities have been in a long three year bear market but copper is starting to trade in a much healthier fashion. Copper has been flat for the past six months and the U.S. dollar rally is starting to fade expect this to buoy commodity prices.
Copper makes a higher low:

Source:Bloomberg
U.S. Dollar rally turns into down trend:

Source:Bloomberg
Corporate Structure
The company is made of three division but the mining and transportation divisions are the most important making up 97% of sales.

Source: Credit Suisse
Mining Division:
In 2015, copper production increased 7%, by 58,304 tons, mainly because of a 26% hike in production in Buenavista. In the year, our gold and silver production rose 3% and 12% due to the entry of new production at Buenavista.
Southern Copper Corporation is one of the two mining companies owned by Grupo Mexico, operating in Mexico and Peru, with field explorations in Chile. In 2014, SCC contributed 62% to the sales of GMexico. GMexico controls 87.4% of SCC through its subsidiary Americas Mining Corporation (AMC).
ASARCO was organized in 1899 as American Smelting And Refining Company. Originally a consolidation of a number of lead-silver smelting companies, the Company has evolved over the years into an integrated producer of copper, and other metals.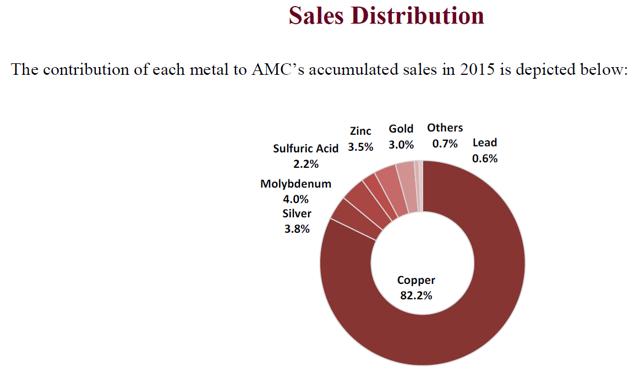 Source: Grupo Mexico Annual Report
Metal Production:
Copper - Accumulated copper production in 2015 increased (+7%) from a year earlier to 905,691 tons as a result of greater production in Buenavista (+26%).
Molybdenum - Accumulated molybdenum production up to Q4'15 increased (+0.3%) to 23,368 tons compared to the same period a year earlier.
Zinc - During 2015, zinc production fell (-7%) to 61,905 tons compared to 66,614 tons accrued in 2014. This drop is a result of the suspension of operations at the Santa Eulalia mine.
Silver - Accumulated silver production increased (+3%) to 14.913 million ounces compared to 2014, given a greater production in Buenavista (+17%) and Toquepala (+12%).
Gold- In 2015, gold production increased (+12%) to 40,994 ounces, given a higher production in Buenavista (+32%). Sales volumes rose (+160%) given the purchase of gold doré.
In 2015, operating cash cost per pound of copper, excluding byproducts, was $1.73, below the $1.98 accrued in 2014 (-13%) (all dollar values are in USD). The reduction was mainly due to lower fuel and electric energy costs, as well as greater low-cost production from the Buenavista expansions. In 2015, operating cash costs per pound of copper, net of byproducts, reached $1.28, vs. $1.33 in the same period a year earlier. This was despite the sharp drop in the prices of byproducts molybdenum (-42%) and silver (-18%).
For the future , the company expects a greater reduction in our costs mainly driven by the start of operation of the Buenavista concentrator and our expansion in Toquepala, as well as the shutdown of the Hayden operations, which currently have a cash cost of $2.28 per pound of copper. This will result in a reduction in our operating cash cost per pound of copper, net of by-products, from $1.28 to $1.10.
In Q4'15, $318 million were invested in the Mining Division, accumulating $1.223 billion. In the year, $748 million have been devoted to projects in Mexico and $382 million to projects in Peru. With capex expected to fall by 50% by 2017 versus 2014, Grupo Mexico will see its free cash flow rise along with its stock price.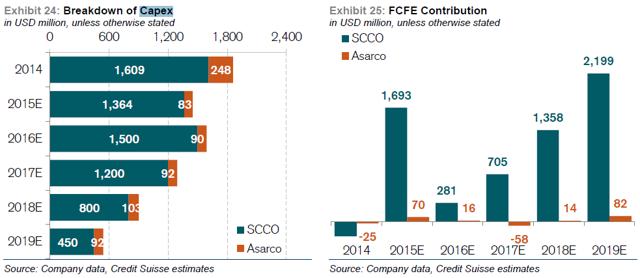 Source: Credit Suisse
The company continues to grow with the Buenavista expansion completed. The expansion program has been completed within the budget. The company has invested $3 billion from the $3.5 billion expansion program, which translates into nearly 90% progress. Grupo Mexico expects a copper production of 460,000 tons in 2016, and 500,000 tons in 2017. The concentrator plant is in the ramp-up process, operating at 90% capacity with 5 of its 6 mills in operation. In September, the first copper concentrate was obtained, and thanks to the good initial results, a gradual increase is expected, until the plant reaches its full capacity by Q2'16. The company has various other projects in Mexico, Peru, Argentina and Chile.
Transportation Division:
During 2015, cross-border exchanges of cars with U.S. railways grew 6.2%, achieving a 52% share, thanks to the increasing export of automotive vehicles, consumer products, and railway equipment, as well as greater imports of agricultural products. Grupo Mexico's transportation network is impressive with over 10,570 kilometers of rail with 5 U.S. border points. For every 10 vehicles manufactured in Mexico, 7 are transported by FM rail Holdings.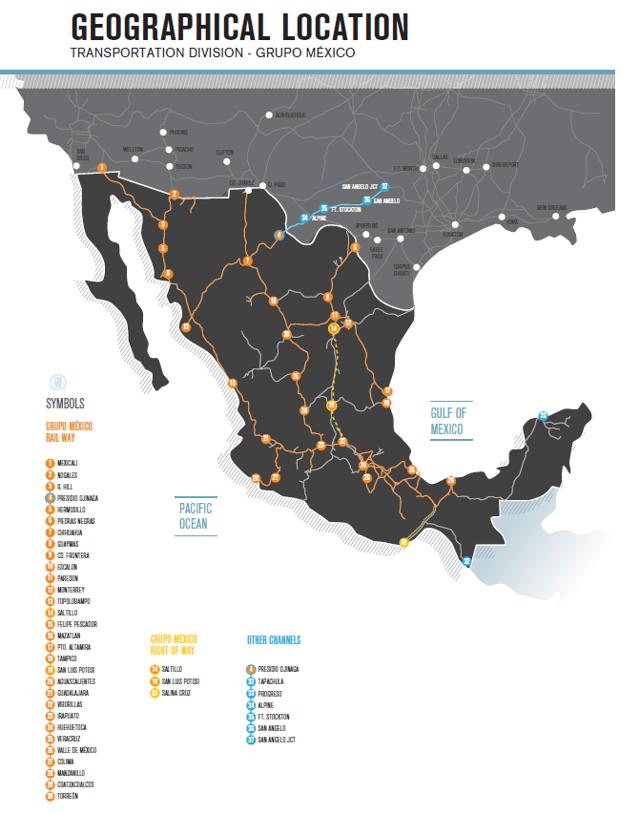 Source: Grupo Mexico Annual Report
The transportation division of Grupo Mexico is comprised of three large railroad companies through its subsidiary FM Rail Holding. Together, they form the largest railroad operator in Mexico, both in terms of coverage and fleet size.
Comparing the fourth quarter of 2015 to the same period a year earlier, traffic volumes grew 5%; operating profit 7%; and EBITDA 3%. All of this, with a 19.2% devaluation in the peso-USD. With increasing trade between Mexico and the United States, Grupo Mexico will be moving most of these products.
So why buy the stock now?
Grupo Mexico has some of the highest economic returns in the industry. Mining is a tough business and Grupo Mexico has been able to survive previous cycles and has continued to thrive in very difficult markets making it very well positioned to boost cash flows into the future.

Source: Bloomberg
Grupo Mexico has a strong balance sheet with net debt to EBITDA at less than 1.5x well below peers.

Source: Bloomberg
With $2.2bn of cash on the balance sheet, the company has more than adequate cash to meet its current debt structure.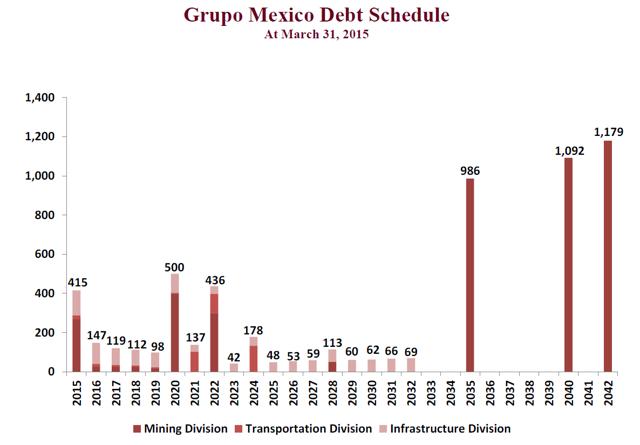 Source: Grupo Mexico Q4 Quarterly Report
It's time to catch the inflection point in the stock and the valuation which is the cheapest in over seven years on a price to book basis. The current stock price is still pricing in deteriorating returns and no growth. Expect close to 100% upside if valuation springs back to median levels. It's a cyclically opportunistic time to position yourself for a significant recovery in the stock price.

Source: Bloomberg
The time to act is now because the stock price is starting to lead earnings momentum which is already outperforming peers even if it is still negative.

Source: Bloomberg
What is the market missing?
The copper market is forecast to move into deficit in 2017, as growth in green field projects slows significantly. The size of that global deficit is set to widen sharply in 2019.
Catalysts
Further dollar weakness, most global monetary stimulus and Q116 earnings report due April 28th 2016 all present catalyst potential for further gains in the stock price.
Disclosure: I/we have no positions in any stocks mentioned, and no plans to initiate any positions within the next 72 hours.
I wrote this article myself, and it expresses my own opinions. I am not receiving compensation for it (other than from Seeking Alpha). I have no business relationship with any company whose stock is mentioned in this article.
Editor's Note: This article discusses one or more securities that do not trade on a major U.S. exchange. Please be aware of the risks associated with these stocks.