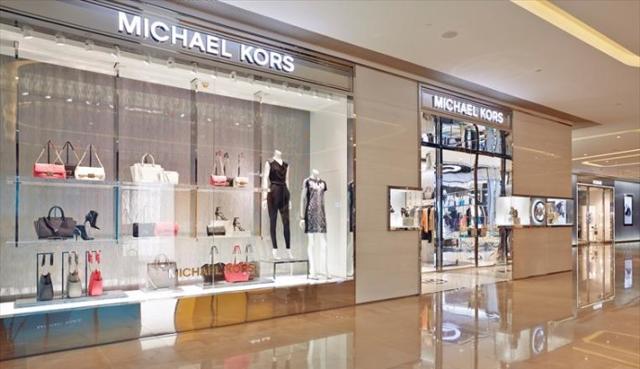 Click to enlarge
We had been invested in Michael Kors (NYSE:KORS) for almost a year, but finally sold our shares due to a disappointing outlook in the luxury goods industry. Recent results in the industry appear to have backed up the theories that consumer spending has been transitioning away from luxury goods to technology and experiences such as food and travel.
We do not doubt that Michael Kors still has strong appeal with consumers and has a good future ahead. But recent earnings reports coming out of the sector have painted a picture of a struggling retail environment in the luxury space, which could mean limited upside for investors. This won't come as a surprise of course. We have all been aware of the luxury goods struggles for some time, but we have always felt this was a blip that would correct itself. But right now there are many out there who believe this the start of a seismic shift to what will become the new normal.
British luxury brand Burberry (OTCPK:BURBY) posted disappointing sales numbers on Thursday. It blamed a drop in tourist spending in Europe and weak demand in Hong Kong. Comparable store sales were down 5 percent and its management team explained that things are expected to remain tough in the sector. Even its new store openings offered little to get excited about, with disappointing figures coming from them.
This is not what you want to hear after being bombarded with worryingly low monthly sales figures from Gap Inc (NYSE:GPS) last week. Although Gap is not necessarily comparable to Michael Kors, the performance was so bad across all of its three key brands that it could be an indication of incredible softness in the retail industry worldwide. Retail sales in the U.S. have been disappointing this year. We were expecting a 0.1 percent increase in March, but unfortunately the data released showed a 0.3 percent drop.
As we mentioned at the top. When we bought into Michael Kors we thought the slowdown in luxury goods was just a temporary blip, partly caused by the Chinese government's crackdown on gift-giving and a short-term change in consumer behaviour. But things have yet to show any improvement and may not according to Luca Solca. Solca is the head of luxury goods for Exane BNP Paribas. He has suggested that the sector will need to adjust to a new normal growth rate of just 2 to 5 percent for up to five years. If this is the case, then we may see limited sales growth for Michael Kors at a time when it really needs to ramp up.
One thing that is definitely on its side is the low earnings multiple it trades on. As you can see below, it is very cheap in comparison to Coach (NYSE:COH), so there may be limited downside risk. Though it is worth pointing out that although Michael Kors may have increased its earnings per share in the last twelve months, this was down to the repurchasing of shares. Net income actually dropped during the period.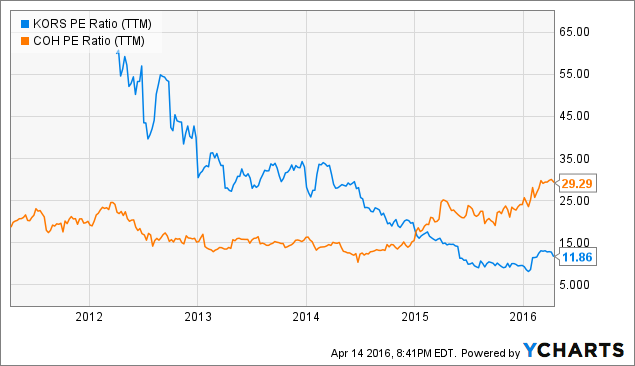 We would be concerned if we were invested in Coach. At almost 30 times trailing earnings the shares will be quite pricey if sales growth is limited to 2 to 5 percent. Once again, a great company which has turned around its fortunes very well. But these external factors that are out of its control could stifle growth and bring that share price tumbling down.
We believe it is prudent to sit this one out now. We have made a nice return after being fortunate enough to have bought near its bottom. But until we see a notable change in demand for luxury goods from consumers in China and Hong Kong, as well as a shift in spending habits from younger demographics, we feel it is better to focus on the industries where this spending is heading.
A company like Starbucks (NASDAQ:SBUX) seems like an obvious choice. Demand is strong all over the world, especially in China, and quick service restaurants have been a big winner when it comes to consumer spending.
Finally, we don't believe that Michael Kors is in danger of any steep declines, so shareholders should not be too worried. We just don't see as much upside for the share price as we would like, and believe a target price in the region of $53.00 is about right. This puts it in line with what other research firms are currently saying, as shown below.

Click to enlarge
Sourced from Finviz.com
Best of luck with your investments. We'll be keeping a close eye on its performance this year and let you know of any changes to our views.
Disclosure: I/we have no positions in any stocks mentioned, and no plans to initiate any positions within the next 72 hours.
I wrote this article myself, and it expresses my own opinions. I am not receiving compensation for it (other than from Seeking Alpha). I have no business relationship with any company whose stock is mentioned in this article.