JPMorgan (NYSE:JPM) and Bank of America (NYSE:BAC) already reported Q1-16 earnings this week. JPMorgan released Q1-16 results on Wednesday, handsomely beating the consensus EPS estimate of $1.26, and Bank of America followed JPMorgan's lead on Thursday. Bank of America also beat the consensus EPS estimate, not by as wide a margin as JPMorgan, but it was still a one penny beat.
With earnings season getting into full swing this week, investors have to digest a lot of earnings figures. Besides JPMorgan and Bank of America, Wells Fargo (NYSE:WFC) also released Q1-16 earnings on Thursday.
Wells Fargo said it pulled in revenues of $22.2 billion, up 4 percent from $21.3 billion booked in the first quarter of 2015. Its Y/Y revenue growth stood in contrast to other Wall Street banks whose revenue picture was less stable in the first quarter, partly due to a decline in trading revenues.
At the end of the day, Wells Fargo booked ~$5.5 billion in profits in Q1-16, which was lower than the ~$5.8 billion in earnings raked in in Q1-15. On a per-share basis, Wells Fargo earned $0.99 as compared to $1.04 in the year-ago quarter. While WFC's earnings declined Y/Y on the back of deteriorating conditions in the oil patch and loan losses, the bank managed to beat consensus earnings estimates. Analysts expected Wells Fargo to report earnings per share of $0.98.
Energy Loans Hurt Wells Fargo, But There Is No Need To Worry
Wells Fargo said that it had ~$204 million of energy-related net charge-offs in the first quarter, which was $87 million more than in Q4-15. The company's total net charge-offs climbed to ~$886 million, reflecting a ~$178 million Y/Y increase. Despite higher net charge-offs, WFC's total net charge-off ratio was only 0.38 percent in Q1-16, attesting to the bank's high overall credit quality.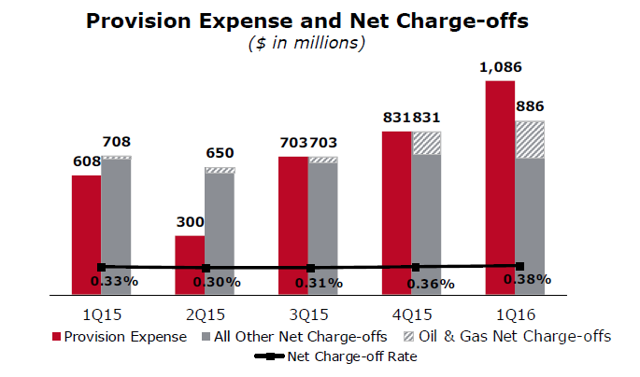 Source: Wells Fargo
Wells Fargo allocated $1.7 billion of allowances for credit losses for its oil and gas loan portfolio. Though energy-related losses hurt Wells Fargo's bottom line in the first quarter, the downside is very much contained IMO.
WFC's energy loan portfolio is worth ~$17.8 billion, which is a frighteningly high number. On the other hand, energy loans account for less than 2 percent of the company's total outstanding loans.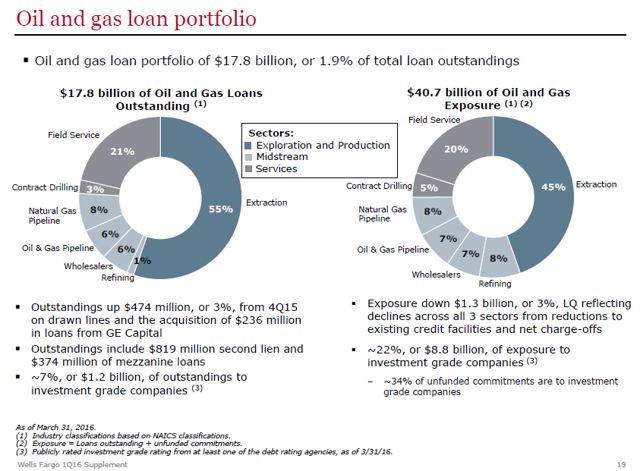 Source: Wells Fargo
Wells Fargo's Accounting Book Value Advanced 6 Percent Y/Y
Wells Fargo's solid Q1 earnings translated into a growing accounting book value, or ABV. At the end of the March quarter, Wells Fargo's accounting book value was $34.58/share, up ~5.7 percent from $32.70/share a year ago.
Your Takeaway
I cannot help but like Wells Fargo. The bank reported higher revenues whereas other Wall Street banks said their revenues fell. And though Wells Fargo had to report lower Y/Y earnings, partly due to its energy loan portfolio, its total credit quality remains high. Further, energy loans represent only a relatively small percentage of Wells Fargo's total outstanding loans. Importantly, the bank finished the quarter with a higher ABV than a year ago. What's not to like? Buy for capital appreciation.
Disclosure: I am/we are long BAC.
I wrote this article myself, and it expresses my own opinions. I am not receiving compensation for it (other than from Seeking Alpha). I have no business relationship with any company whose stock is mentioned in this article.