I wrote an article about the midterm outlook for the market a few months ago. In this particular article I want to add a few things and explain why I am shorting Oaktree Capital Management OAK.

Click to enlarge
This week, I read an interesting article about John Burbank's Passport Global hedge fund. The article was pretty much in line with the things that I expect.
The article is a few months old but the points are still valid.
Key points from the article:
1. QE resulted in the dispersion of global equities. This is still going on. Especially in Japan, Europe and in the US. Although the FED ended QE quite a while ago, we still have a tremendous impact of expectations about rate hikes or cuts. In other words: central banks have manipulated every asset class imaginable.
2. Markets are becoming macro dependent. Investors are de-leveraging (de-risking) resulting in perverse market movements.
3. Mispriced markets are a source of some potential alpha-generating opportunities.
4. Wealth preservation is most important in times like these.
In addition to that I think the screenshot below summarized the article.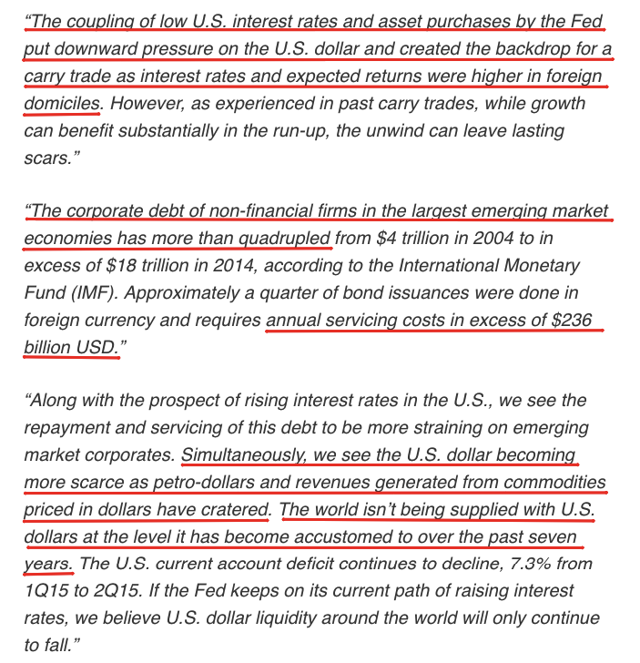 Click to enlarge
source: ValueWalk
Because of the low US dollar and zero interest rates, many foreign companies borrowed in USD. When the USD started to rally because of risk hike expectations, these companies got into trouble since their debt load increased. Now, the supply of USD is way lower. Hence the low liquidity.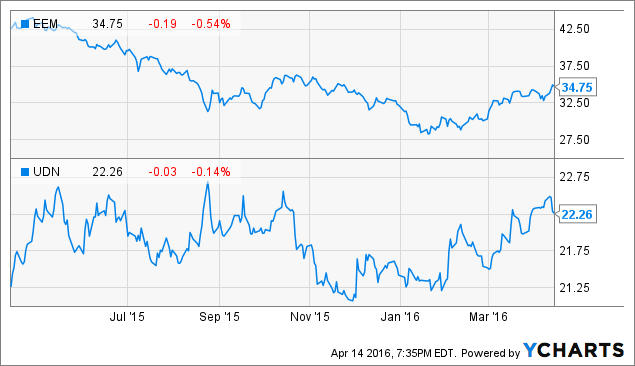 EEM data by YCharts
Moreover, Dodd Frank made it almost impossible for banks to do proprietary trading. Even small market drops could result in huge sell offs since sellers will outnumber buyers.
I shorted Oaktree Capital Management because more than 50% of their 92 billion USD AUM (assets under management) consists of junk and distressed bonds.

Click to enlarge
Source: OAK 10-K
Not only OAK but almost all competitors can be seen as liquidity trades. Blackstone (BX), Blackrock (BLK), Bank of NY Mellon (BK) etc.
On the long side of my trade is chose NextEra Energy (NEE). I wanted to have a trade that not only benefited if liquidity fell further, but also in times of slow economic growth and high odds of falling commodity prices (USD related).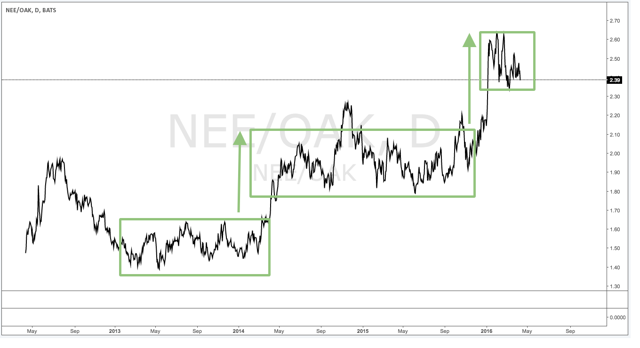 Click to enlargeThe graph shows the ratio spread between NextEra Energy and Oaktree Capital Management. I expect the ratio spread to go to 2.70 before June.
In addition to everything I mentioned keep in mind that there are many ways of trading liquidity and building trades that are market 'neutral'. This trade was added this week to my portfolio and might be a good example of a slow economy/liquidity trade.
Disclosure: I/we have no positions in any stocks mentioned, but may initiate a short position in OAK over the next 72 hours.
I wrote this article myself, and it expresses my own opinions. I am not receiving compensation for it (other than from Seeking Alpha). I have no business relationship with any company whose stock is mentioned in this article.
Additional disclosure: OAK's upside risk has been hedged by NEE longs.