Deep into the thicket of Q1 bank earnings, Morgan Stanley (NYSE:MS) emerges with its results before the bell Monday. Given the choppy reports from other big banks so far this week, most analysts expect a financial pile mixed with good news and not-so-good news. Which will outweigh the other?
JPMorgan (NYSE:JPM), Wells Fargo (NYSE:WFC) and Bank of America (NYSE:BAC) all had spots of trouble within their earnings reports but offered snippets of evidence that the consumer is doing relatively well. That may bode well for MS because almost one-third of its revenue-and its biggest sales source-is generated through wealth management. Its No. 2 revenue spigot is equities trading, which has been a little leaky for other big banks. Has that happened at MS?
The headwinds don't look promising, but as we've noted before, many analysts are very keen on what these financial honchos are forecasting for Q2 and beyond. If that sleeping giant that is the consumer is indeed starting to stir, that could have ripple effects for consumer spending-accounting for two-thirds of GDP-and a Federal Reserve rate hike. That, in turn, is typically a boon for banks.
What's Wall Street Looking For?
Analysts reporting to Thomson Reuters are projecting an average per-share profit of $0.51, a 40% plunge compared with the year-ago earnings. On the revenue front, the forecasts are for a 17% drop to $8.1 billion. MS's track record on outpacing expectations is fairly strong but not bullet-proof. MS has beat the Street in nine of the last 11 quarters, with the last miss in Q315.
Like other big banks, MS rocked bottom in early February, its lowest level in nearly three years. But it has recovered better than 20% since, though this week's trading has barely budged the share price.
Short-term options traders have priced in a potential 3.5% share price move in either direction around the earnings release, according to the Market Maker Move indicator on the thinkorswim®platform from TD Ameritrade.
MS is not typically a big magnet for options traders and we've seen a little less-than-normal options activity on the stock in recent sessions. Going into earnings, we've seen buyers of the Weeklys April 27-strike calls and May 25-strike puts. Implied volatility is at the 40th percentile - a little bit higher than what we've seen on some of the other financial stocks. (Please remember past performance is no guarantee of future results.)
Note: Call options represent the right, but not the obligation, to buy the underlying security at a predetermined price over a set period of time. Put options represent the right, but not the obligation, to sell the underlying security at a predetermined price over a set period of time.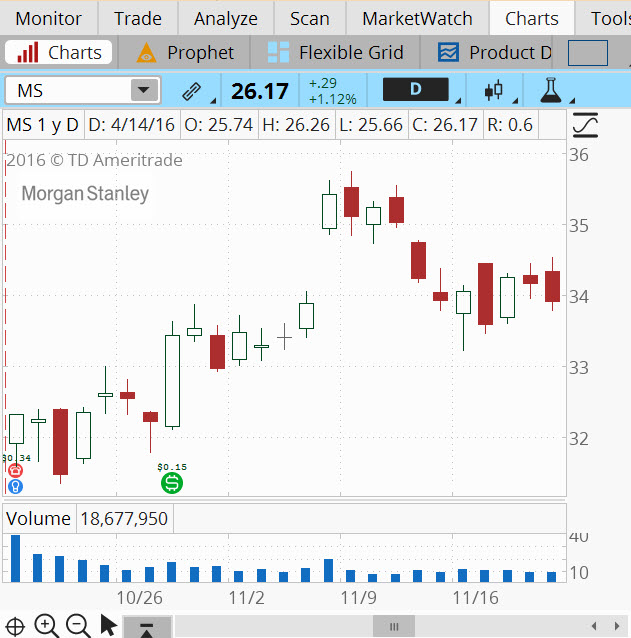 Figure 1: MS ON THE REBOUND. Shares bottomed out at a three-year trough in early February but have recovered better than 20% since then. Chart source: thinkorswim® by TD Ameritrade. Data source: Standard & Poor's. Not a recommendation. For illustrative purposes only. Past performance does not guarantee future results.
TD Ameritrade® commentary for educational purposes only. Member SIPC. Options involve risks and are not suitable for all investors. Please read Characteristics and Risks of Standardized Options.
Disclosure: I/we have no positions in any stocks mentioned, and no plans to initiate any positions within the next 72 hours.
I wrote this article myself, and it expresses my own opinions. I am not receiving compensation for it. I have no business relationship with any company whose stock is mentioned in this article.