Shares of Fitbit (NYSE:FIT) received strong endorsements this week from a number of different analysts... and rightfully so in my opinion. Capital Ladder Advisory Group's (CLAG) most recent sales data shows the Blaze has been selling through in recent weeks and as a beneficial result of continued A&P spending by the maker of fitness bands. The full scope of the sales, unfortunately, show that Blaze and Alta sales are proliferating at the expense of total unit sales on a same door basis with respect to year-ago sales. Our proprietary checks at Target (NYSE:TGT) and Best Buy (NASDAQ:BBBY) show that both retail operators have been advertising the Blaze and Alta in their weekly flyers and in store. Target has maintained a sales planner (end-cap program) for Fitbit products since early January, which may prove difficult to maintain on a year-over-year basis come 2017. Additionally, Bed Bath & Beyond (NASDAQ:BBBY) is now stocked with Blaze and Alta bands at over 75% of retail locations, which has also proven to accelerate unit sales in the last two weeks. Taken as a whole, it's clear to see that Fitbit is living up to their dedicated A&P spending as it pertains to the global launch of new products. This will likely prove to help the company beat its current guidance and the average analyst estimate for earnings and revenues come the company's Q1 2016 reporting cycle.
Many analysts came out with positive sentiment a couple of days ago with equally positive channel sales data pertaining to the Blaze. Citigroup's Stanley Kovler had the following to state:
The company's forecast for this year - $2.4 billion to $2.5 billion in sales - "may prove conservative. After mis-executing on product releases (Blaze), product transitions (Charge to Alta), and higher opex guidance for CY16 in early Q1 2016, we believe the recent announcement of 2M+ in Blaze and Alta sell-in now sets up for a positive Q1 and Q2 guide.
I'm not sure where the "mis-executing" on Blaze product release came from other than a bug in the app menu that existed for a few days, but even so it didn't appear to deter initial sales. As it pertains to the transition from Charge to Alta, while Alta sell-through has been fairly positive, Charge sales outpaced the Alta on a YOY basis per CLAG channel sales data.
Morgan Stanley's Katy Huberty also reiterated an Overweight rating and a $32 price target on Wednesday for shares of FIT. Here's what the analyst had to say pertaining to recent sales checks.
We expect 1Q results and 2Q guidance ahead of consensus estimates. Our checks indicate demand for Blaze and Alta were ahead of expectations, and retailers are already putting in re-orders for the Blaze, which shipped earlier than the Alta. We expect Fitbit to report 10-15% upside to revenue or $475-495M. While we also expect EPS to surprise positively, we see less upside in light of higher production costs during the new product ramp. We expect management will remain conservative on guidance but still expect 2Q (MS $521M revenue, consensus $532M) and full-year estimates to move higher post earnings.
These were some of the analysts' notes I would have been anticipating given the latest NPD sales data as well that proliferated this past Monday. Don't get me wrong, the NPD data wasn't all positive, but in terms of ASP it definitively pointed to higher priced units showing a greater contribution to the total sales pie for Fitbit products. What I would prefer to see in the NPD sales data, from a long-term perspective, is total unit sales increasing more meaningfully. At the current rate of unit sales, it is likely that unit sales will decline by mid 2017, which is probably why the short interest will continue to pressure the stock long-term.
Raymond James's Tavis McCourt also reiterated an Outperform on FIT shares, writing that his survey of users of wearable technology in March suggested a disproportionate market share for Fitbit. He goes on to state the following in his reporting:
We graph results from activity tracking and running watch questions from our quarterly survey. Thirty-six percent of respondents in this survey indicated they owned a wearable device, with 50% expecting to own one in the future. Both these percentages continue to move up in every quarterly survey and the gap between current ownership and future intended ownership indicates that this category still has substantial room to grow. The Fitbit brand continued to dominate both current ownership and future purchase intent. We note that our survey skewed slightly more female and to a slightly lower income level than previous surveys, and this change appeared to materially positively impact results for Fitbit relative to past surveys.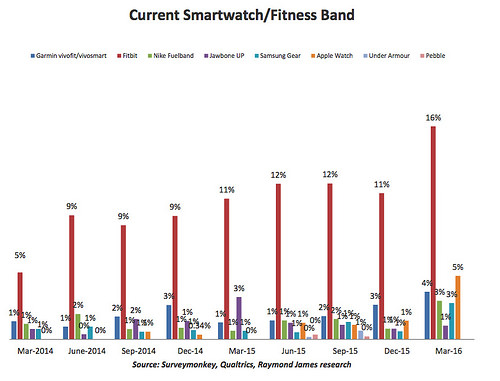 Pacific Crest analyst Brad Erickson reiterated a Sector Weight rating on shares of FIT.
Our checks in the United States indicate solid traction for Fitbit's two most recent new products, Alta and Blaze. Blaze was the first to launch (in stores Feb. 27) and has seen strong demand with days of inventory healthy at just over four days; we estimate about 1.3 million Blaze devices sold-through in Q1. Not surprisingly, Alta's volumes have been lower relative to Blaze. After three weeks of sales (in stores March 11), we believe the company sold-through roughly 600,000 to 700,000 Altas in Q1, with channel inventory also appearing healthy at a bit over five days.

The stock is arguably attractively priced given likely near-term upside, but we remain more circumspect over the medium to longer term given poor user category trends, lack of sensor differentiation opportunities and rapidly decelerating growth rates portending potential for market saturation.
While CLAG's and NPD's nationwide channel sales data don't support Mr. Erickson's unit sales assumptions, sales for the Blaze have been positive nonetheless in recent weeks. Where the data is found congruent with Mr. Erickson's dissemination is the healthy inventory levels seen at retailers as displayed in previous articles. Essentially, given the disseminated shipment results announced by Fitbit and the healthy inventory levels still exhibited at retail locations, it is not likely Fitbit sold through 1.3mm Blaze units and roughly 650,000 Altas in the last month. Admittedly, this is not with respect to smaller, international markets that make up less than 20% of total sales presently.
As it pertains to "poor user category trends and rapidly decelerating growth rates that will lead to mid-term market saturation," this is a part of being a consumer good company. There is no escaping the laws that govern consumer goods and Fitbit will eventually find itself struggling to grow revenues once market saturation is established. With regard to poor user category trends, a quick look at Fitbit return trends find that many retailers exhibit a 4:1.8 return expression from consumers. This remains fitting with the rate of attrition in the category and Fitbit products. The biggest complaint among Fitbit users highlights connectivity issues that also eliminate prior data stored.
Collectively, sales and user trends for Fitbit products remain on par with my forecast and trading strategies. With every new product and every new market expansion put forth by Fitbit, the company edges closer to market saturation and further deceleration of sales growth. Hardware sales will not be matched by software sales through the recent partnership with Amazon's (NASDAQ:AMZN) Alexa.
Fitbit has programmed somewhere between 50 and 60 statements that Alexa can say in response to questions, says Tim Roberts, who oversees design and research for Fitbit products.

This is only the second time Fitbit has integrated with a voice-activated assistant. The first time was with Microsoft's (NASDAQ:MSFT) Cortana digital assistant for smartphones. "But it's a very different experience," Roberts says, because while using Cortana requires you to hold and look at a phone, Alexa is totally hands-free and invisible."
While this may prove to be a positive development near term for Fitbit and shareholders, the bulk of the business will always remain on the hardware side of the equation. Having said that, more ease of use for the consumer is a benefit to Fitbit. Let's take a look at the trade now.
In a recent article I discussed with readers and investors NPD data and inventory levels of Fitbit products at retailers. The aim of this information was to give concerned parties a broader perspective of what type of sales data is actually achievable week-after-week and intra-quarter. Additionally, it hoped to inform readers as to why short interest will remain elevated in FIT for some time to come and until the grand collapse in sales performance. Again, it happens with all consumer goods and it is an unavoidable fact of the consumer goods business. Even the "all-mighty" Apple Inc. (NASDAQ:AAPL) has run into the "laws of large numbers" in its days as a consumer good titan of industry. Whether it is the iPad, iPod or iPhone, all are expected to show YOY unit sales declines in 2016. But shares of AAPL don't share the same short interest as FIT for a variety of reasons, including its varied product line and services. These variables do make trading shares of FIT optimal and rewarding to traders as indicated in the below extrapolation from "Fitbit Shares Find Themselves Pressured In Light Of Proliferating Sell Through Results."
I hope the aforementioned details surrounding Fitbit and how data is consistently reported throughout the year helps investors to better understand why shares of FIT will remain pressured for some time to come. With sales data proliferating every single week by NPD, it is hard to imagine that analysts' depiction of sales is worthy and with the stock reacting to the contrary of said disseminations. This, of course, doesn't mean trading shares of FIT can't prove profitable. In fact, I have acquired shares of FIT for another short-term trading opportunity that I see developing with the recent pullback. With FIT's valuation nearing its all-time lows, the opportunity is hard to ignore with an understanding of the company's dedication to expansion and new product deployment. The sell-in of these new products should help the company achieve most of its metric guidance for 2016 and especially its sales guidance. I would be of the opinion that this recent pullback of more than 12% will be equally rewarded with an upside move of greater than 12 % in the near future. Beyond that, the trading channel will expand and contract throughout 2016 and as sales data proliferates among the investment community.
One could say the clairvoyance is uncanny regarding the share price performance sentiment and forecast for trading shares of FIT, but given the consistency… I purchased this latest round of tradable FIT shares at $13.84 and watched the share price fall down to $13.02 where I acquired more shares and as expressed through my Twitter (NYSE:TWTR) tweets. After flipping the former shares out at $13.84, I kept the core share position. As the share price rose to $15.13 a share, I bought more shares. And the share price kept on rising as I anticipated through the latest round of NPD data. I originally planned to sell my shares at $16, but fortunately I waited a little longer and sold all my holdings in FIT for $17 a share. With greater than a 20% return on capital deployed and in less than 21 days, I retired the trade successfully. This marked the fourth profitable trade in shares of FIT since January 2016. I anticipate shares of FIT will remain volatile for the aforementioned reasons provided within this publication. As such, I also will anticipate many more tradable moments to be expressed by FIT shares in the coming months. With that offered, let's take a look at what the Apple Watch by Apple Inc. has been proliferating lately.
Having disseminated intra-quarter sales for Fitbit products in previous articles, it would likely prove advantageous to consider Apple Watch sales. While the two products do compete for the same space on the consumer's wrist, they will likely be pared in the minds of investors going forward as well. Within that context, FIT investors and traders would benefit from reviewing Apple's quarterly transcript for details on the Apple Watch as they may serve to "boom or bust" FIT shares if ever so briefly.
The following sales screen shot is from Apple's largest retail partner in North America and was taken prior to Apple reducing the price of the Watch to $299.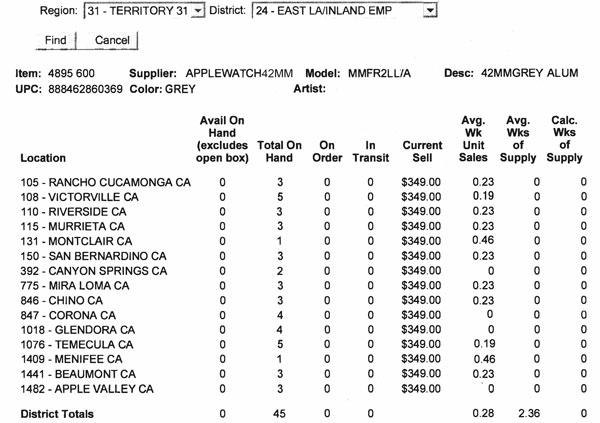 What the screen shot clearly defines is that Apple Watch is struggling to sell-through the retailer and orders are sparse for replenishing the product. In an article titled "Apple Watch Price Reduction Highlights Sell-Through Issues," I discuss with readers and investors how ineffective the Apple product development and pricing structure were for the Watch. Additionally, I offer concerned parties reasoning to believe that retailers didn't feel that Apple went far enough with its price reduction for the Watch.
As far as pricing is concerned, the price reduction is addressing some of the sell-through issues with the Watch, but some retailers may believe the price reduction doesn't go far enough. Target recently promoted the sale of the Watch Sport for $249 in its most recent weekly circular.
Readers should keep in mind that just like Fitbit, Apple is only able to quantify and qualify sell-in results for quarterly reports. But within the quarterly conference call, the companies are able to offer details surrounding sell-through results. Most companies only offer the positive side of sell-through results and fail to discuss some of the negatives, kind of like what is offered by some of the analysts. As they discuss the Blaze and Alta in a positive light they fail to discuss total unit sales and average selling price, but that is to be expected. Regarding Apple Watch sales, I believe the sell-in remains decent as the company continues to broaden its distribution of the watch beyond 12,000 points of sale.
Moreover, Fitbit is expressing a relatively strong operating performance in spite of foreshadowed obstacles that lay before the company. With shares filling the gap from the company's Q4 2015 results, I will remain on the sidelines unless shares pull back further. Hopefully, for the larger shareholder base, FIT shares will continue to rise up and through the next quarterly release. But and as always... we shall see about that!
Disclosure: I/we have no positions in any stocks mentioned, but may initiate a long position in FIT over the next 72 hours.
I wrote this article myself, and it expresses my own opinions. I am not receiving compensation for it (other than from Seeking Alpha). I have no business relationship with any company whose stock is mentioned in this article.