The 1st quarter of 2016 was an absolute nightmare for investors in banking stocks, me included. It was one of the biggest disconnects between price and value that I have seen, at least since the European Crisis in 2011. Naturally, we added materially on the downturn through a combination of stock purchases and cash-secured put sales. Bank of America (NYSE:BAC) was especially hard hit as concerns about energy exposure, the possibility of a recession, and concerns on net interest margins dominated the headlines.
I haven't seen too many industries that are hated as much as the big banks in my career and sincerely believe that the industry offers some of the best investment potential I've ever seen. While so many seem to believe that this low interest rate environment is permanent, I believe that it is very possible that inflation expectations can jump severely if we had a more business-friendly political and regulatory environment than what exists now, which I believe has been the ultimate wet blanket to this sleeping tiger of an economy.
Everybody loves revenue growth and Bank of America doesn't have it. The reasons why are many. Firstly, they have downsized and simplified their operations. They have exited riskier areas such as correspondent lending for mortgages, instead focusing on the needs of clients, as opposed to growing for growth sake. Secondly, the company had the largest exposure to problem mortgages, which have been running off over the last few years reducing revenues associated with them, but most importantly, the losses associated with these assets have declined, bolstering the bottom line.
Record low interest rates has pressured net interest margins, somewhat overshadowing the impressive deposit growth made over the last several years. Lastly, regulatory changes and a general reduction in capital market activities such as in the FICC business, has resulted in reduced revenues on that front. What Bank of America is doing though is creating a more viable long-term banking franchise that will be able to weather storms and improve profitability significantly moving forward.
As legacy assets decline and are replaced by new core loans, revenue growth will once again begin growing. The worst of the litigation is over and servicing costs are declining, so BAC has considerable room to improve its efficiency ratio. While the company definitely lags many of its peers in this regard, the valuation is quite a bit more attractive, making the stock particularly well-suited to benefit from future improvements in efficiency and of course higher interest rates.
On April 14th, Bank of America reported adequate financial results given the tumultuous 1st quarter macro environment. Net income was $2.7 billion, or $0.21 per diluted common share. These numbers include negative market-related NII adjustments of $0.07 per share and annual retirement-eligible incentive costs of $0.05 per share. Bank of America is making important strides as exemplified by 11% YoY growth in primary loans and a 6% YoY increase in deposits. Noninterest expense declined by $1 billion, or 6% from the same period last year.
That $1 billion of saving should equate to about $4 billion on an annual basis, which will really help the bottom line when revenues improve. Core costs, excluding LAS and litigation were down $600MM YoY. I believe there is still room for improvement making BAC one of the great investment opportunities based on it having more room to run on efficiency than some of its stronger peers such as Wells Fargo (NYSE:WFC) or JPMorgan (NYSE:JPM). Outside the energy sector, credit quality is remarkably strong, which gets very little publicity if you read the news headlines on the big banks. Total net charge-offs were $1.1 billion in the 1st quarter. The provisions of $1 billion were up $187MM sequentially, with the bulk due to energy.
BAC has $7.7 billion in utilized exposure to the higher risk E&P and oilfield services clients, which was down $600M QoQ as payoffs and charge-offs more than offset draw downs. In the quarter, BAC moved $1.6 billion of its energy exposure to reservable criticized, and added $525MM to energy reserves. Currently, the energy reserve is just over $1 billion, and while they cover the whole energy portfolio, they represent 13% of the $7.7 billion E&P and oilfield services exposure.
Of the notional energy numbers, much of it is related to integrated E&Ps, refiners, and midstream companies that are not nearly as vulnerable to currently low prices. All lending is secured and I believe that the worst of the energy issues are now in the past, although there will most likely be smaller additional reserves made.
Net interest income, excluding the bond premium adjustment, was $10.6 billion in the quarter. This was an improvement sequentially and YoY. An instantaneous 100 basis-point parallel increase in rates is estimated to increase net interest income by a whopping $6 billion, so BAC is clearly one of the most asset sensitive banks out there. Non-interest income was expectedly down due to a terrible quarter in the Capital Markets and related activities.
In addition, as the Legacy Asset Servicing assets diminish, mortgage servicing fees are declining, but ultimately, this is a positive as costs are declining even faster. Bank of America continues to make solid progress in just about all of its businesses. Global banking net income was down a bit due to increased energy-related reserves, but all of the other 4 divisions showed improvement YoY. The combination of business segments outside the All Other group earned $4.5 billion in the quarter, compared to $3.9 billion during the same period last year.
The All Other group was impacted by negative market related NII adjustments for bond premium amortization and then there was also the seasonable retirement eligible incentive costs that occur each 1st quarter. Even though the 1st quarter was filled with volatility and pessimism, consumer spending was up 4% YoY. Loan demand was solid in just about every area. Bank of America has cut the number of legal entities in half and has also reduced costs through programs like New BAC that produced more than $8 billion in annual savings. The company has been enhancing its spending on technology and client facing personnel.
Liquidity and capital is at record levels for Bank of America. Time to required funding is 3 years, highlighting the enormous liquidity strength for Bank of America. BAC's CET1 Transition ratio under Basel III ended the quarter at 10.3%. Under the advanced approach, the CET1 ratio increased 30 basis points to 10.1% and is now about the bank's fully-phased in 2019 requirement.
Despite a significant decline in the stock, Bank of America actually grew its tangible book value per share to $16.17, which is up $5 a share over the last few years. The major litigation costs and the worst of the LAS losses are things of the past, so the future looks that much brighter for the company. The market is giving the big banks no credit for those headwinds beginning to abate in my opinion. Bank of America's loan book is very balanced with roughly half related to the consumer, with the other half being commercial.
Based on 10.31 billion shares outstanding and a recent price of $14, BAC has a market capitalization of roughly $144.34 billion. The stock trades for less than 10 times forward earnings and it is important to understand that current earnings, aren't even close to what I estimate the normalized earnings power of the company to be. Bank of America should easily be able to earn $1.60-$2.00 per share even in this interest rate environment, given a slightly better capital market environment.
Litigation costs and legacy assets should continue to decline, bolstering the efficiency ratio. Merrill Lynch and U.S. Trust are absolutely incredible franchises that offer incredible value, which are completely neglected based on BAC's current prices. With BAC's strong balance sheet, increased stock buybacks and dividends are likely. BAC has the potential to be one of the great earnings and dividend growth stories over the next 3-5 years, and if interest rates do go higher, watch out.
Many of the same market participants who revile the big banks will be piling into these stocks, when they realize how much safer their business models are, how low the valuations are, and when they see the potential for dividend growth unparalleled in today's market.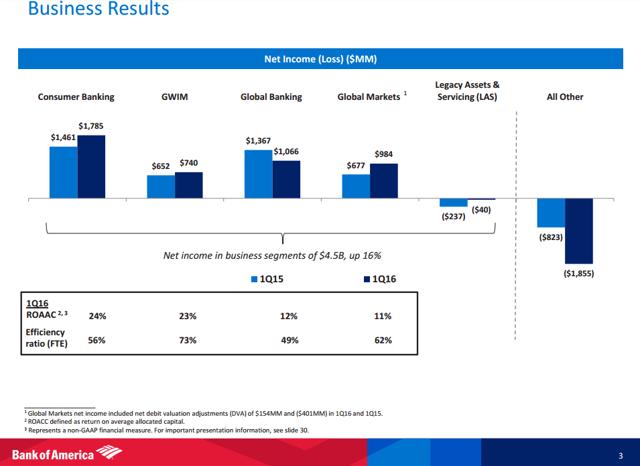 Source: BAC 1st quarter 2016 Investor Presentation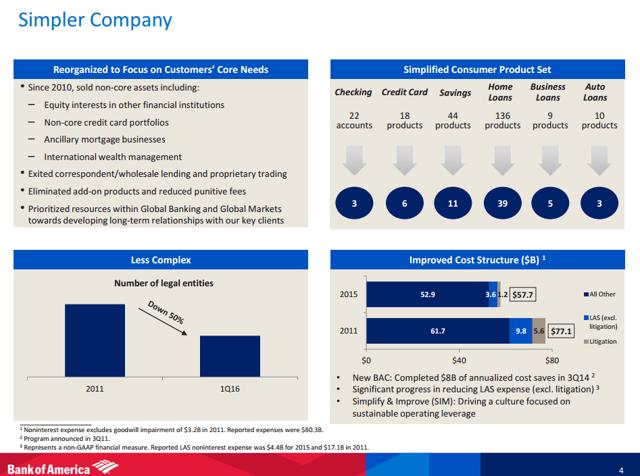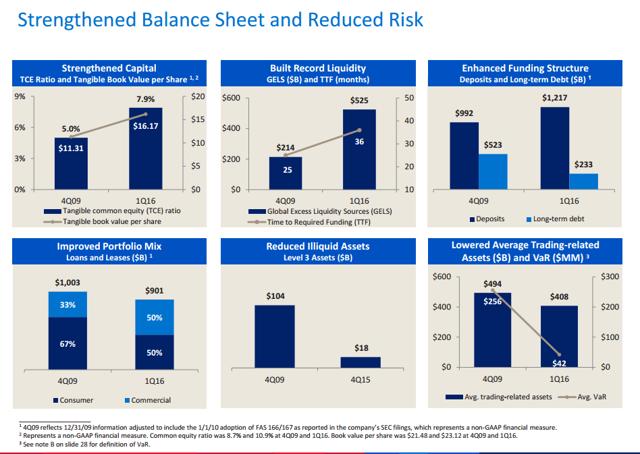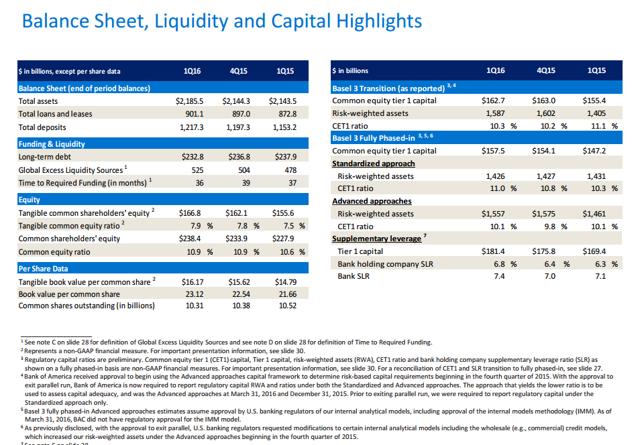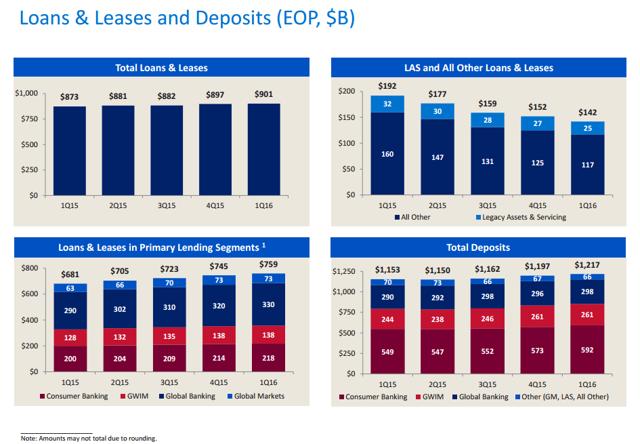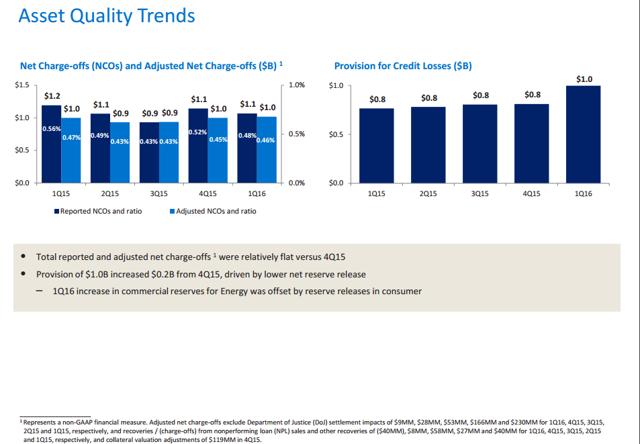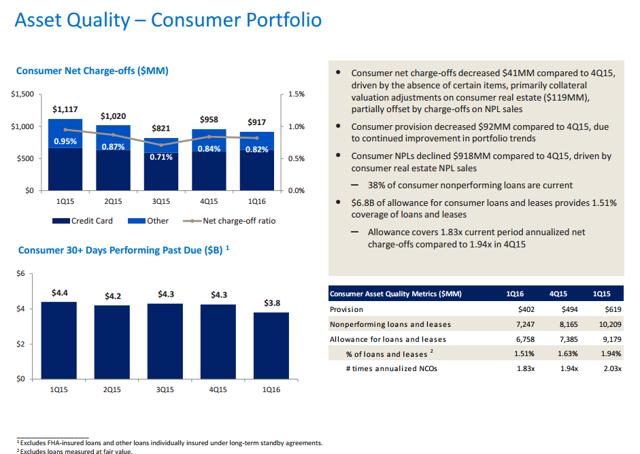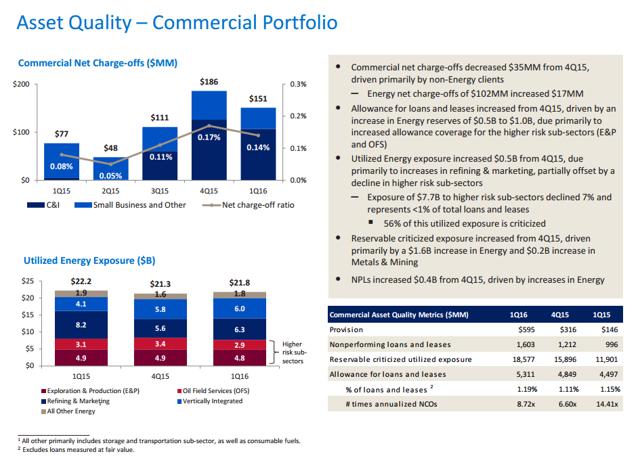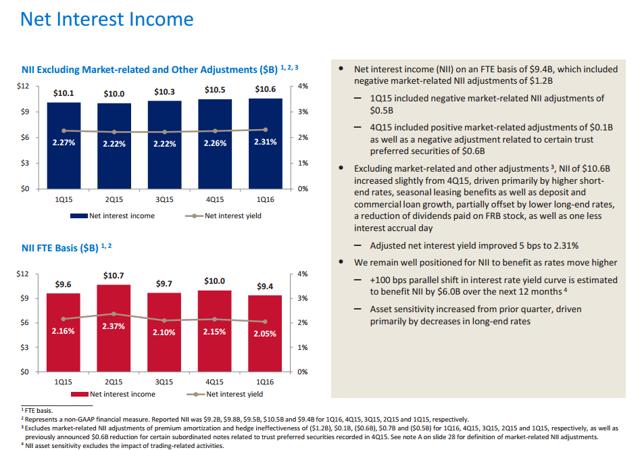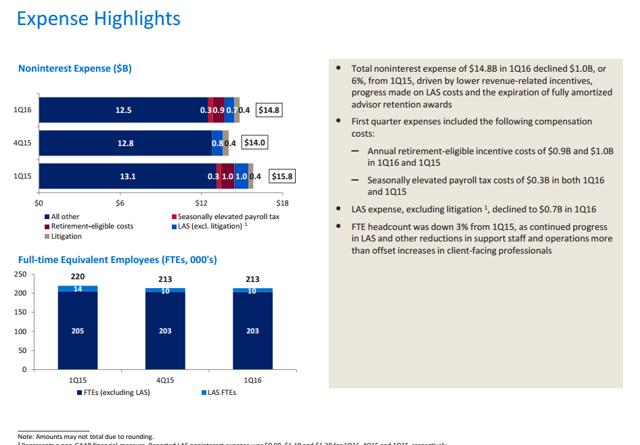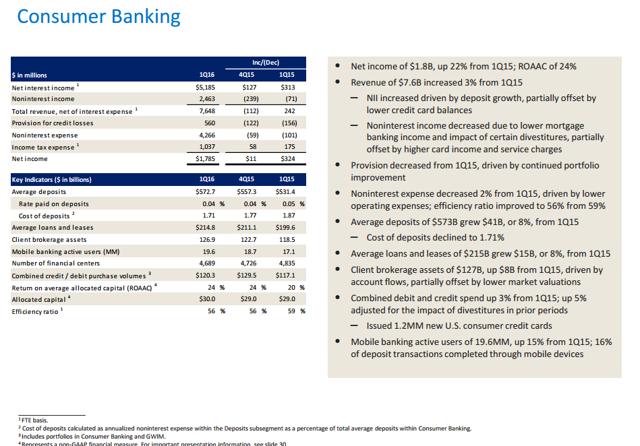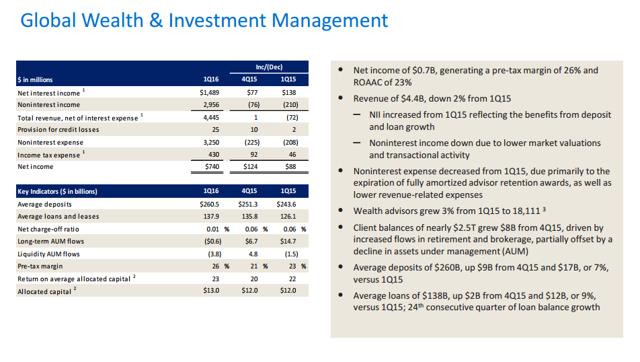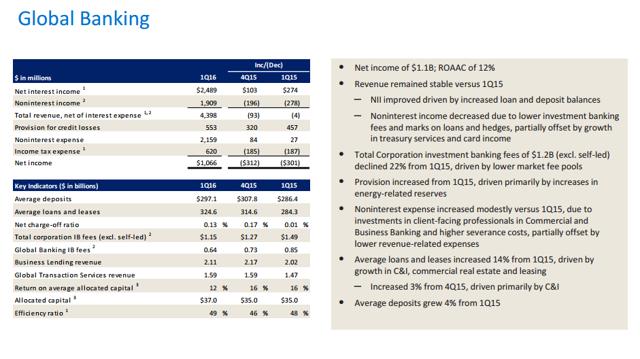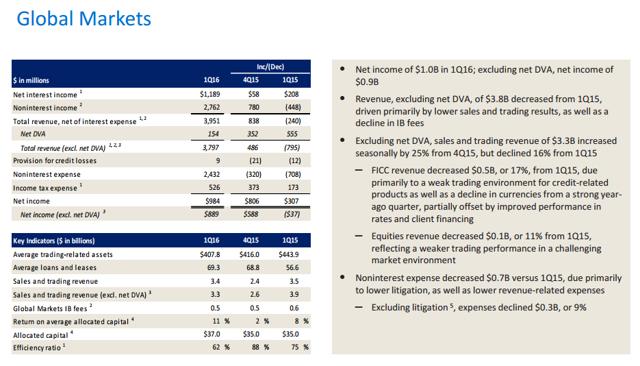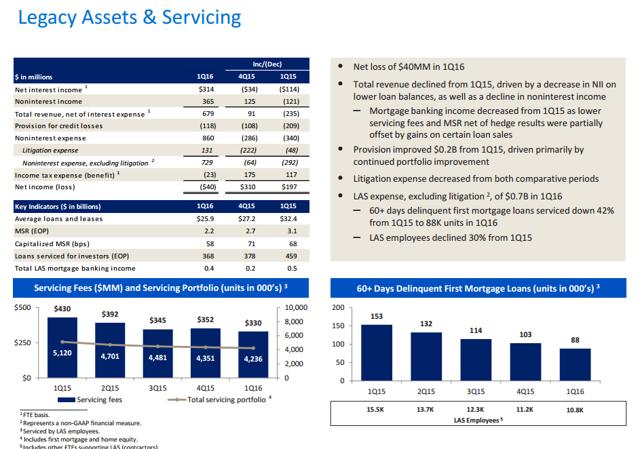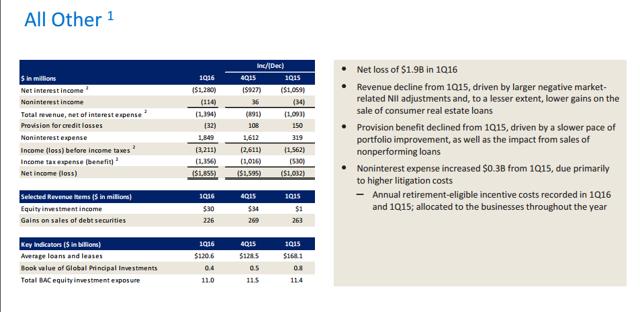 Disclosure: I am/we are long BAC, JPM, WFC.
I wrote this article myself, and it expresses my own opinions. I am not receiving compensation for it (other than from Seeking Alpha). I have no business relationship with any company whose stock is mentioned in this article.