AK Steel (NYSE:AKS) has been on a stupendous run on the stock market this year, rising more than 110% so far on the back of positive developments in the steel market in North America, along with its own operational efficiencies. But, after such an impressive run, should investors continue to hold AK Steel shares or is it time to book profits? Let's find out.
Rising steel prices will drive AK Steel higher
Steel prices have remained strong so far this year. According to a report by Steel Benchmarker for April 11, steel prices have shot up in the range of 8% to 27% across the world in 2016. For instance, the United States HRB (hot-rolled band) spot price has increased 10% to the current level of $466 per metric tonne from $425 per metric tonne in the first week of January this year. Concurrently, Western Europe and China ex-works HRB spot price has rallied 8% and 27% to current level of $390 and $320 per metric tonne from $362 and $251 per metric tonne, respectively, in the first week of January 2016.
Additionally, world export prices have increased about 13% to $283 per metric tonne at present from $321 per metric tonne in January. The following chart clearly shows the strength in steel prices across the globe this year, which is why it is not surprising to see an improvement in AK Steel's stock price.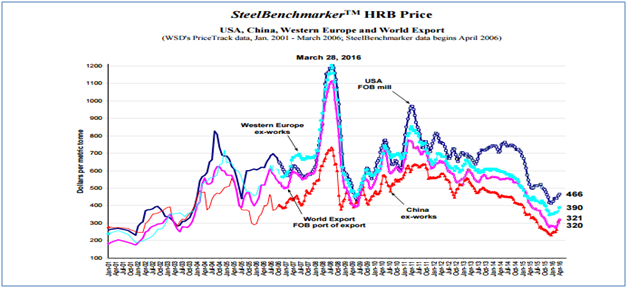 Source: Steel Benchmarker
Looking ahead, the rally in steel prices is expected to continue due to a couple of reasons - a reduction in steel capacity in China and anti-dumping duties imposed by the Commerce Department in the U.S.
According to a report by Bloomberg, the Chinese government recently decided to reduce its steel capacity by 100 million-150 million tons in the coming five years. This reduction in steel production capacity means that steel producers in China will not be able to export too much steel at cheap rates into international markets such as the U.S. This is good news for AK Steel since oversupply in the North American steel market will come down as a result and keep prices strong.
Meanwhile, the U.S Commerce Department has recently announced that it will slap anti-dumping duties on the import of selected hot-rolled steel products from seven countries. These duties follow the imposition of a complaint by U.S. steelmakers who were suffering from cheap steel imports into the U.S. As a result of the imposition of these duties, AK Steel will be able to tap the growing demand for automotive steel in the U.S. as it will now be able to compete more effectively against imported products.
The automotive sector will be a growth driver for AK Steel
According to the Wall Street Journal, auto makers in the U.S. sold 17.5 million cars and light trucks last year, representing an increase of 5.7% over 2014. In fact, on an average, Americans spent nearly $570 billion on new rides. Auto sales in the U.S. have improved on the back of cheap gasoline, employment gains, and low interest rates. The most important thing is that this momentum in auto sales is continuing in 2016, as shown in the chart below.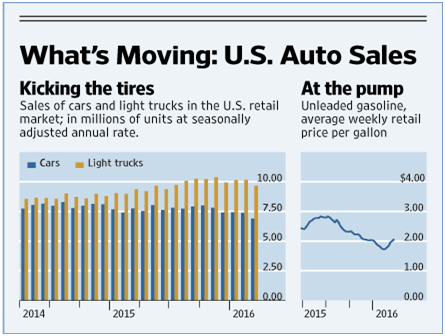 Source: Wall Street Journal
As seen above, sales of cars and light trucks in the U.S. are trending at higher levels than last year. This is great news for AK Steel since automotive steel accounts for over 58% of the company's total shipments. In fact, due to the strength in the automotive sector, AK Steel was able to generate $1.54 billion in sales in the fourth quarter that had outpaced the consensus estimate of $1.50 billion.
More importantly, the automotive sector across the globe is expected to grow 3% in 2016 after growing 3.5% last year. As a result of this growing demand for steel across the globe, especially in Asia, the oversupply in the steel market will keep coming down and help improve pricing.
Conclusion
AK Steel has a lot going for it as far as the end market is concerned. Steel prices have been on the rise this year due to an improving demand and supply situation in the market and the trend is anticipated to continue in the future as automotive demand rises. So, in my opinion, staying long AK Steel shares seems like a good idea as the stock can move north in the long run.
Disclosure: I/we have no positions in any stocks mentioned, and no plans to initiate any positions within the next 72 hours.
I wrote this article myself, and it expresses my own opinions. I am not receiving compensation for it (other than from Seeking Alpha). I have no business relationship with any company whose stock is mentioned in this article.