About two years ago, I introduced you to Atrium European Real Estate (OTC:ATRBF), a real estate company focusing on malls and shopping centers in Eastern Europe. As the market doesn't consider those regions to be Tier-1 countries, and as Atrium has some properties in Russia as well, the company has almost always been trading at a discount to its NAV, which is quite rare for a real estate company!
Atrium's primary listings are in Vienna (Austria) and Amsterdam (the Netherlands), and both exchanges offer you a better and more liquid way to trade in the company's shares. The combined average daily volume is approximately 145,000 shares, so I would strongly recommend you to trade in the company's shares through these exchanges. The ticker symbol is ATRS.
The occupancy rate in Russia remained high, thanks to the discounts
2015 was an interesting and important year for Atrium. Not only did the company want to reduce the amount of assets in its non-core regions and properties and reinvest the proceeds into larger properties in its core markets in Poland and the Czech Republic, it also had to deal with the 'Russian situation' where the crumbling economy has put severe pressure on the value of the Russian Ruble, making it more difficult for Atrium's tenants to pay the monthly bills.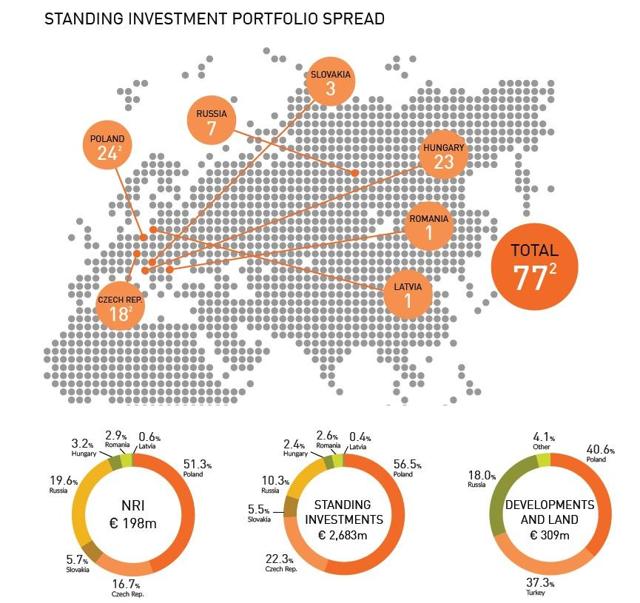 Click to enlargeSource: annual report.
Atrium has decided to be proactive and offered its Russian tenants discounts to keep the occupancy rate high. That's very important for a company that is operating shopping malls as a lower occupancy rate in a mall might also attract fewer potential customers who prefer to see a mall as some sort of 'one stop shop'. And these discounts, combined with the weaker Ruble, definitely impacted Atrium's rental income as it dropped by in excess of 31% to just in excess of 42M EUR ($47M). This caused the total gross rental income to fall by 5.6% to 202.5M EUR ($228M), and this drop is primarily caused by 'the Russian situation', as the lower rental income from the Czech properties has been compensated by an increased rental income in Poland, and half of the company's gross rental income (and in excess of 51% of the net rental income) in 2015 has been generated in that country.

Click to enlargeSource: annual report.
This emphasizes Atrium's plan to fall back on its core countries with a more stable economic situation, and I think the company might be eyeing to acquire more assets in Poland and the Czech Republic.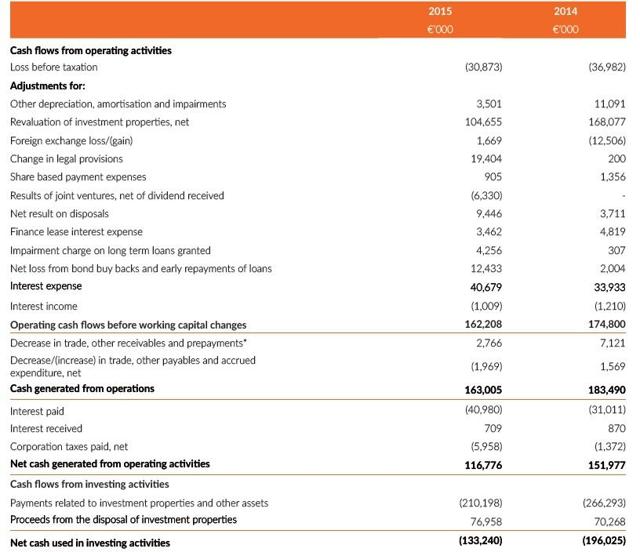 Click to enlargeSource: annual report.
Taking everything into consideration, Atrium generated a net operating cash flow of almost 117M EUR ($132M), after taking the taxes and interest expenses into consideration. That's approximately 31 cents ($0.35) per share (and keep this number in mind).
The company's book value remains much higher than the share price, whilst paying a very handsome dividend
When I originally started to write about Atrium, there were two details that really caught my attention and were the main reason why I have initiated a rather sizable stake in the company.
The first thing was the dividend. When I started to discuss Atrium, the company had a dividend yield of approximately 6%, but as it has now increased its dividend and its share price is currently trading lower, the current dividend yield has increased tremendously and has now almost reached 8%. (and it was in excess of 8% just a few months ago).
Sometimes the dividends paid by a real estate company are looking too good to be true, and in the majority of the cases, there will indeed be some skeletons in the closet. But at Atrium, everything seems to be fine. The net operating cash flow was 0.31 per share and as the total dividend (which is being paid as a return of capital, meaning there are no foreign withholding taxes) is just 0.27 per share ($0.305) on an annual basis, the dividend seems to be covered by the operating cash flows (although it might be a close call, considering Atrium will have to spend some cash on basic maintenance of the properties).
So, the cash flows are covering the dividend, and the occupancy rates remain relatively high, even in Russia. How is it possible the company is able to pay a 7.6% dividend? Well, if you'd calculate the net operating cash flow versus the market capitalization, you end up with a yield of 8.7%, which is quite high for a real estate company, but the real key to understanding why Atrium's yield is so high can be found in the undervaluation.
Indeed. Whereas Atrium's most recent closing price in Europe was 3.60 EUR ($4.05), the net asset value per share was 5.64 EUR ($6.32). So if you would calculate the yield on the book value of the assets, you end up with something in the 5.5% range, which is in line with the competitors. So, the low valuation on the market compared to the book value is the main driver for the high dividend yield.

Click to enlarge
Source: annual report.
But then the next question pops up. Is Atrium perhaps overstating the value of its assets? Is the market valuing Atrium at a discount to its NAV because it doesn't believe the numbers given by the company? That's highly unlikely, considering the rental income is indicating the value of the properties is higher than the value given by the market, but maybe even more important is the fact Atrium has been able to sell 10 retail properties in the Czech Republic at US$115M, which is 8% above the book value of the properties. So, if anything, Atrium seems to be underestimating the value of its assets rather than overestimating them.
Investment thesis
I still feel very comfortable to be a shareholder of Atrium European Real estate, as the company's financial results continue to confirm it is heading in the right direction. Yes, the rental income and operating cash flow was lower than in the previous financial year, but this is entirely caused by the company's decision to give its clients in Russia a huge discount to make sure the occupancy levels remain high.
I bought more stock when Atrium was trading in the 3-3.15 EUR range, and I'm just waiting for my quarterly dividend cheques to roll in. This is a well-managed real estate company with excellent returns, a low LTV value of less than 35%, and trading at a substantial discount of 36% compared to its NAV. Yes, Eastern European malls might not be very attractive, but as long as Atrium continues to generate strong cash flows, you won't hear me complain, and I totally accept the risk/reward ratio.
Disclosure: I am/we are long ATRBF.
I wrote this article myself, and it expresses my own opinions. I am not receiving compensation for it (other than from Seeking Alpha). I have no business relationship with any company whose stock is mentioned in this article.
Editor's Note: This article discusses one or more securities that do not trade on a major U.S. exchange. Please be aware of the risks associated with these stocks.