Yesterday, I wrote an article about a short position in Caterpillar (CAT). In that article I talked about the contracting industrial production. Today, March figures for the industrial production were published. Industrial production continued to decline. In fact, industrial production totally ignored the stronger ISM index which is in fact a leading indicator for industrial production. This is not the first time that it happens.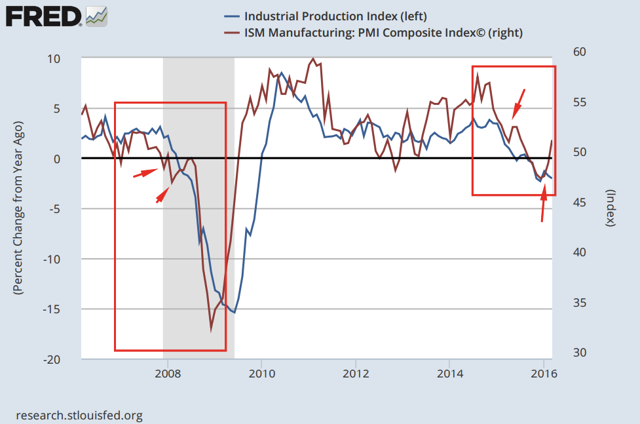 Click to enlarge
After this 'news' I added Caterpillar shorts to my portfolio. I protected the upside with SPDR Industrial Select Sector ETF XLI longs.
However, the main point is not to talk write about my investment but give you another chart. Today we got a new release of the Empire State Manufacturing Index. A regional PMI for the month of April. I follow this index because it sometimes leads the official manufacturing PMI conducted by the ISM.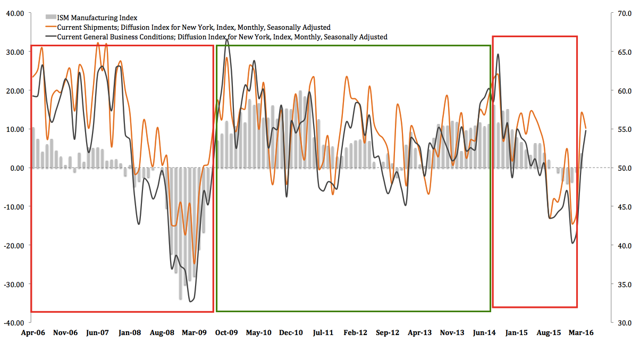 Click to enlargeSource: Federal Reserve Bank of St. Louis, BN Capital
First of all: regional surveys are extremely volatile and not always show a clear picture. However, I find it quite interesting that business conditions kept improving after a strong March. Shipments fell slightly. This does not indicate that the ISM index is about to drop below 50 this month. The Empire State index did lead the ISM index pretty good this year - so far.
I think we need more evidence before we can say that the economic slow down is over. The recent retail sales print was disappointing too.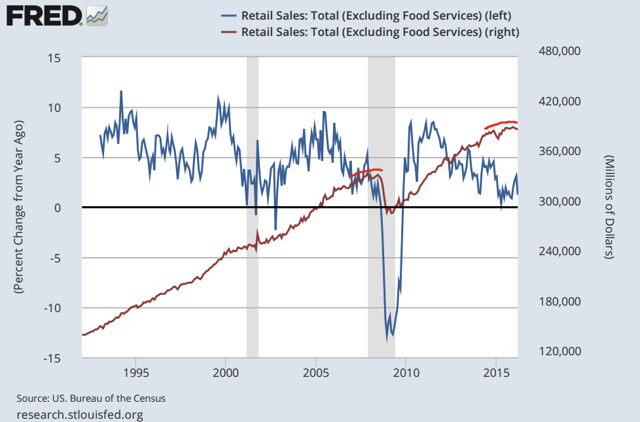 Click to enlarge
To me, it is all about commodities at this point. Higher commodities could push industrial production up and result in some more GDP strength. Till that point I keep my portfolio market neutral.
Disclosure: I am/we are short CAT.
I wrote this article myself, and it expresses my own opinions. I am not receiving compensation for it (other than from Seeking Alpha). I have no business relationship with any company whose stock is mentioned in this article.
Additional disclosure: Caterpillar shorts are hedged with XLI longs