In an earlier article on dividend aristocrats, I outlined my reasons for picking Walgreen Boots Alliance (NASDAQ:WBA) (and two other companies) as a strong dividend player with solid fundamentals. Based on the comments I received for that article, I realized that I should look into each industry that those three companies represent, and see if there were other investment opportunities there.
That's why I decided to do this piece, because in the pharmacy segment, there's a duopoly at play that is very relevant to investors.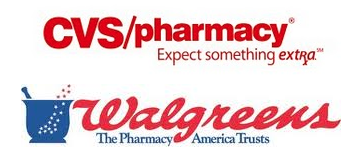 Walgreens Boots Alliance and CVS Health Corporation (NYSE:CVS) are two drugstore giants that pretty much control the segment; and the best part about this is that because both have reached a certain size and scale, they're going to be at the top of this segment indefinitely.
Both these companies have grown their revenues at a very rapid pace over the last ten years. Both have significant market share in every major city in the United States, and Wal-Mart (NYSE:WMT) is the only company that comes anywhere near that combined market share that these two command.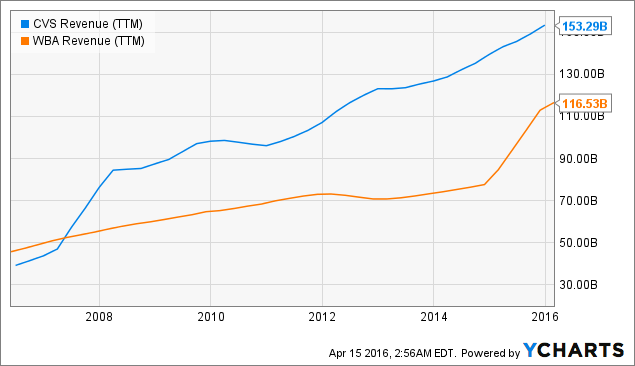 CVS Revenue (NYSE:TTM) data by YCharts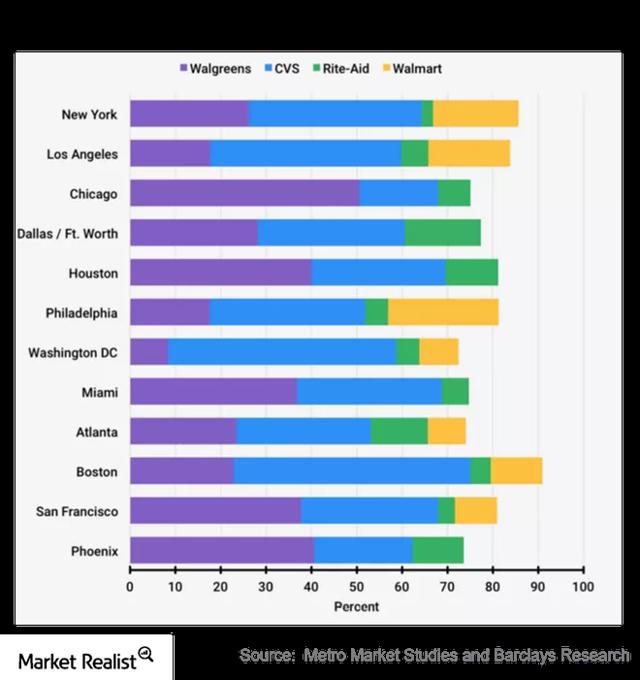 Acquisitions for Growth
This attribute is yet another similarity that these companies share. Both companies have used acquisitions as a core part of their strategy to expand their top line and market share, and my assumption is that this is going to continue far into the future, creating an ever-strengthening duopoly in this space.
Walgreens recently bought Rite-Aid for $17.2 billion, while CVS just bought Target's (TGT) pharmacy unit in a $2 billion deal. Each company going to be buying anything that comes their way that will give them an edge over the other.
From a comparative store sales growth perspective, Walgreens looks a lot healthier than CVS, but both are solidly in the positive. With Rite-aid and Target's pharmacy unit now in the fray, it will be interesting to see whether the profitability issue of the latter has any sort of detrimental effect on CVS's overall margins. Naturally, CVS has more skill and ability to run a drugstore/clinic chain than Target, which makes it an even more intriguing metric to watch over the next few quarters.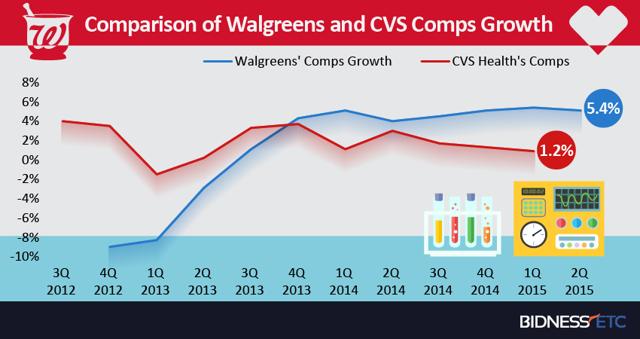 Source: Bidness Etc.
The Yield
Even from a dividend yield perspective there isn't much to differentiate the companies. Both companies' payout ratios are well below 50%, giving them equal room to grow dividends year-over-year.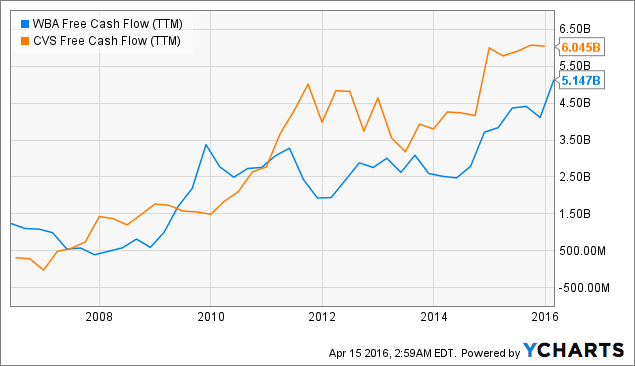 WBA Free Cash Flow (TTM) data by YCharts
At the scale both companies have achieved, there's bound to be some "dividend competition" within the segment. Walgreens' free cash flow has gone up 4X in the past 10 years, and CVS's by 6X. Both are free-cash-flow-strong at the moment, so I don't see any decline in acquisitions or dividend growth for either company.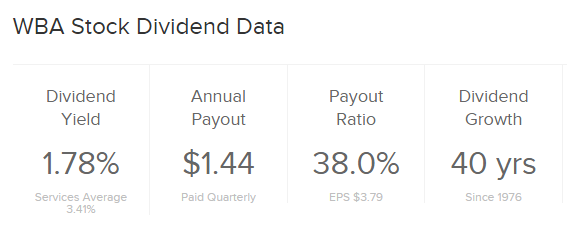 Investor-speak: Why Choose When You Can't Lose?
Right now it's a question of when you should invest in both companies rather than whether you should.
Both are equally matched in terms of agility and aggressiveness, and even their operating margins are within touching distance of each other: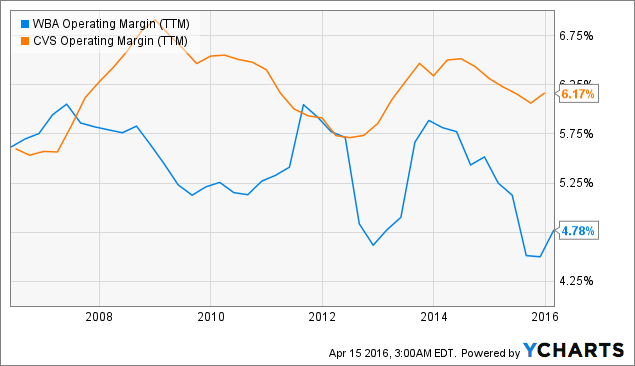 WBA Operating Margin (TTM) data by YCharts
Even from a valuation standpoint, both the companies stay really close to each other with forward P/E of both the companies near the 18 mark and a price to sale ratio of 0.7 to 0.8.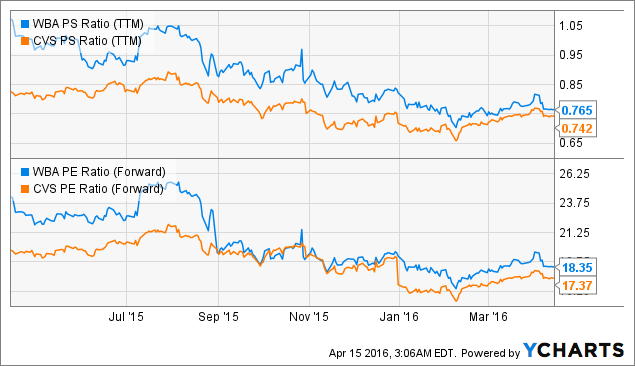 WBA PS Ratio (TTM) data by YCharts
On the debt front, since both have been on shopping sprees, it shows. At the end of most recent quarter, Walgreens had $13.3 billion in long term debt and an operating income of $4.6 billion, while CVS had $26.2 billion in long term debt and an operating income of $9.4 billion.
Though neither company has a huge cash pile on hand, their balance sheets are strong enough to support growth rather than drag it down.
The most important investment criterion for me, however, is the moat that these two companies have built around themselves. They have the scale to stay on top, and the financial clout to buyout any small fry that comes in their way. Both are barracudas waiting for the tiniest of opportunities to peek their heads out of their homes, so don't expect any new entrant to survive alone for long.
An even bigger moat they have is what is inherent to their product and service portfolios. People need their meds and their healthcare support, so this business isn't going to go away - recession or not. Yes, their top lines will get hit - of that you can be certain. However, the impact is much softer in such segments, and recovery is usually swift and relatively painless.
The best way to invest in this segment is to DRIP both and reap huge benefits long-term.
For an investor, this is as good as it gets, so why not buy both stocks and become a monopoly owner in the drugstore segment?
Disclosure: I/we have no positions in any stocks mentioned, and no plans to initiate any positions within the next 72 hours.
I wrote this article myself, and it expresses my own opinions. I am not receiving compensation for it (other than from Seeking Alpha). I have no business relationship with any company whose stock is mentioned in this article.