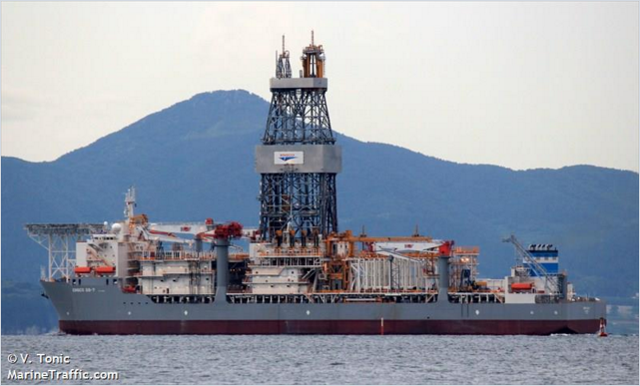 Click to enlarge
Ensco DS-7. Source: marinetraffic.com
There was a flurry of news from Ensco (NYSE: ESV) recently. The company published its fleet status report, provided preliminary first-quarter results and initiated a 57 million common share offering. Without further ado, let's discuss the recent changes.
Fleet status report
Ensco's fleet status report highlights the industry's challenges. Ensco 5004 got a blend and extend the contract. The previous dayrate was around $295,000. The new dayrates are approximately $135,000 from July 2016 to January 2017 and $195,000 from January 2017 to July 2018.
Let's calculate the real dayrate for Ensco's contract. Previously, the contract was set to end in January 2017, so the company had to give up around $54 million of backlog to acquire $132 million of backlog. The net effect is $78 million, leading to the real dayrate of approximately $106,500. Please note that the "real dayrate" term calculates the actual outcome for Ensco and is provided to get a better picture of negotiations.
If we just calculated the average dayrate which Ensco will get for the new contract ($180,000), we would have omitted the real price of these negotiations. Make no mistake, a company marketing an identical rig without any kind of a blend and extend contract will probably get a dayrate significantly lower than Ensco's nominal $180,000.
Ensco's contract shows once again the magnitude of problems in the industry. One could have thought that Seadrill's (NYSE: SDRL) disastrous contract renegotiations with Petrobras (NYSE: PBR) were a one-time event and that Petrobras's unique situation was to blame for the lousy real dayrate. Ensco's contract shows that such renegotiation is a new normal for the industry, at least in this oil price environment.
Oil producers are well-aware of the fact that stacking rigs costs money. They also know that drillers will prefer to have their rigs working because it's just better for the rig and for the crew. Given the level of competition in the industry, oil producers are able to get very favorable contracts and lock attractive dayrates.
On a positive note, Ensco DS-6 got work in Egypt at a favorable rate - approximately $480,000 operating rate from August 2016 to February 2018. This contract is an outlier in current conditions and Ensco should be applauded for its ability to reach such terms. A three-month award for Ensco 8504 at a dayrate of approximately $265,000 is another positive development.
Also in the news, Ensco 5005, which rolled off contract in February, was immediately cold stacked. Ensco 70 and Ensco 2015 were previously marketed but now are cold stacked. Ensco 6000 was sold for $1 million.
Finally, it seems that a rig-stacking trend is gaining momentum. The faster the industry realizes the necessity to stack rigs, the better for all. Stacking will provide a much-needed relief for the overcrowded market.
Interestingly, Ensco's fleet status report says that the company still plans to take delivery of Ensco DS-10 in the first quarter of 2017. This is illogical and Ensco should follow the steps of its peers which continue to push their newbuild deliveries further into the future. I hope to hear more details on this issue when Ensco reports its quarterly results.
Preliminary first-quarter results
Ensco's preliminary results provide reasons for optimism. Revenues are expected to be higher than previous estimates, while operating expenses will be lower than expectations. G&A costs were attacked and Ensco expects to report G&A costs of $23 million - $24 million compared to the previous quarter's costs of $30 million. All in all, it looks like we will see solid reported operating performance from Ensco in its first-quarter report.
Share offering
Ensco decided to issue 57 million shares at a price of $9.25 per share. It's a roughly 25% dilution. Another 8.55 million shares could be issued if underwriters use their option to purchase them. No matter how painful the dilution might seem now, it's a prudent thing to do in the current environment. Perhaps, other "survival candidates" will follow Ensco's path in the future. One could argue that Ensco is issuing shares near bottom, but is this bottom rock solid?
I've read many times in threads devoted to stocks that trade for $1 or $2 where distressed shareholders complained that their company should have issued shares when they traded for $7 or $10. In the lower for longer scenario, Ensco's actions might make a serious difference. All in all, I believe that the share offering is a good development for Ensco.
Bottom line
The situation in the industry remains tough, and Ensco's fleet status report confirmed it. However, drillers still have access to equity markets, and one could expect a similar move from Ensco's peers. The company itself is set to report solid operating performance. It's important to hear how the cost cuts were achieved, because real assets stand behind numbers and there will be no benefit to anyone if cost-cutting leads to cutting corners.
Disclosure: I/we have no positions in any stocks mentioned, and no plans to initiate any positions within the next 72 hours.
I wrote this article myself, and it expresses my own opinions. I am not receiving compensation for it (other than from Seeking Alpha). I have no business relationship with any company whose stock is mentioned in this article.
Additional disclosure: I may trade any of the abovementioned stocks.