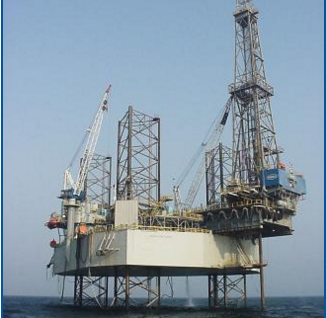 Noble Gene House
The earnings season for offshore drillers approaches, and we now have a stable flow of news to digest and make our conclusions about the state of the industry. Following Ensco's (NYSE: ESV) fleet status report and news on tough regulations coming for offshore drillers from the U.S. government, Noble Corporation (NYSE: NE) provided its fleet status report. Let's look at the recent changes in the context of the general industry developments.
Noble Danny Adkins finished the work in mid-March and Noble Corp. decided to warm stack the rig. Danny Adkins worked for Talos, a company focused on developing offshore projects in the Gulf of Mexico. Overall, it looks like it is more difficult to negotiate a blend and extend contract with smaller companies. Just like oil producers are probably looking at the financial health at size of the drillers, we should look on the drillers' clients to evaluate perspectives for contract renegotiation.
Noble Amos Runner became cold stacked. We will likely see more cold stack announcements in the coming months as drillers realize that market conditions do not justify paying for warm stacking rigs. Similar developments were seen in Ensco's fleet status report.
An interesting note could be seen throughout Noble Corp.'s fleet status report - "Dayrate adjustment due to decline in operating costs corresponding to the reduction in crewing levels as requested by Client." This note is present in contracts with Freeport-McMoRan (NYSE: FCX) and Shell (NYSE: RDS.A).
I believe that this notice highlights the strength of Noble Corp.'s contracts (and legal team) as reduction in crewing levels indicates the client's desire to perform less work. In Freeport-McMoRan's case, it is the desire to finish the work, and only the power of contracts allows Noble Corp. to continue getting the attractive day rate on rigs contracted by Freeport-McMoRan.
However, when it comes to new contracts, nothing can protect from the terrible market environment. Noble Hans Deul worked for Shell in the U.K. and its contract was set to be finished in early August 2016. The day rate was $235,000. The jackup got an extension of contract from early August 2016 to early August 2018 with a new day rate of $88,000, a 62% day rate contraction.
In my view, the day rate reduction fully reflects current market reality as shown by other recent contracts. Interestingly enough, Shell will have the right to terminate the contract for convenience subject to a notice period and, in some circumstances, a retroactive day rate adjustment.
It looks like Shell has no intention to step on the same rake for a second time and is protecting its right to finish the work when it wants. On the other hand, Noble Corp. has no leverage to protect the new contract from these unfavorable terms.
Also in the news, the company stated that it anticipated further negotiations with Saudi Aramco regarding the day rates for jackup contracts that started in 2016. Currently, the rates were set at $167,000 for Noble Scott Marks and Noble Roger Lewis, and at $65,000 for Noble Joe Beall and Noble Gene House.
All in all, the report reflected current market environment and should be evaluated while taking this into account. The Shell contract provides no reason for big optimism, but at least the company was able to secure the contract, which is probably the best a driller can hope for now.
It will be interesting to see whether the company will continue marketing semi-subs Noble Jim Day and Noble Danny Adkins or will decide to cold stack them. Nothing radical was announced in the fleet status report and now we wait for the company's quarterly results, which will be published on April 27 after the market close.
Disclosure: I/we have no positions in any stocks mentioned, and no plans to initiate any positions within the next 72 hours.
I wrote this article myself, and it expresses my own opinions. I am not receiving compensation for it (other than from Seeking Alpha). I have no business relationship with any company whose stock is mentioned in this article.
Additional disclosure: I may trade any of the abovementioned stocks.