Intel (NASDAQ:INTC) laid off 5% of its workforce in 2014, and it appears as if a fresh round of big job cuts is on the way. The Oregonian, based out of a state that houses nearly a fifth of Intel's 107K employee workforce, reports the chip giant is prepping "a significant round" of layoffs across business units this spring.
The newspaper adds the cuts "will reduce employment in some parts of [Intel's] business by double-digit percentages," translating to thousands of job cuts by year's end. No specific date is given on when they'll be announced. Intel's Q1 report (due on Tuesday afternoon) would be a logical time.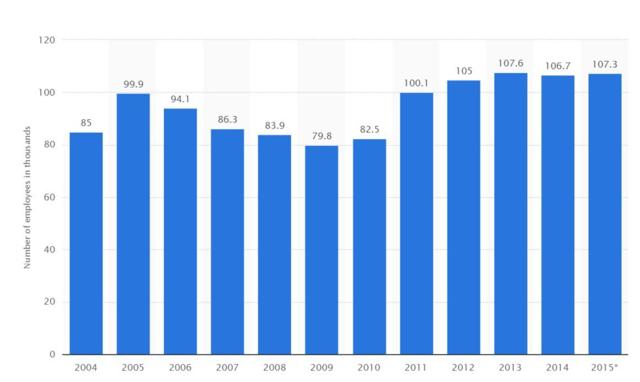 Click to enlarge
Intel's historical headcount.
Source: Statista
The impact of weak PC sales
A look at Gartner and IDC's Q1 PC sales data helps explain at least part of Intel's motivation. Though tablet sales are also declining and smartphone growth has slowed considerably (the law of large numbers), PC shipments managed to drop by double digits or close to it on a Y/Y basis in Q1, a rate of decline that outpaced even the substantial rates seen in Q4. And Intel still got 58% of its revenue from its Client Computing Group in 2015.
This clearly isn't just about mobile device spending taking dollars away from PC spending: A lot of PC users simply feel as if their existing systems are good enough for the productivity and entertainment apps that they normally run. Going forward, there might be several technologies/trends that spark a rebound in PC upgrade rates - Windows 10-related enterprise upgrades, 4K video and gaming, convertibles/detachable tablets, virtual reality, and interest in higher-resolution notebook displays come to mind. But for now, it's very much a wait-and-see situation.
Other factors at work
There are also some Intel-specific factors that could be driving major layoffs. To start, the company recently swallowed Altera and its 3,000+ employees, and there are doubtlessly opportunities to remove duplicate functions (particularly in G&A spending). And it has been intent on paring (and eventually eliminating) losses within its mobile chip operations, which produced a $4.2B operating loss in 2014. Intel no longer breaks out the performance of its mobile chip ops by itself, but the company has indicated its losses narrowed considerably in 2015.
Also: Intel just signaled its historical "tick-tock" manufacturing cycle (two CPU platforms per manufacturing process) will be giving way to a "tick-tock-tock" (three platforms per process) cycle, and has already committed to launching a third platform (Kaby Lake) for its 14nm process. This shift stands to lower the long-term pace of Intel's manufacturing-related capex and R&D.

Click to enlarge
Source: Intel's 2015 annual report
Are management and reporting changes playing roles?
Intel is five months removed from hiring Qualcomm (NASDAQ:QCOM) vet Murthy Renduchintala to run a massive new product/R&D group covering many business units, and just a couple weeks removed from announcing the pending departures of the heads of two of those overseen units - the Client Computing Group and Internet of Things Group. Also, wireless modem/radio engineering chief Aicha Evans is reportedly resigning.
This was followed by news Intel is overhauling its financial reporting. The company will begin breaking out the performance of its flash memory and security software/service ops, and will also break out the Altera unit's numbers. This increased transparency could motivate Intel to pay more attention to the profitability of the aforementioned businesses.
And just a couple days ago, The Oregonian published parts of a leaked memo from Renduchintala to other senior management members in which he didn't mince words about perceived shortcomings in Intel's R&D approach:
"Over the last three months I have conducted numerous project reviews with our execution teams, and there is a clear trend that has emerged in these reviews - a lack of product/customer focus in execution that is creating schedule and competitiveness gaps in our products."
He proposed dealing with the issue by creating temporary three-person leadership teams from across business functions for six products. The products are said to be Kaby Lake, Intel's first and second 10nm CPU platforms (respectively Cannonlake and Ice Lake), a next-gen 4G baseband modem (the 7560), and two platforms that haven't yet been publicly discussed: Coffee Lake (possibly a third-gen 10nm platform) and Glenview (possibly an Atom CPU platform, given past Atom platforms have had "view" suffixes).
Renduchintala called for management's "active participation and support" in implementing the three-leader product development model throughout Intel.
"I will need your help in quickly identifying the best internal people to fill these important roles, and where appropriate, place the right external hires in these roles to drive success."
It's possible such a big shakeup also involves letting go of employees that aren't deemed to be a good fit for the new approach.
If the layoffs are announced with the Q1 report, Intel will probably share details on the earnings call about what it's exactly looking to accomplish. It's clear, however, that there are plenty of recent events that could drive the company to lower headcount.
Disclosure: I/we have no positions in any stocks mentioned, and no plans to initiate any positions within the next 72 hours.
I wrote this article myself, and it expresses my own opinions. I am not receiving compensation for it. I have no business relationship with any company whose stock is mentioned in this article.