I recently wrote an article detailing how the executives at Fitbit (NYSE:FIT) were awarded with over 1,000,000 shares of derivatives, some of which will begin to vest in March of 2017. They also instituted a bonus plan that is dubiously managed, in that the chairman of the Compensation Committee, Jon Callaghan, has close ties with the executives for whom he'll be determining bonuses. Callaghan has already made tens of millions in profits from well-timed stock sales.
Fitbit Sec Filings: Unreported and Unnoticed
In addition to these massive bonuses, Fitbit recently released its proxy detailing additional tens of millions worth of derivative securities awarded to the executives in 2014 and 2015.

The company also released a list of items that will be voted on at the stockholder meeting on May 26th. This approves the amount of compensation that they receive and locks in those numbers for three years. If I had to wager, I would bet that this will allow them to pick their salaries and then sell off some of their Class B common stock without having to worry about shareholders decreasing their salaries. So long as they hold a substantial amount of voting power, it's highly unlikely that everyone will mail in these cards and change anything.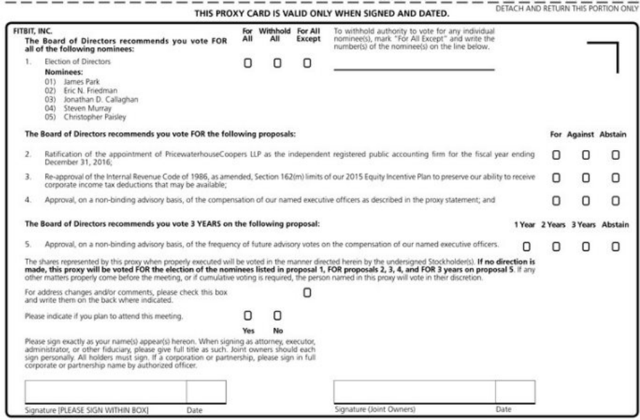 If you're curious as to whether these items will be passed or not, you can take a look at how voting rights are distributed. Fitbit's shares are broken into Class A and Class B common stock, where Class B common stock (owned by executives and Jon Callaghan) has 10 votes per share and Class A common stock (owned by you) has one vote per share.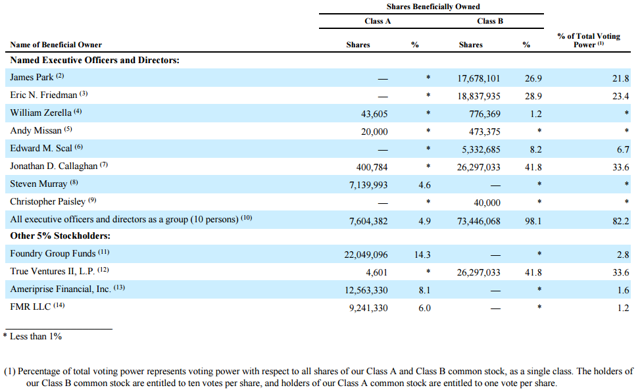 I've seen commenters suggest that shareholders would be able to vote on items in a way that affects policy at the shareholder conference, so I wanted to clarify that that isn't actually the case. The executives and Jon Callaghan hold an overwhelming majority (82.2%) of the voting rights and it is unlikely that shareholders will have a say in the direction of the company, at least any time soon. As a comparison, GoPro (NASDAQ:GPRO) is another company that has elected to keep the voting rights in the hands of executives, with executives and directors holding 82.1% of total voting power. Interestingly, GoPro also took the initiative in explicitly stating that un-cast votes would be cast in favor of the directors'/executives' recommendations.
What about a competitor of similar size? Garmin's (NASDAQ:GRMN) executives and directors have 18.11% voting power. Also, unlike Fitbit's policy where non-voting shares are cast as the executives have decided, Garmin's voting policy states that any shares that are not used to cast a vote are not counted towards making any decisions.
It is not uncommon for companies such as Fitbit to have high levels of executive compensation. However, this is the first proxy statement released by the company and gives a clear picture of how voting rights are distributed. Many investors are happy with the profits that Fitbit is pulling in, but are concerned with the multiple instances of executives selling stock for large profits, especially with the share price at this time being well under the IPO. Now, they need to contend with the reality that even if every non-director/non-executive shareholder contested a recommendation, it would still pass.
What's positive in this situation?
One good thing about these executives is that a large amount of their compensation remains tied up in stock and derivatives. This means that the more their share prices increase, the richer they become. In addition, we've got Jon Callaghan. With 26.3 million shares, he's not going to be happy until he gets a return on his investment. The IPO was $20 and he's held those shares for nearly a year now. I doubt he'll accept the buyout offers with prices in the $20-25 range people are throwing around. Fortunately, I think by the end of 2016 we'll see share prices in that range due to recent developments that are carrying the stock price now.
Why Fitbit's Global Efforts Will Bear Fruit
Conclusions
Fitbit is a company run by ambitious executives who have received a large amount of compensation despite shares trading well below the IPO price. Fortunately for their shareholders, enough of their wealth is tied up in stock and derivative securities that they will carry the share price up in order to make more money themselves. In addition, pressure from Jon Callaghan will force any buyout deals to be incredibly generous to be considered, meaning that anyone who bought the IPO should expect some profit, perhaps in the next few quarters if Fitbit continues its trend of beating earnings estimates.
Disclosure: I am/we are long FIT.
I wrote this article myself, and it expresses my own opinions. I am not receiving compensation for it (other than from Seeking Alpha). I have no business relationship with any company whose stock is mentioned in this article.