Before I begin, I have to stress that this piece is due to a request for information on Hatteras (NYSE:HTS) and Annaly Capital (NYSE:NLY) preferred stocks. As a result, it is not going to be an in depth research piece, but more of a trading/market focus.
Recently, I was asked to opine on the relative value of Hatteras preferred stock to Annaly preferred stock. Often times, when there is an acquisition of a smaller firm by a larger firm, there will be a convergence in the yield on traded preferred stocks (typically with the target's price increasing and yield decreasing). Rather than just opine on the valuation of the preferred stocks of these two firms, I thought it might have some value to look at mortgage REITs with more than one series outstanding so investors can do a quick check and see if their position is still the "optimal" one for them.
In the table below, I have listed (and color coded) the various preferred stocks of mortgage REITs (if I have forgotten some, drop a line and I will try to post to instablog or respond in the comments/mail). The series that looks most attractive to me - a function of yield-to-call, stripped yield and liquidity/volume - has been put in bold.

The relative risk of the securities is reflected in the yields required by investors to hold these securities: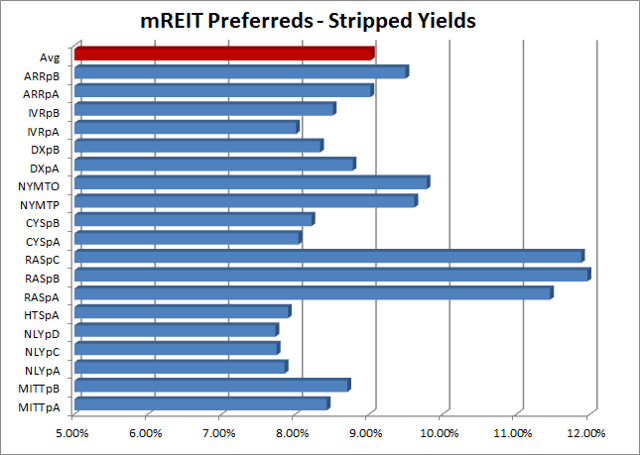 Knowing that many investors are sensitive to paying over par (I am agnostic on this point), the following chart will show that only one (NLYPrA) trades above par (and just barely):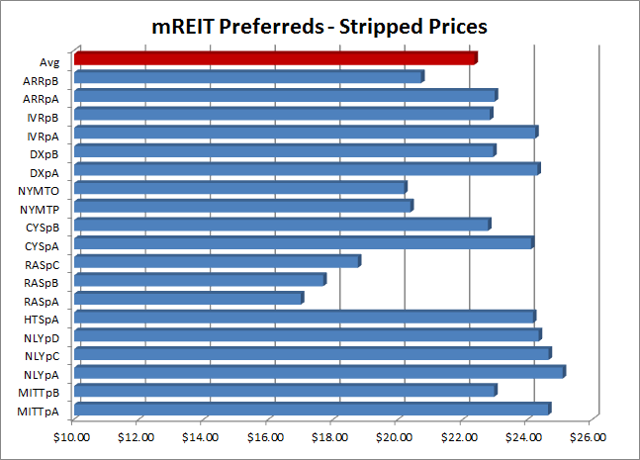 I often look at the yield spread between the common and preferred to see whether I am paying for stability or getting paid for lack of growth.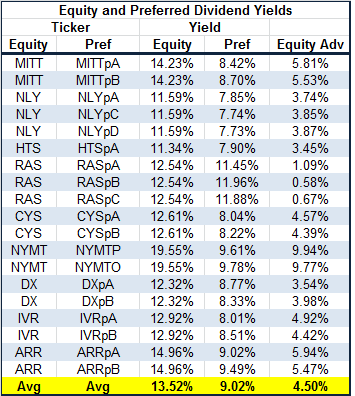 Graphically: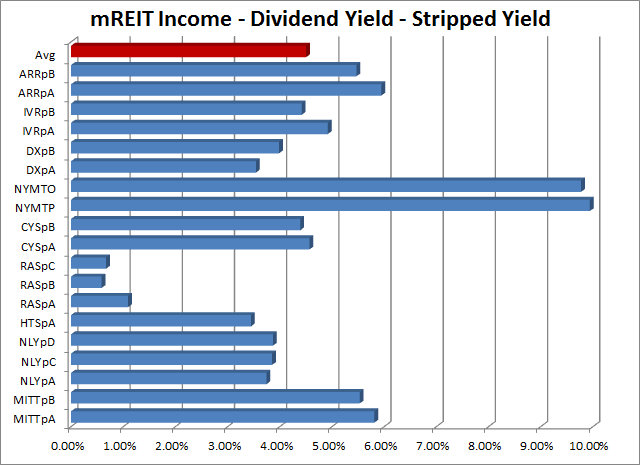 As the chart (and table) above show, investors are paying for the stability of the preferred dividend - as should be expected.
A couple of observations:
Some leveraged traders/investors I know focus on mREITs with agency portfolios due to the inherent liquidity of agencies relative to non-agency mortgages. To me, this makes sense and agency focused mREITs should trade tight to non-agency or hybrid portfolios. CYS is favored among many of these folks.
NYMT got smoked at the end of February due to its earnings miss (this is when I positioned the common). They still face headwinds in their portfolio and their ability to securitize assets (retention risk concerns, widening spreads on credit based mortgage product...). They may look cheap, but they have looked cheap for a while, which means they are not cheap (it's all relative, right?).
MITT continues to suffer due to its non-agency/commercial allocation (over 50%). It faces the same headwinds as NYMT, which should continue to keep it shares low and preferred yield high.
RAIT has their own issues and got hammered in December when they cut the dividend (wrote about that here). They are also an oddity due to their management of IRT. More of a speculative play.
Finally, and I cannot stress this enough, mortgage REITs that are involved in commercial mortgages or non-agency mortgages will be hyper sensitive to changes in market liquidity (namely repo markets). Repo lines are lower and the market promises to be more volatile as banks have to deal with new capital charges for their various lines of business. While this obviously affects agency mortgage REITs as well, a heavier toll will be taken on commercial/non-agency. This was evidenced in the downdraft felt when the FHLBs announced mREITs (or, more specifically, their subsidiaries) could no longer be members and various sunset provisions were given (wrote on that here). At the first whiff of market dysfunction, hit the exits.
I hope this is some way helps with portfolio tune-ups within preferred stocks issued by mREITs.
...
REITs mentioned and my position, if any:
Annaly Capital Management - Long common shares
Hatteras Financial
AG Mortgage Investment Trust (NYSE:MITT) - Long MITTprB
RAIT Financial (NYSE:RAS)
CYS Investments (NYSE:CYS)
New York Mortgage Trust (NASDAQ:NYMT) - Long NYMTO and common shares
Dynex Capital (NYSE:DX)
Invesco Mortgage Capital (NYSE:IVR)
ARMOUR Residential (NYSE:ARR)
Disclosure: I am/we are long NLY, MITT, NYMT.
I wrote this article myself, and it expresses my own opinions. I am not receiving compensation for it (other than from Seeking Alpha). I have no business relationship with any company whose stock is mentioned in this article.