Union Pacific (NYSE:UNP) suffered a 9% decline in volumes of freight in first quarter, the worst among its peers.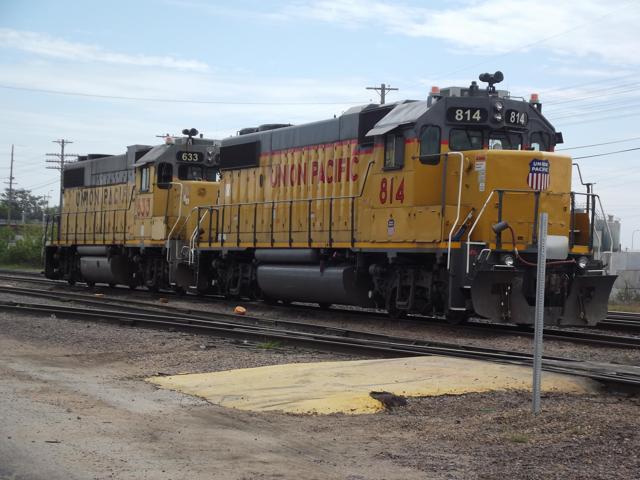 Click to enlarge
Photo by Michael Hooper
Union Pacific reports first quarter earnings on Thursday. With a 9% decline in business volumes, UNP will likely suffer a substantial decline in earnings. UNP is fond of buying back shares to prop up earnings per share. Nevertheless, the first quarter for Union Pacific showed weakness in nearly all categories of freight. Consensus estimates for Union Pacific are for $1.10 per share, down from $1.30 per share in Q1 2015. I think UNP will fail to meet expectations. CSX's (NASDAQ:CSX) total volumes were down 4.7% in Q1 but revenues were down 14%. Net earnings were down 19%, and EPS was down 18%.
UNP suffered a 37% decline in coal volumes in Q1, a 20% decline in crushed stone, sand and gravel, a 13% decline in grain mill products, an 8% decline in grain and a 20% decline in shipment of iron and steel scrap. Shipment of petroleum products was down 8% in Q1. UNP motor vehicle and equipment shipments were a positive at 4% volume growth in Q1.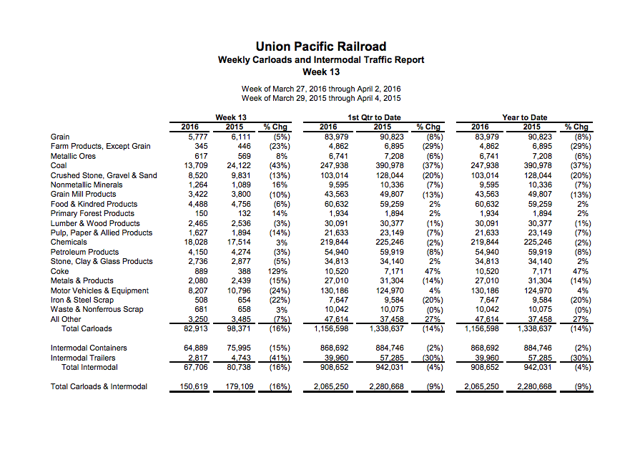 Click to enlargeSource: Union Pacific
In general, railroads are showing us a contraction in mining, metals, coal and grain. The industrial sector appears to be in a recession and grain markets are weak because of the strong U.S. dollar.
Union Pacific serves the western two/thirds of the country. During Q1, the railroad typically hauls a lot of coal to serve utilities during the cold winter months. But two things happened to reverse this trend. The weather was mild in Kansas, Missouri and Texas, big markets for UNP coal. Secondly, utilities are holding massive amounts of coal in storage.
Coal is now stockpiled at 112 days of supply in the North and 170 days of supply in the South, said Fredrik Eliasson, CSX's executive vice president and chief sales and marketing officer. Normal range is 55 to 70 days of burn.
"We got plenty of inventory at our customers which will take a fairly significant time, I think, to get down to more normalized levels," Eliasson said in a recent conference call with investors.
Coal inventories are affected by the pricing of other power sources including natural gas, which is trading around $2 per mcf, extremely cheap. U.S. natural gas consumption increased in January while coal consumption declined, according to the US Energy Information Administration.
I expect coal volumes to fall for most of 2016, affecting all railroads. Coal used to be 25% of the business at UNP, last year it was 15% of revenues. I think coal could be 10% of UNP revenues within two years. Wind power is sweeping across the Great Plains states, becoming a larger part of the electric generation pie. Plus America has an abundant source of cheaper, cleaner-burning natural gas. Coal is on the way out.
Based on weekly volume reports in first quarter 2016, UNP total volumes were down 9%, CSX volumes down 4.7%, BNSF Railway, owned by Berkshire Hathaway (NYSE:BRK.B), down 6.5%, Canadian National Railway (NYSE:CNI) down 8.1%, Canadian Pacific (NYSE:CP) down 4.1% and Norfolk Southern (NYSE:NSC) down 3.5%.
Grain volumes are down at most railroads because the strong U.S. dollar has reduced demand for U.S. exports. Cash prices for corn are around $3.65 per bushel. Farmers actually plan on planting more corn this year than a year ago, despite record amounts of corn in storage. As a result, I expect U.S. corn prices to remain low for most of 2016, unless we have a drought.
BNSF Railway's oil-by-rail volumes fell 26% in first quarter 2016, indicating a real draw down in shale oil from the Bakken region which is served by BNSF Railway and Canadian Pacific.
BNSF Railway used to haul 10,000 to 11,000 carloads per week of petroleum, but lately has been hauling about 7,000 carloads. When oil price fell dramatically in fall 2014, volumes of oil by rail actually were steady to rising. All of those new wells were pumping dramatically in 2015, especially at the front end of their finds. But as the wells pumped and pumped, the numbers started to decline. A Bakken well's production may decline by more than half in the first year - this is a much faster drop than conventional oil wells, because shale has very low permeability.
There is a real reduction of oil being produced, proof is the -26% reduction of oil by rail by the largest rail carrier of oil in North America, BNSF Railway, which has a near monopoly of tracks in North Dakota. The second largest rail carrier of oil in North America, Canadian National Railway, saw petroleum carloads fall 15.5% in Q1. CN used to carry 5,500 carloads of petroleum per week but has trended down to 4,532 carloads in Week 13, 2016.
Railroads are a good indicator of manufacturing, agriculture and industrial sectors. Railroads don't reflect the true health of the overall economy. So much of our economy is now service related, not industrial. When 10 kids play a game on the Internet, paying monthly subscription fees to a game company, their economic activity is not reflected in railroad volumes. U.S unemployment is 5%. This is a marked improvement from the 10% unemployment rate in October 2009. But there are many under-employed people out there. Consumers had enough money and credit to buy 17.5 million autos in 2015. Railroads made a lot of money moving automobiles in 2015 and Q1 2016, much of the autos came from Mexico. Experts say pent-up demand for autos will take two or three years to work off. I believe auto sales will contract sooner than that, maybe this year. The terms of auto loans have been extended to six or seven years. If cars become worth less than the loan, we may see some buyers give their cars back to the bank.
Conclusion
Railroad stocks have been depressed, UNP stock is down 24% over the past 12 months. And there is a good reason. Volumes are weak to declining. Until that changes, I see little upside in railroad stocks. Dividend yield on UNP is 2.67%, higher than the 5-year average yield of 1.92%. If you buy railroad stocks now, you may have to hold them for a long time before you see any appreciation.
Disclosure: I am/we are long UNP, CSX, CNI, BRK.B.
I wrote this article myself, and it expresses my own opinions. I am not receiving compensation for it (other than from Seeking Alpha). I have no business relationship with any company whose stock is mentioned in this article.