SunEdison Bankruptcy

Click to enlarge
Reuters reported Friday SunEdison (SUNE) could file for bankruptcy as soon as Sunday, April 17. Shares traded off 36.76% to $0.37, with after-hours trading down another 10%.
SunEdison said it needed about $310 million to stay in business and estimated a cash shortfall of $260 million by mid-June.
The company is current in talks for potential debtor-in-possession financing with some of its first and second-lien lenders.
SunEdison has already laid out three scenarios to continue operation, and unfortunately for shareholders, all three result in zero value for the equity. It's an unfortunate series of events, but shareholders in SUNE will be wiped out.
Goodrich Petroleum

Goodrich Petroleum (OTCPK:GDPM) announced Friday it has filed for chapter 11 bankruptcy protection, joining the likes of Energy XXI (EXXI) and others. Goodrich's filing was just a matter of time; the company was barely surviving in this catastrophic downturn. Like many others in the E&P space, the commodity downturn has resulted in more than 50 companies filing for bankruptcy. We believe there will be more to come as the likes of Sandridge Energy (NYSE:SD) and Linn Energy (LINE) file within the next 2 months.
Lenders have been a bit more stringent this time around, and the companies that are barely surviving will see their lifelines pulled away.
Doha Meeting
WTI (NYSEARCA:USO) and Brent were both under pressure Friday. All market participants are turning their eyes to the Doha producer meeting this Sunday.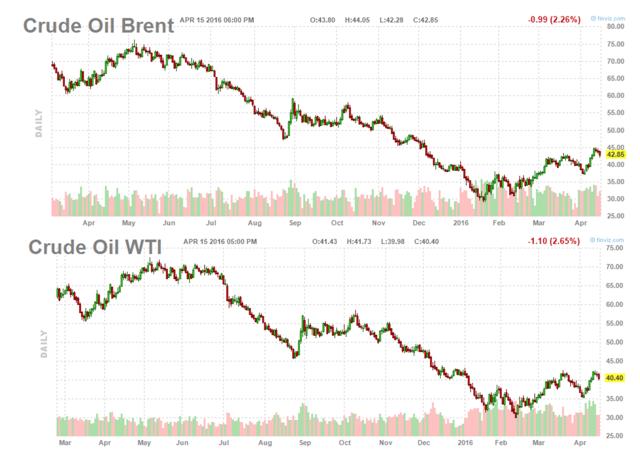 Click to enlarge
Given the selloff Friday, we believe market participants are not too optimistic on the meeting and its results. There are currently three scenarios, according to Wall Street sell side:
Bull case: Iraq joins the freeze deal. Iran isn't included. Saudi offers hints to potential production cuts in the future. Freeze deal is done.
In the bull case, oil will likely see $50 in the next 1-2 months; market participants are considering this scenario extremely low-probability.
Base case: Freeze deal is done between most of OPEC's members, except for Libya, Iran and Iraq. We think prices will stay range-bound in this scenario, but likely move upwards as non-OPEC production continues to fall off.
Bear case: No freeze deal. Market participants will likely sell oil on the bear case as some expect a deal while others aren't. This could see WTI retest the $36 range.
Overall, the freeze deal is more semantics than fundamentally impactful. All of the producers, other than Iran and Libya, can increase oil production from today's levels. Despite reports that Iraq is increasing production month over month, we believe Iraq is actually over-inflating its numbers to give it breathing room in the event of a freeze deal. Data tracking export activities validate our assumption, and third-party sources confirm Iraq's self-inflated production numbers.
Wrapping It Up
SunEdison's inevitable demise is drawing near. Shareholders in this case will be wiped out.
Goodrich Petroleum filed for bankruptcy. Shareholders in this case will be wiped out.
Linn Energy and Sandridge Energy will follow Goodrich Petroleum's footsteps and file for bankruptcy protection in the next 1-2 months. Both scenarios will result in shareholders getting zero for their shares.
All market participants will be watching the Doha meeting this Sunday.
For investors who want deeper insights into our research, please consider subscribing to HFI's premium service. We look forward to you joining a group of like-minded investors.
Disclosure: I/we have no positions in any stocks mentioned, and no plans to initiate any positions within the next 72 hours.
I wrote this article myself, and it expresses my own opinions. I am not receiving compensation for it (other than from Seeking Alpha). I have no business relationship with any company whose stock is mentioned in this article.
Editor's Note: This article covers one or more stocks trading at less than $1 per share and/or with less than a $100 million market cap. Please be aware of the risks associated with these stocks.