The rally in the Japanese yen just doesn't look like it's going to stop. The market is very bullish on the currency against the US dollar (NYSEARCA:UUP), and without any Fed hikes expected any time soon, it still has higher to run, in our view.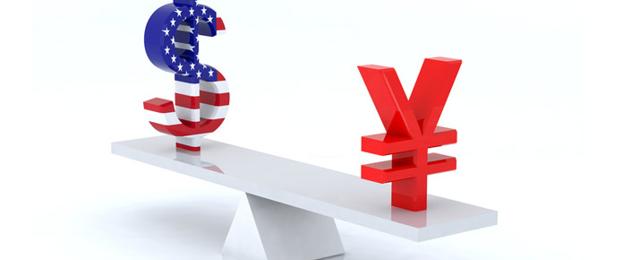 In many financial journals and online blogs, you will see numerous stories about how the JPY has climbed very high and very quickly against the USD. We agree with the quickly, but might have to disagree on the very high part. Granted, it is higher than it was late last year, but it is not by any means higher than where it has been in the last few years. In fact, the yen is actually still quite weak compared to previous years, hence we feel there is still room for it to run.
The chart below indicates the development of the USD/JPY pair in the last few years. The way things are going right now, we expect the USD to weaken to the ¥100 point in the months ahead. This will mean a great return for investors, who can profit from the Bank of Japan's (BOJ) failings.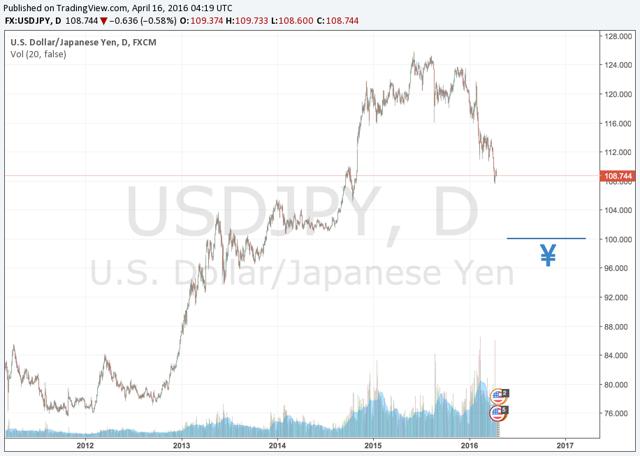 Source: TradingView
The abject failure of the BOJ's monetary policy has made this a real possibility. It is difficult to say whether macro events have also gone against the central bank, but what is almost certain is that if things do not improve, then Japan is heading into a recession.
This will be a disaster for Prime Minister Abe who was elected into office on the promise that he would fix the economy. These promises are haunting him now, as Japan continues to fall short of its inflation targets and suffers the consequences of a strong JPY. A stronger currency is bad news for Japanese companies, who find it harder to compete for market share as their goods become more expensive in comparison to the goods of rival exporters in China and South Korea. As exports drop, the trade deficit widens.
But unfortunately, the BOJ appear to be powerless to stop its rise. Japanese officials have received firm warnings not to interfere and devalue the currency. The agreements made by the G-20 forbid this, and any talk of further easing only seems to drive it higher. There have been attempts to talk down the currency, but they are having little effect and could end up getting officials into trouble for breaking agreements.
The only thing that we can see bringing down the JPY will be interest rate hikes in the US. We expected a few hikes this year, but as the months go by, we believe it is less and less likely that there will be any more than a single hike. A solitary rise may not be enough to strengthen the USD a great deal, which should give bullish currency traders quite a while to pump the JPY even higher.
The irony of it all is that there is a strong possibility of Japan being pushed into a recession because of it. Theoretically, the fears of a recession should be weakening the JPY, much like what is happening in Britain with the pound. There are fears that Britain leaving the EU could bring about a recession or at best low levels of growth. This has led to the GBP being sold off quite substantially. Yet the JPY continues to flourish as it drags the country into a recession.
Nobody knows the true reason for the JPY's strengthening, which is quite alarming. Initially it was seen as a flight to safety during the market turmoil early on in the year. This made sense, except for the fact that the BOJ cut interest rates into negative territory at the same time and markets seem reasonably calm now with the VIX at its lowest level this year.
Others believe that this is the start of something greater. The smart money has apparently moved to the JPY as a market crash is on its way. We don't necessarily believe there to be a market crash coming, but it has to be said that earnings season looks set to be a disappointing one. It seems unlikely that this would be enough to trigger a crash, though, but it would explain the against all odds strengthening that we are seeing in the JPY.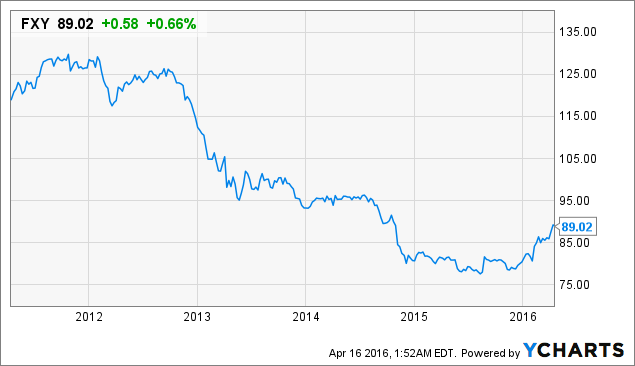 One thing for sure, though, is that the strengthening of the JPY looks set to continue. We continue to be long with the CurrencyShares Japanese Yen Trust ETF (NYSEARCA:FXY) and have $95.00 in our sights. This would provide a return of about 6.75% for investors. There is very likely to be a new stimulus package or a further rate cut coming from the BOJ at its next meeting on April 28, so it could be best to use stop losses within a comfortable range. We have set a trailing stop loss 2.5% below to protect our investment from any large swings. It's going to be an interesting two weeks, that's for sure.
Disclosure: I am/we are long FXY.
I wrote this article myself, and it expresses my own opinions. I am not receiving compensation for it (other than from Seeking Alpha). I have no business relationship with any company whose stock is mentioned in this article.