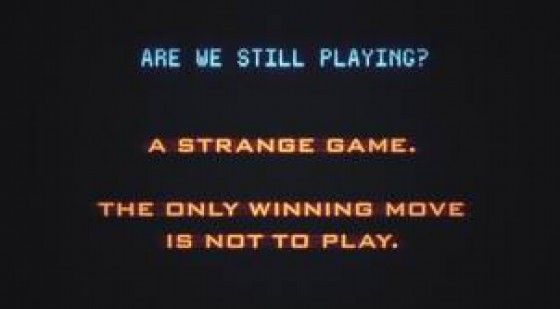 I have been saying for the past year that the financial sector - particularly banks and insurance companies - is underpriced. My excess return models on the subject give some insight as to why: Investors likely have wet feet about reentering this market after the 2007-2008 disaster. Still, the financial sector has made a comeback, as evidenced by the SPDR Financial Sector ETF (NYSEARCA:XLF):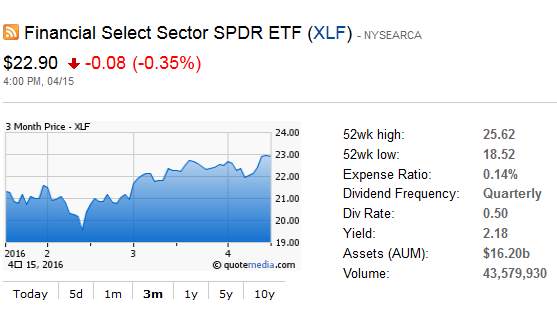 Bank stocks are hot, as evidenced by the top trending article on Seeking Alpha at the moment. Nevertheless, investors and spectators in this field have many issues weighing upon their decisions.
Interest Rates
Perhaps the most notable is the possibility of further interest rate hikes. An interest rate hike has a direct impact on the margins available to banks, as part of the increased interest rate is passed onto banks' clients.
Thus, investors in the bank sector are constantly on the watch for news from the Federal Reserve. Unfortunately, the Fed is toying with us:


I'm not saying it's wrong to change your mind. However, the Fed under Chairman Yellen had once promised transparency. Now, with secret meetings and private phone calls, the Fed looks to be keeping its cards hidden.
The Fed is supposedly "data-driven" and will raise rates when the economic situation looks good - i.e., low unemployment and above 2% inflation. But recently they've cited concerns about the US economy and global economy. So how can they not raise rates with such glowing figures coming out from the US and China?
Both the US and China have recently reported industrial production, retail, and fixed-asset investment increases. Being data-driven, the Fed must raise rates. But CME Group FedWatch reports the probability of a rate increase in April as being merely 2%.
In fact, the probability that we will see even one rate hike by the end of the year is only 52%, according to CME Group. Do they know something we don't? I'm not calling it a conspiracy - but if it looks like a duck…
The point here is that the US economy is not in good shape. Last time the Fed hiked rates, the market had a seizure. With asset prices being the only bolster for the US economy, the Fed likely wants to avoid causing another great depression - they will not raise rates.
Apply this fact to your bank investments wisely. If you are "banking" on interest rates rising, don't play.
Default Risk
Another issue important for choosing a bank stock is default risk, which is inherently connected to the energy market at the moment. The more exposure to energy companies, the more at risk your bank stock will be. When you look at the default tracker, you can see from another perspective why bank stocks have been underpriced: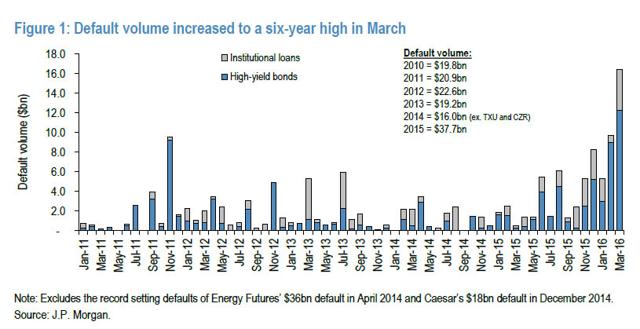 Click to enlarge
Clearly, bank stocks are the new high-risk, high-reward play. If the above trend continues, April will reach the post-2008 record high for defaults. Sizing up the risk of your bank stock requires you to size up its energy exposure, its interconnectivity with other banks, and sizing up the energy exposure of those banks.
In short, you have a lot of research to do. Let's use as an example Wells Fargo (NYSE:WFC), which has the biggest market cap of the major banks: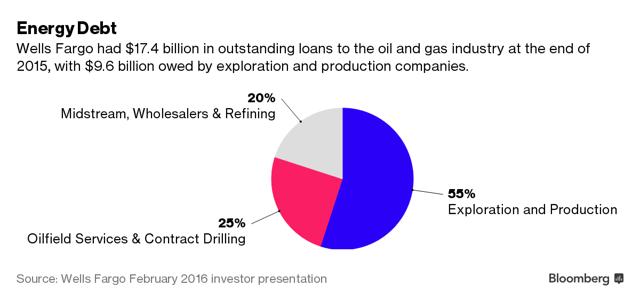 Click to enlarge
So we have nearly $30B in energy exposure and only $1B in reserves. Things do not look good. A smart investor might look for other banks, perhaps a bank with less energy exposure.
The problem with that is that all of the other major banks are highly interconnected: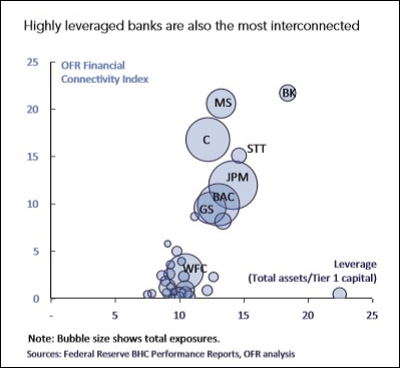 So a string of energy defaults in Citigroup (NYSE:C), for example, can set off a domino effect for the other majors. As I wrote before, Citigroup has $58B exposure in the energy sector. This alone increases the risks of holding Morgan Stanley (NYSE:MS), JPMorgan (NYSE:JPM), Bank of America (NYSE:BAC), Goldman Sachs (NYSE:GS), or any other highly interconnected bank. No matter which you choose, you're exposing yourself to considerable risk.
Conclusion
Optimism might lead you down the Bear Sterns route:
Although I admit from an excess returns perspective, most banks are undervalued, this game might be broken. Perhaps at this time, the only winning move is not to play. At the very least, hedge yourself or play low-risk strategies (i.e., calls and debit spreads).
Learn More about Earnings
My Exploiting Earnings premium subscription is now live, here on Seeking Alpha. In this newsletter, we will be employing both fundamental and pattern analyses to predict price movements of specific companies after specific earnings. I will also be offering specific strategies for playing those earnings reports. We have accurately predicted earnings beats in our last four newsletters. In the most recent newsletter, we predict how Microsoft (NASDAQ:MSFT) will react after its upcoming earnings report.
Request an Article
Because my articles occasionally get 500+ comments, if you have a request for an analysis on a specific stock, ETF, or commodity, please use @damon in the comments section below to leave your request.
Disclosure: I/we have no positions in any stocks mentioned, and no plans to initiate any positions within the next 72 hours.
I wrote this article myself, and it expresses my own opinions. I am not receiving compensation for it (other than from Seeking Alpha). I have no business relationship with any company whose stock is mentioned in this article.