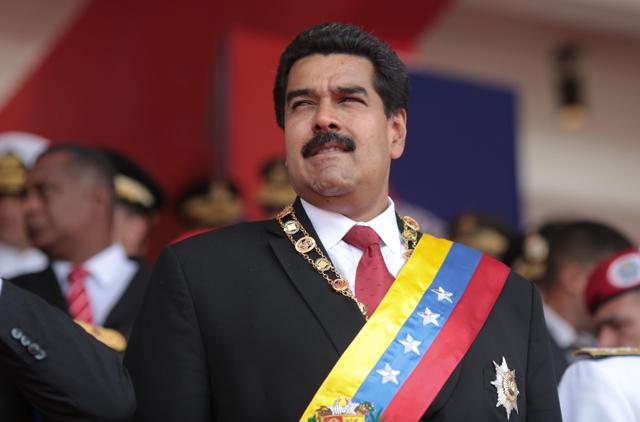 Venezuelan President Nicolas Maduro
Earlier this week, Schlumberger (NYSE:SLB) announced it was paring back its operations in Venezuela due to slow payments from Venezuelan state oil company PDVSA. Schlumberger receives 3% of its revenue from Venezuela and has over 10% of its receivables in the country. Instead of continuing to work for free, it decided to cease doing work. According to RBC analyst Kurt Hallead, Halliburton (NYSE:HAL), Baker Hughes (NYSE:BHI) and Weatherford International (NYSE:WFT) all have outsized exposure to Venezuela, as Bloomberg reports:
Here's the breakdown of RBC estimates for four big services companies:

Schlumberger (target price, $95)
Revenue: Venezuela accounted for ~3% of total 2015 revenue.
Accounts receivable (A/R): Venezuela exposure is >10% of total accounts receivable. SLB had $8.8 billion total accounts receivable as of Dec. 31, 2015.

Halliburton (target price, $42)
Revenue: Venezuela accounted for ~3% of total 2015 revenue.
A/R: Venezuela accounts receivable exposure is $704 million (~13% of $5.3 billion total).

Baker Hughes (target price, $66)
Revenue: Venezuela accounted for ~2% of total 2015 revenue.
A/R: The company does not disclose A/R exposure concentration for any customers in its 10-K.

Weatherford International (target price, $9)
Revenue: We estimate Venezuela accounted for ~4% of total 2015 revenue.
A/R: Venezuela accounts receivable exposure is $205 million (~12% of $1.8 billion total).
Each of these firms are struggling to find new sources of revenue. A loss of revenue from Venezuela won't help their causes. Baker Hughes and Schlumberger have the heft to sustain a hit to their balance sheets if accounts receivable deteriorates or is written off. However, I believe Halliburton and Weatherford are the most vulnerable.
The Situation
Venezuela receives over half its revenues from the sale of oil. It missed the opportunity to diversify its economy when oil prices were above $100. Now the rout in oil prices has punished the country. It borrowed $60 billion from China in exchange for a steady flow of oil; however, China's consumption of oil and other commodities has declined as its own economy has slowed. Venezuela experienced an economic contraction in 2015. Its economy is expected to fall another 6% this year. Schlumberger's move to pare back exposure to the country could pressure competitors to make similar moves.
Halliburton
In addition to its $5.3 billion accounts receivable balance, Halliburton had $10.0 billion of cash on hand at year-end. On the surface, Halliburton has ample liquidity to survive the downturn in the oil & gas industry. However, the DOJ recently sued to block its merger with Baker Hughes; this puts Halliburton on the hook for a $3.5 billion break-up fee ($2.6 billion after-tax) if the deal fails.
In isolation, a $700 million write-off of receivables would not be a cause for concern. However, in addition to the $3.5 billion break-up fee, it could have a meaningful impact. Including $14.7 billion of debt, Halliburton has net debt of $4.7 billion. The combined after-tax hit (assumes 27% tax-rate) for the merger fee and potential accounts receivable write-off would be about $3.5 billion, increasing net debt to $8.2 billion. Such a large hit to capital could reduce Halliburton's flexibility on capex and/or acquisitions, and change sentiment towards the stock.
Weatherford
Weatherford is struggling under the weight of over $7 billion in debt, which is at junk status. It recently raised $630 million in equity, the lion's share of which is expected to be used to pay down $967 million outstanding on its revolver with JPMorgan (NYSE:JPM). In my opinion, Weatherford is insolvent and could need additional capital to make a $600 million principal payment due in Q2 2017. It had $467 million in cash at year-end. How much liquidity remains after the capital raise, revolver pay down and $400 million principal payment due last month remains to be seen.
The next hurdle is for the company to negotiate a renewal of its revolver. This was expected to be completed at the end of Q1. Lenders usually look for short-term liquid assets to back short-term debt. Weatherford's accounts receivable of $1.8 billion are the only liquid assets it has to bargain with. I project receivables will fall to about $1.7 billion at year-end 2016 and the revolver limit will be at some discount to that amount. A potential hit to that receivables balance could reduce the new revolver limit even further.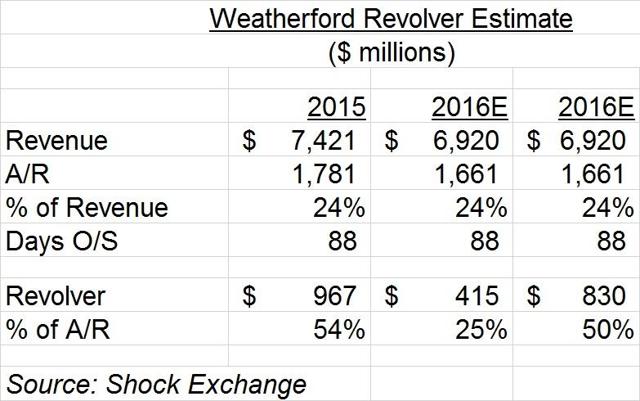 The current revolver limit is $2.25 billion. I project the new limit could be reduced to $415 million to $830 million. The company and bankers have talked up its access to liquidity as a catalyst for the stock. If JPMorgan reduces that liquidity substantially, it could portend a lack of faith in Weatherford's recovery prospects and send the stock lower. A deterioration in the value of receivables from Venezuela could amplify that pain.
Disclosure: I am/we are short WFT, SLB.
I wrote this article myself, and it expresses my own opinions. I am not receiving compensation for it. I have no business relationship with any company whose stock is mentioned in this article.