JPMorgan recently called Sunoco LP (NYSE:SUN) a "top defensive pick", and there have been several articles published on Seeking Alpha that recommend the stock. While I largely agree with the authors of those articles that Sunoco is a good company with a sound business, I want to highlight some risks I feel prevent the stock from being a "top defensive pick" like JPMorgan claimed. Again, I want to stress that I think the SA authors did an excellent job covering Sunoco; however, I just want to add some additional color around some of the risks to Sunoco and take a more in-depth look at its balance sheet and future cash flows.
Before we talk about the risks, let's highlight the good aspects of Sunoco.
Sunoco's Good Points
Having been caught in the energy/MLP meltdown, Sunoco is quite obviously very cheap. The stock is down more than 32% over the past year.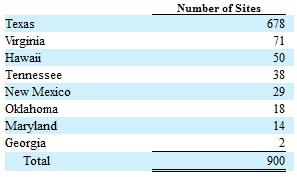 The company trades at a P/E of 13.89, well below the market average and sports a 9.66% dividend yield.
Unlike pure energy plays, the company is well diversified. It sells fuel and merchandise at the retail level through its company operated convenience stores as well as sells fuel on a wholesale level to distributors, commercial customers, independent dealers, and other convenience stores.
The retail and wholesale aspects of the company's operation has helped protect it from the secular trend of consumers purchasing motor fuel from large chain stores such as Wal-Mart (NYSE:WMT), Costco (NASDAQ:COST), and various grocery stores. Additionally, the company is benefiting from industry consolidation in the convenience store industry as large integrated oil companies have been divesting their retail operations and small independent dealers are selling or closing.
The company also has low exposure to commodity risk as detailed in its 10-K:
Historically, we have had minimal commodity price risk as we purchased the majority of our motor fuel upon receipt of an order from one of our customers and held title to the motor fuel only for the short period of time (typically less than a day) between pick-up and delivery. In addition, a substantial majority of our gross profit on motor fuel is generated through fixed fees that we charge for each gallon sold, with transportation costs passed through to our customers.
Of the inventory Sunoco does hold, it has $17.8M subject to commodity risk, although only over a two to three week period. The remaining $247.6M of inventory is hedged. So the company bears very little direct commodity risk as fuel margins at the retail level are mostly consistent despite large fuel price swings.
The Risks
Now let's take a look at some of what I believe are the underappreciated risks related to Sunoco's core business.
Convenience Stores Concentrated in Texas
Convenience stores provide steady income and are recession resistant but not recession proof. One of the things frequently cited about Sunoco is that its convenience store business will help cushion the effects of lower gas prices. The idea being that if customers are spending less at the pump, they will have more money to buy snacks, lotto tickets, or cigarettes inside. That is definitely true to a degree. But, during a true recession people will drive less, buy less, and stores will see less traffic. Furthermore, Sunoco has a region specific issue. The majority of its stores are in Texas as the chart below (taken from its latest 10-K) shows.
Given that Texas has been one of the areas hardest hit by the oil price crash, Sunoco's convenience store business may not see the same offsetting benefit from more consumer spending on non-fuel items as stores in other areas. It's highly likely that with oil companies laying off workers and economic activity in Texas falling, people will be driving less and that some Texas consumers will be curtailing spending.
Variable Rate Debt
Variable interest rate debt is one of those things that doesn't matter until it does. Sure, interest rates are likely not going to rise significantly anytime soon, but it's one of those things that tends to hide on a company's balance sheet until something goes wrong. Sunoco's $450M in variable rate debt is 13% of the company's market cap of $3.43B. That would put it quite close to being one of the top 25 companies with the highest percentage of variable debt as compiled by JPMorgan.
In FY2015, the company had $87.5M in net interest exposure for $1.98B worth of debt, or a blended interest rate of 4.42%. For every 1% increase in interest rates, SUN will pay about $5M a year more in interest. While this amount is certainly not enough to jeopardize the company's financial health, it could be enough to affect the distributions the company pays out. Since Sunoco seems popular as a retirement income pick, this issue bears watching. It especially bears watching because of the company's expansion plans and distribution (Sunoco is an LP so distributions are broadly analogous to dividends) coverage.
In FY2015, Sunoco generated $416M in operating cash flow after adjusting for changes in working capital. The company paid out $120M in distributions to unit holders (the LP equivalent of shareholders). At first glance, the dividend seems well covered. Even at second glance things looks good. The company expects to spend about $100M to $110M annually in maintenance capital expenditures so again the distribution is safe, with Sunoco generating ample cash to pay out as well as cover needed maintenance.
The issue is the company's expansion plans. Sunoco expects to spend about $390M to $420M on capital expenditures to grow the business. Now we run into a math problem. The company is spending about $630M annually out of cash flow of $420M so the rest will need to be borrowed. I'm not saying that debt is bad, debt fueled expansion can certainly be lucrative if done correctly. With interest rates low and Sunoco operating a relatively stable business, it's likely things will turn out OK. However, investors need to keep a close on the type of debt that Sunoco issues. More variable rate debt to expand could cause the company problems down the road and potentially cut into distributions for unit holders. There are no warning signs now and the company's gearing is conservative, but these are all issues that investors need to monitor to ensure they don't become a problem in the future.
Summary
Sunoco LP isn't a "buy and hold forever" type stock. It's a "buy and diligently monitor the balance sheet and cash flow and hold as long as you're comfortable" type stock. It's a good business, but investors need to beware of the company going down the debt fueled acquisition and expansion path that felled so many of the oil and gas transportation MLPs. As long as the company's leverage is conservative and it generates ample cash to fund distributions, the stock looks solid.
Disclosure: I/we have no positions in any stocks mentioned, and no plans to initiate any positions within the next 72 hours.
I wrote this article myself, and it expresses my own opinions. I am not receiving compensation for it (other than from Seeking Alpha). I have no business relationship with any company whose stock is mentioned in this article.