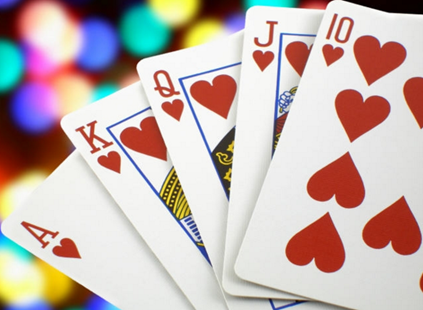 A plethora of intriguing energy asset buying opportunities have conveniently fallen right into General Electric's (NYSE: GE) lap lately. The magnitude of opportunities knocking has left General Electric's Jeff Immelt holding all the best cards. The company's management is currently sitting in the negotiations catbird seat, so to speak. Here's why.
What Happened?
There is a fire sale going on in the oil patch presently. The ripple effects have carved out various buyout opportunities in the energy sector for General Electric. The company is currently sitting in the proverbial catbird seat regarding distressed global power and energy assets on sale for rock bottom prices. In fact the company can afford to pick and choose at this point.
General Electric drives a hard bargain
It was recently reported that General Electric and Halliburton (NYSE: HAL) had problems agreeing on a price for the Halliburton's assets. It was subsequently reported that the Carlyle Group (NYSE: CG) is in serious talks to buy oilfield services assets from Halliburton and Baker Hughes (NYSE: BHI). The value of the assets is reportedly over $7 billion.
At first I was upset with the news thinking General Electric may be missing out on an opportunity. The thought then occurred to me that this is actually good news from an investment standpoint. The fact is General Electric is driving a hard bargain signals to me they negotiating from a position of power, and that's not a bad place to be.
As I've previously stated, the conglomerate model is both a blessing and a curse. The diversified business segments acts as a strong support structure in times of turmoil for one particular segment. This has put General Electric in the position to pick and choose which assets on sale best complement its current installed base. You couldn't ask for a better environment for growth via acquisition. It looks like GE management has zeroed in on some European wind assets that may complement the newly acquired Alstom assets coming online.
Wind assets fire sale
Word on the street has it General Electric is looking to bolster its position as the leader in the European power generation now that the Alstom acquisition is complete. Several assets across the sector are currently on the company's radar. Carlos Haertel, chief executive for GE Germany & Austria recently stated,
"German offshore wind has become very important for us. Onshore wind in Eastern Europe and the Balkan countries is currently interesting, especially in Poland and Romania."
GE is currently the world's third-largest wind turbine manufacturer by market share. With the full integration of the Alstom assets and the various bolt-on opportunities, General Electric will be able to offer customers a full service power solution for a reasonable price. This will be the key to increased sales of the company's new generation of H Turbines.
Installed base service opportunities abound
General Electric's installed base has risen 50% based on the integration of Alstom. This increase in installed based provides the company with an abundance of new service opportunities as well. The company expects the deal to generate $0.05-0.08 of earnings per share in 2016 and $0.15-0.20 of earnings per share by 2018.
My Take
This additional EPS boost should help pave the way for future dividend increases and capital appreciation making General Electric an ideal Total Return candidate. Once the company sheds its SIFI status it may become a full-fledged growth opportunity. The stock was trading for nearly double its current share price prior to the 2008 debacle.
Current Chart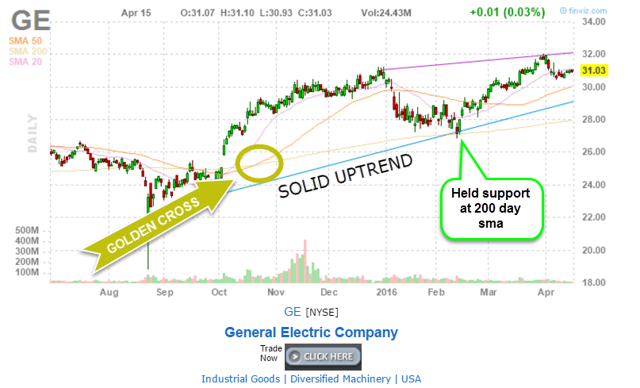 Click to enlarge
Source: Finviz.com
General Electric's chart looks impeccable at present from a short term perspective. The stock has achieved the coveted golden cross, held support at the 200 day sma, and is currently in a steady uptrend. The long-term technical picture looks great as well.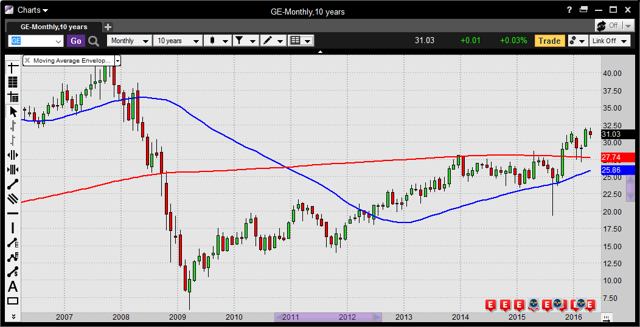 Click to enlarge
Source: Scottrade.com
The stock is currently trading above major long-term support at the $27.74 and $25.86 levels. These are strong support levels which serve to reduce downside risk and serve as red flags there may be an issue when breached.
The Last Word
SIFI Designation lifted
The company is currently making all the right moves. The sale of a majority of GE Capital assets was brilliant and most important to the company's future success. I fully expect regulators to terminate GE Capital's SIFI designation in short order. The company is well on its way having high-value industrial businesses comprise more than 90% of GE earnings by 2018.
Return of capital to shareholders
General Electric will distributing $8 billion in dividends and $18 billion in buybacks in 2016. The additional margin safety created by these accomplishments let me sleep batter at night. The fact General Electric has pulled the transformation from being a SIFI designated organization into an industrial pure-play in the first place gives me confidence. The company's ability to navigate any future negative turn of events is well documented. The stock is a buy in my book.
Final Thought
Nevertheless, there are always downside risks. Please use this information as a starting point for your own due diligence. Always consult an investment advisor prior to making any investment decisions. Those are my thoughts on the subject. I look forward to reading yours. If you found this article interesting, please click on the follow button next to my name above. It would be greatly appreciated.
Disclosure: I am/we are long GE.
I wrote this article myself, and it expresses my own opinions. I am not receiving compensation for it (other than from Seeking Alpha). I have no business relationship with any company whose stock is mentioned in this article.