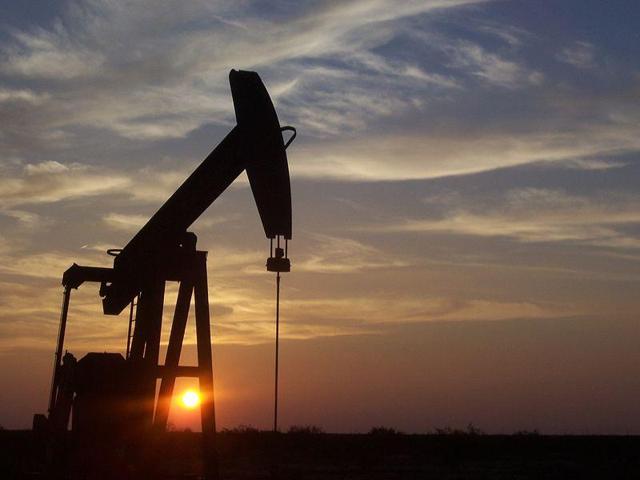 Click to enlarge
source: Stock Photo
Since closing at $34.38 on January 19, 2016, the share price of Apache Corp. (NYSE:APA) has skyrocketed over 50 percent, closing on April 15, 2016 at $52.06. The obvious concern is what will happen now that the oil rally is leveling off, and a good chance it will at best be range bound for the rest of the year, with a good chance of dropping if the price of oil reverses direction.
It's apparent oil producers like Apache are still heavily reliant upon the price of oil rebounding, but in Apache's case it has taken steps to endure a prolonged period of a low oil price by divesting of non-core assets, cutting costs and paying down debt, all of which was done without diluting the stock by raising equity or having to cut the dividend, as many of its peers have chosen to do.
The company has a healthy balance sheet and liquidity, which will be tested if the price of oil doesn't at best remain in the high $30s to low $40s per barrel. If it falls closer to $30 or maybe worse, there is a strong likelihood it will have to re-evaluate its dividend, even though it doesn't have the need for liquidity in the short term.
There is also the additional question of whether or not it'll be able to keep its investment grade ratings in place after being downgraded in February by Standard & Poor's and Moody's.
Apache has said it should be able to operate at cash flow neutral into 2017, but I believe that will be determined by the ability of the company to continue to remove costs from its onshore assets, along with the already mentioned price of oil remaining close to where it is trading at now. Neither of those are guaranteed.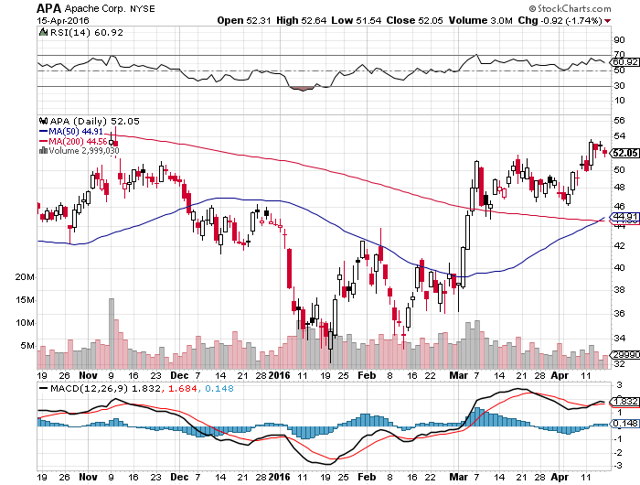 Click to enlarge
source: StockCharts.com
Balance sheet and liquidity
As of the end of 2015, Apache used its divestment of non-core assets to help build its cash balance to almost $1.5 billion, and to slash its debt by $2.5 billion. At the end of the last quarter total debt stood at $8.8 billion. Overall liquidity, including available credit, is about $5 billion. In the last reported quarter the net debt-to-EBITDA ratio of the company was 2.1x.
Short-term maturities are between $650 million to $700 million through 2020. This is a competitive advantage against most of its peers.
Even after the February downgrades it has retained its investment rating, so it won't be forced to pay more for capital when it needs it. That could change, but that's where it stands at this time.
Interestingly, some analysts and investors consider the smaller budget of the company a negative catalyst because it could cause the company to have a weaker response than its peers when the price of oil rebounds. More than anything this is probably why 75 percent of the 16 analysts following Apache have a "hold" or "sell" on the stock.
Growth challenge
One of the major consequences of the ongoing weak price of oil is companies being forced to take defensive measures to protect not only their existence in some cases, but their credit ratings and dividends. That means they are pressured to play defense and reduce the offensive measures needed for future growth.
A smaller budget is of course better for costs and earnings, but not for opportunities arising once the price of oil finds support. The good news for Apache is most of their competitors are in the same condition, although if oil rebounds in the near term, some of them may be in a stronger position to ramp up growth than Apache is. On the other hand, if oil remains subdued for some time, Apache will get the upper hand from its refusal to engage in significant spending on its onshore, North American assets.
Oil doesn't have to explode in price, but for Apache, it would do okay if it could jump to a range of $48 per barrel to $50 per barrel. If it remains under that for a prolonged period of time, it will have to take steps concerning its dividend. That means more equity, more debt, or cutting the dividend. It could divest or more assets and set the capital aside for the purpose of supporting its dividend. But since there is no visibility concerning the price of oil over the next year or so, it would be a risk to defend it at the expense of its balance sheet. Further downgrades by some agencies would bring it below investment grade.
One area I believe the market may be underestimating Apache is in the allocation of its expenditures for 2016. It has decided to spend about 53 percent of its 2016 budget on its international assets because the margins are higher and those assets generate free cash flow; something the market is looking for more than it has in the past with energy companies. This should allow it to perform stronger than if it had the bulk of its expenditures in the domestic market.
If oil is able to climb to a range of around $48 to $50 per barrel, 2017 capital should be able to grow to about $2.6 to $2.8 billion. Overall growth under that scenario would be about 6 percent to 7 percent.
Keep in mind this is under a best-case scenario. I think oil will struggle to reach the price range above, so the performance of Apache into 2017 will probably be lower than that. Even under good conditions the company could underperform some of its peers because of the defensive steps it has taken to do well under less than optimal conditions. In other words, what is attractive to investors now could turn against the company when growth is expected to accelerate. Allocation of capital to its international assets could offset some of that weakness further out.
In the short term it doesn't want to bring wells into production when they aren't making much money. It prefers to sit on them and wait for a more opportune time.
Dividend threat
As I write Apache's dividend was $1.00 with a yield of 1.88 percent. With many of its peers asserting their priorities are to defend their dividends - even though many have failed to do so - Apache stands above those that have been forced to cut or eliminate them.
Probably the major reason it has been able to do so is it doesn't have any immediate short-term liquidity needs to be filled. That's also why the relatively low amount of maturities through 2020 is so important.
Even so, any long-term low-price oil environment could force the company to take steps to defend its balance sheet by cutting the dividend. If the price of oil remains closer to $40 or even lower, it will eventually have to do something. If it moves closer to $50 per barrel, it has a good chance of not having to take action.
Being able to operate within its cash flow is the key, which is a major reason it has directed more capital to international operations.
It would surprise me to see Apache do anything concerning its dividend in 2016. Only a deep dive in the price of oil during the rest of the year would pressure it to take steps to cut or eliminate its dividend. I'm talking about oil dropping to the low $30s or even into the upper $20s. If it is able to hover around the $40 per barrel mark or a little higher, it should be okay for 2016 and early 2017.
Conclusion
On the growth side the company is looking to its international properties in order to take advantage of better cash margins. I could see it increasing the allocation to its international assets if the price of oil remains lower longer.
It has shown it can execute a strategy, which is why I think the market has rewarded the company so well, along with the oil rally. From the fourth quarter of 2014 to the fourth quarter of 2015, the costs of its wells in North America fell 35 percent, according to its latest earnings report.
To continue to be rewarded, especially if the price of oil doesn't maintain its legs, Apache will have to show it can remove even more costs out of its wells, which would make it more competitive at a lower price point. If North American margins can widen it would also have more flexibility with its capital allocation - domestically or internationally.
Apache has said it won't force its onshore wells into production to generate revenue at the expense of earnings. Instead, it is spending on projects and items which will strengthen the long-term performance of the company. This is part of what was referred to earlier on weaker growth prospects and waiting on its domestic onshore wells not yet in production.
Apache has done much of what it can do under these market conditions to protect itself in this low price oil environment. It can still improve well costs and has the option of selling more assets to defend its dividend and improve its balance sheet.
With rating agencies getting more negative on Apache, it wouldn't surprise me to see it downgraded by at least one to below investment grade. That would definitely change the outlook some investors have on the company, and would likely put some downward pressure on the stock.
When all is said and done, this is still about the price of oil, and that is something outside of the influence of Apache. How investors view the near- and long-term prospects for oil prices will determine how to play Apache and its competitors.
Apache has positioned itself to do as well as can be expected in this market. Those wanting a position in oil could do a lot worse than this company.
Disclosure: I/we have no positions in any stocks mentioned, and no plans to initiate any positions within the next 72 hours.
I wrote this article myself, and it expresses my own opinions. I am not receiving compensation for it (other than from Seeking Alpha). I have no business relationship with any company whose stock is mentioned in this article.