Intro:
In recent articles by fellow contributors and elsewhere on the web, there has been speculation on lack of Model X demand. With Tesla (NASDAQ:TSLA) stating the Model S and Model X are to help fund the Model 3, plus much ongoing spending on supercharger, sales and service infrastructure in addition to production expansion, this is seen as one of the most "make or break" points for Tesla to bring Tesla into the realms of the mass market.
Tesla Demand:
In a recent article of mine, I highlighted a lot of the ways Tesla can increase demand if need be. Tesla has recently done multiple of the things I speculated as some of the better ways to keep demand robust.
Steps that have been taken since my article was published include a minor tweaking of the X base model to try and make it more appealing and the recent Model S refresh to increase shared parts and brand recognition, as well as to further differentiate from the 3.
One of the best ways Tesla increased demand as of late was by officially opening the Model X configuration studio to the public. Although still relatively hidden and with some misleading wording for the actual link, (it says "Order Now" instead of something like "Design yours" or "Design Studio" or "Configure Here") this is a step in the right direction. As I previously mentioned, this makes the product more tangible, which I feel is important when ordering such a high ticket item online.

(Model X Page buttons image courtesy of Tesla.com)

(Model S Page buttons image courtesy of Tesla.com)
As you can see above, or by visiting the website yourself, not only is the Model S page more clear-cut and cutting edge, but the phrases on the buttons to get to the design studio or to get to know the car are markedly different.
On a small side note, another limiting factor for demand of the X as of now is lack of show models in stores and test drives available to customers. I believe in the next couple quarters this is also going to change in a big way. I think that even (and some might say especially) the rich are mindful of spending money on a lemon when it comes to their car, and most would rather have faith in reliability than be the first to own any one model on their block.
As the Model X becomes more of a familiar face, I expect the novelty to not wear off, but for it to become an established player in its segment as the Model S has shown Tesla is capable of.
Model X reservation yield is small potatoes compared to ongoing demand:
In regards to all the recent chatter about Model X reservation data specifically, I have a few thoughts. First is that while important, the early deposit holders who switched and got the S are not the worst thing ever for Tesla. What is much more important, regardless of the conversion rate, is ongoing delivery numbers.
Once the initial production kinks are fully proved out with the X, which I would think is near given the recent recall and the continuous improvement of reports on the Tesla Motor Club forum, plus increasing positive reviews from established sources situate the Model X to sink into the general public as a good choice.
As long as the Model X gets better not worse, which it very much seems to be, the orders will continue to come. One thing that is often forgotten with the Model X in my opinion, is just how much faster the ramp up has been than for the Model S.
Build to order:
While it is well known Tesla utilized a build to order model, where the car is not produced until requested, I don't believe everyone fully appreciates this fact. When Tesla initially began ramping up the production of the S, for a long time the amount of vehicles they were able to produce was outpaced by the incoming requests for the sedan. Nobody could have expected this to be the case forever.
The production ramp of Model S vs. Model X: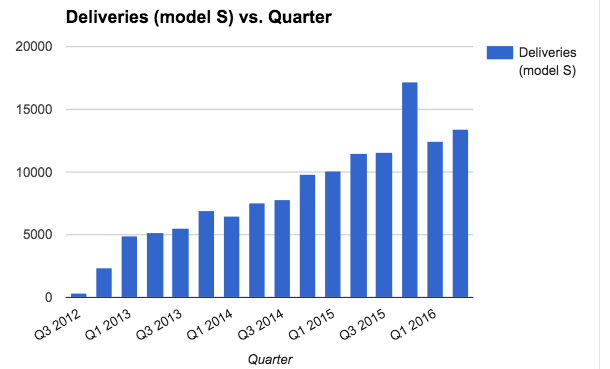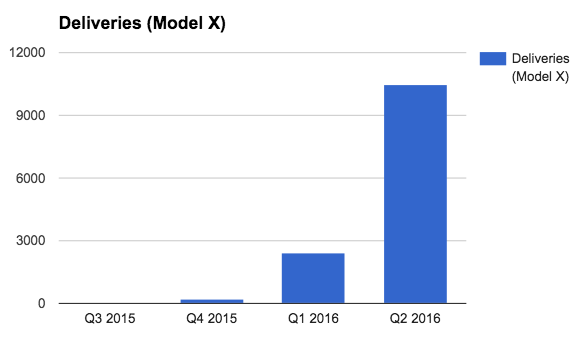 All the data is real and accurate to my knowledge, with the exception, of course, of the Q2 Data. I have based my extrapolation for the numbers on the known run rate of the Model X exiting Q1, and have kept Model S at largely historic patterns of roughly 1000 more than Q1 of the same.
In my mind, this data shows that Tesla has become a company capable of keeping up with new demand after they have exhausted the initial backlog. Of course there were certainly days where the Model S demand outpaced supply, but if Tesla was ever to mature those days were sure to be numbered. This is not a bad thing in my mind, as who really wants to wait months to receive a car?
Additionally, Tesla has been able to achieve much higher delivery numbers for the Model X in a much shorter time than it took them to do so with Model S, all while keeping the latter delivered in sufficient amounts to hit guidance for the year.
I believe the following chart is the most illustrative of this notion: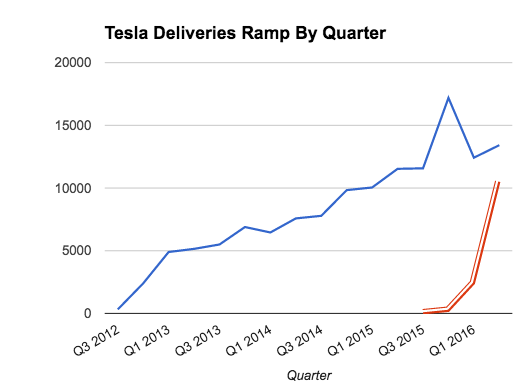 (Note about chart: Model S Blue, Model X Red)
Although there are admittedly some hiccups along the way, and an apparent one off event at the end of the year in 2015, Tesla has been steadily increasing deliveries. With Model X deliveries nearly catching up to the rate of Model S deliveries in practically 2 quarters (as opposed to 2 years for the S, ~1/4 the time), this would suggest Tesla has really gotten a grip on ramping up complex products.
As they continue to improve supplier quality and internal quality control Tesla will position themselves to be increasingly reliable. This undoubtedly bodes well for the Model 3.
Conclusions:
Model X deliveries will continue to be very close to the Model S after it proves itself out in the market and initial production deficiencies or inefficiencies are worked out. Tesla will be able to bridge the gap successfully to the Model 3, and although there may be an equity raise to get there, I don't believe bankruptcy is a looming threat.
The Model X being available for delivery next month is no different than the Model S in today's conditions, but that does not mean there is not robust demand at current production levels.
If Tesla maintains the run rates of 750 a week for Model X production and Model S deliveries are only 1000 more than Q1 for the remainder of the year, Tesla will achieve guidance of at least 85,000 for 2016.
Tesla remains a buy in my opinion at this time for long holders with a horizon of 2020 or beyond.
All images and information courtesy of the Author unless otherwise noted.
Disclosure: I am/we are long TSLA.
I wrote this article myself, and it expresses my own opinions. I am not receiving compensation for it (other than from Seeking Alpha). I have no business relationship with any company whose stock is mentioned in this article.