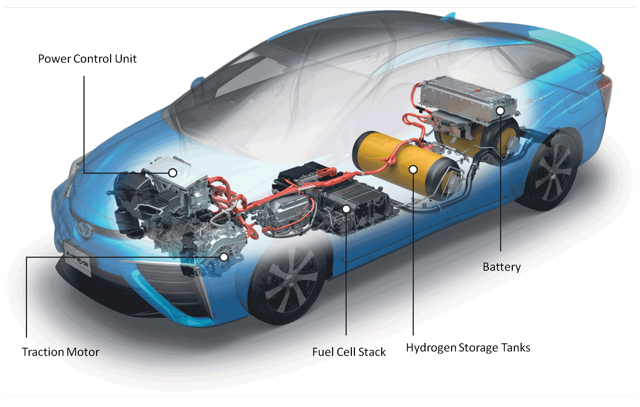 Click to enlarge
In writing recently about developments of lithium battery technology, I inevitably got involved with electric cars and the potential of an EV revolution to disrupt the oil industry.
One thing that puzzled me was that some very big Japanese and Korean players in the auto industry (including Toyota (NYSE:TM), Honda (NYSE:HMC) and Hyundai (KS:005380)) seemed to be making big investment in fuel cell (hydrogen) power to drive an electric drive chain, rather than batteries. Toyota has invested 20 years and the rumor is $8.8 billion in fuel cell technology.
A recent interview with US Toyota fuel cell representative Ed LaRocque gave some details about the Toyota Mirai, which was released in California in October 2015 and there are plans for East coast release later this year.
Key details are that the Mirai costs ~$57,000 (with up to $13,000 subsidy discount). There are 13 refueling stations in California, with that number to increase to 40 by end of 2016, and just 4 refueling stations planned on the east coast: 2 in Massachusetts, 1 Connecticut and 1 New York. The Mirai has a 312 mile range and, while it only takes 3 minutes to fill, it will cost $40-50 (although for the first 3 years Mirai owners don't pay for fuel), giving the equivalent of a 25 mpg ICE powered car.
The comparator to existing ICE cars and not an EV was revealing. To date, of 300 pre-ordered Mirais, just 100 have been delivered in California. Toyota hopes to sell 3000 Mirais in the US by end of 2017. For a reality check think about the 300,000 plus Tesla Model 3 orders.
Toyota recognizes that a huge barrier (after cost of the vehicle) is refueling infrastructure and it has made available its patent portfolio to encourage investment by other manufacturers, with Honda and GM, and Nissan (OTCPK:NSANY), Daimler (OTCPK:DDAIF) and Ford (NYSE:F) collaborating on fuel cell vehicles.
Others have said that Toyota just needs to beef up the battery and remove the fuel cell and they have an EV, but this begs the question as to why they have invested massively in getting the fuel cell technology to where it is now. The investment in safe hydrogen fuel tanks is no doubt substantial as is the technology for electricity generation from the fuel cell. It seems that acceptable acceleration is achieved by the battery, not the fuel cell.
As Toyota makes clear, their investment in fuel cell (hydrogen) technology represents a call they made a long time ago. You have to admire this long term view and investment by Japanese companies, but I can't help thinking that this time battery technology advances have made the fuel cell a redundant extra step.
Conclusion
My take on fuel cell (hydrogen) powered vehicles is that lithium battery technology has moved so far and fast that the hydrogen vehicle can't catch up. It does reinforce that the age of the ICE car is rapidly drawing to a close.
Concerning investment in the future automotive industry, for the brave there is Tesla (NASDAQ:TSLA), for the less brave GM, Volkswagen (OTCPK:VLKPY), BYD (OTCPK:BYDDY) and for putting on watch to see where they go from here, Toyota.
Disclosure: I/we have no positions in any stocks mentioned, and no plans to initiate any positions within the next 72 hours.
I wrote this article myself, and it expresses my own opinions. I am not receiving compensation for it (other than from Seeking Alpha). I have no business relationship with any company whose stock is mentioned in this article.
Editor's Note: This article discusses one or more securities that do not trade on a major U.S. exchange. Please be aware of the risks associated with these stocks.