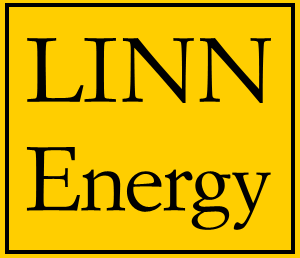 Linn Energy, LLC (NASDAQ:LINE) is taking further steps to avoid a bankruptcy. Two weeks ago the struggling oil and natural gas producer announced a settlement with Senior Secured Second Lien creditors that cured the default under the indenture governing the Second Lien Notes. I discussed the settlement agreement in this article "Linn Energy: Not A Game Changer". The settlement was good news for unitholders hoping for a turnaround, but Linn Enery needed to do more to prevent the company from sliding into bankruptcy.
And the oil and gas company has indeed reached a minor victory last week. Linn Energy gave investors an important update about its restructuring on Friday that included the announcement that the company made a couple of interest payments on its senior notes on April 14, 2016. These payments included ~$30 million on Linn Energy's 7.75% senior notes (maturity February 2021), another $12 million interest payment on Linn Energy's 6.50% senior notes (maturity September 2021), and ~$18 million on Berry's senior notes (maturity September 2022). The payments had been deferred from the original due date last month, March 15, 2016. While Linn Energy has made good on its interest payments as specified in the press statement, the energy company also said that it intends "to elect to exercise the 30-day grace period" with respect to interest payments totaling ~$58 million that are due in April and May.
The payment of interest on its senior notes is without a doubt good news for Linn Energy that continues to teeter on the brink of default. Further, Linn Energy announced crucial amendments to its credit facility, that support Linn Energy's restructuring efforts.
According to Linn Energy's investor update, the company entered into an amendment to its credit agreement last week, gaining crucial concessions from its lenders. Among the amendments were the following points:
An agreement that certain specified events will not become defaults or events of default until May 11, 2016;
The borrowing base will remain constant until May 11, 2016, subject to reductions based on sales of assets or termination of hedge agreements; and
LINN, the Agent and the lenders will negotiate in good faith an agreement in furtherance of a restructuring of the capital structure of LINN.
The first two points are especially important for Linn Energy because the oil and gas producer wins important time to hammer out a bigger restructuring deal with its lenders. In order to facilitate a restructuring, lenders give Linn Energy more time to come up with sources of cash, including asset sales. This is a small victory for Linn Energy, and comes right after Chesapeake Energy Corp. (NYSE:CHK) also successfully negotiated with its lenders for beneficial amendments to its credit facility. While the investor update and short-term credit facility relief generated some excitement about Linn Energy's survival chances, the fact remains that the company needs to restructure a significantly levered balance sheet, and a Chapter 11 bankruptcy may be the best way to do just that.
Your Takeaway
Linn Energy is standing with its back to the wall, but continues to exhaust all avenues in order to avert bankruptcy. The payments of interest on its senior notes and the amendments to its credit agreement demonstrate that the company is not giving up just yet. That being said, though, Linn Energy's best shot of a restructuring may be a Chapter 11 bankruptcy, in which case unitholders would be wiped out completely. Stay away.
Disclosure: I/we have no positions in any stocks mentioned, and no plans to initiate any positions within the next 72 hours.
I wrote this article myself, and it expresses my own opinions. I am not receiving compensation for it (other than from Seeking Alpha). I have no business relationship with any company whose stock is mentioned in this article.
Editor's Note: This article covers one or more stocks trading at less than $1 per share and/or with less than a $100 million market cap. Please be aware of the risks associated with these stocks.