After its breakout this year, we believe the gold price has now begun to consolidate its position. Currently we think there are far more catalysts to potentially take the price of gold higher, than drag it down lower. Therefore, we see the SPDR Gold Trust ETF (NYSEARCA:GLD) as a great place to allocate funds today.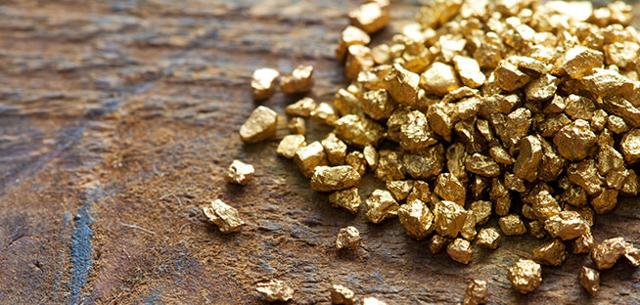 Click to enlarge
We think now is a great time to be buying gold. Goldman Sachs (NYSE:GS) may continue to be bearish on the shiny stuff and say its heading below $1,000, but we like many remain bullish. Goldman Sachs has been saying recently that gold, oil, and iron ore are all heading down again in the near future. While they may prove to be right about oil after the upcoming OPEC meeting, we are not so sure we agree with gold. There are a number of catalysts which we believe could be pointing to a big rise in its price or, at worst, further consolidation of its position above $1200.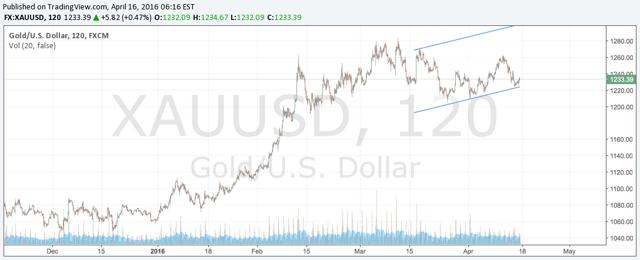 Click to enlarge
Source: Trading View
As the chart shows above, we feel there is a nice trading range that gold is playing in. We do expect the bottoms to keep on rising taking it back up towards the $1280 mark. But it could go so much further.
Part of the reason for Goldman Sachs' bearish view is that it believes there will be three rate hikes this year. It actually has stated it thinks the Fed needs to raise rates four times this year, but expects just three.
We would love things to get back to normality and see an end to all the NIRP and ZIRP monetary policies across the world, but we feel it is wishful thinking for three rate hikes this year. The general feeling in the market according to a survey of economists is that there will be two rate hikes this year but conviction is weakening as the weeks go by. The amount of economists surveyed that expect just one rate hike now has risen to around a quarter, and an April rate hike has been ruled out as having zero chance of happening.
If rates do not rise this year then there is a chance the US dollar will remain in its reasonably weakened state. This would eliminate any danger of a depreciation in the price of gold from a stronger USD, due to the inverse relationship of the pair.
We don't expect there to be a market crash, but we do feel there is growing talk of one coming that could spook the market. Presidential candidate Ted Cruz was on CNBC this week stating his belief that one was coming. While Ted Cruz himself may lack the credibility to make such a call, we would imagine he is being advised on this by Willie Langston who is on his staff. Langston is the founding partner and chairman of Avalon Advisors Global Investment Management, having previously worked at Goldman Sachs and Morgan Stanley.
Cruz said: "The Fed has, for those with assets, driven up stock prices. But that's not built on anything real. It's not built on an increase in the intrinsic value of those assets. That's just playing games with money, which means a crash will be coming."
He does make a fair point. But once again we reiterate, that we don't necessarily see a crash coming. But we do see fear potentially returning to the market if this earnings season is not a great one. The VIX is traveling along nicely at the moment at its lowest level this year. If things get stormy we would likely see a spike in it and the gold price.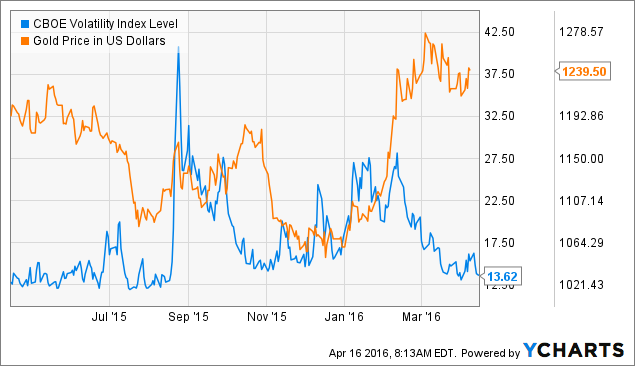 The difference this time is that we would be starting from a higher price. Normally when the market calms the gold price starts to come down, but this time it has plateaued at the higher level.
Asides from the general worries of the Chinese economy that crop up now and then, there is one other key item that could have an effect on the price of gold. Nobody quite knows what will happen if Britain exits the European Union. Just over two months away, on June 23, we will all find out. During the Grexit period from last year markets worldwide were suffering. Last year there were reports that a Grexit would have taken the gold price up to $2,000.
It is widely agreed that investors turn to gold when there are fears of a currency crisis, a stock market crash, or broad financial turmoil. Many expect a Brexit could potentially cause all three of these events to occur. This could create an incredible amount of buying pressure which sends gold skyrocketing.
We are very bullish on gold and would not be surprised to see it climb above $1,400 in the next few months before making a run for $1,500. This would represent substantial gains for investors and definitely provides a good risk/reward ratio.
In light of this we think it could always be worthwhile considering gold producers such as Randgold Resources Limited (NASDAQ:GOLD), Newmont Mining Corporation (Holding Company) (NYSE:NEM), Franco-Nevada Corporation (NYSE:FNV), or simply the Market Vectors Gold Miners ETF (NYSEARCA:GDX). RBC Capital released a research note last week which was incredibly positive and sent gold stocks skyrocketing. This could just be the beginning of much greater gains to come if gold does climb up and beyond $1,400.
Disclosure: I am/we are long GLD, GDX.
I wrote this article myself, and it expresses my own opinions. I am not receiving compensation for it (other than from Seeking Alpha). I have no business relationship with any company whose stock is mentioned in this article.