Aflac (NYSE:AFL) is a Dividend Aristocrat in the insurance sector with a 33-year history of paying out consecutively rising dividends. At a time when many conservative stocks are trading at either the high end of fair value or are overvalued, Aflac is undervalued. The chief reason for this is that the bulk of Aflac's business is carried out in Japan, and thus the company is exposed to the struggling Japanese economy.
Company Overview
Founded in 1955 and based in Columbus, Georgia, the American Family Life Assurance Company (AFLAC) is a provider of supplemental insurance in the U.S. and in Japan, with a focus on health insurance and life insurance. Many things that the primary medical insurance policies do not provide coverage for, Aflac will. These include accidents, dental, disability, intensive care, and vision.
Aflac is an industry leader in the Japanese life insurance and cancer insurance markets, and a leading supplier of supplemental insurance in the U.S.
Competitive Advantage
Aflac operate in an area of insurance where they have a niche. Supplemental insurance policies were often treated by insurers as an extra rather than a core product. Aflac's long focus on this area has garnered it considerable market expertise, which permits it to have better underwriting margins and less expensive costs, as it understands the supplemental insurance market better than its peers do.
Japanese Issues
Approximately 75% of Aflac's profits are derived from Japan, and the remaining 25% comes from the U.S. This is what makes people bearish on Aflac: the Japanese economy is heavily in debt, which stands at 246% of GDP. Furthermore, Japan's population is experiencing contraction and are ageing - in fifty years, it is estimated that 40% of the population will be above 65, there will be one worker for every retiree (a 1:1 ratio, as opposed to the 12:1 ratio there was five decades ago), and the social security budget has increased over the past few decades by 15%.
Where Aflac is affected is in the exchange rate between the Yen and the U.S. dollar, as their payments in yen have to be converted to dollars:

Given these factors, one could understand investor bearishness about exposure to the Japanese economy. And despite recent gains for the Yen, the trends outlined above are long-term and likely to continue. But an investment in Aflac is not an investment in the Japanese economy - it is an insurance investment with Japanese exposure.
Insurance is a stable, slow-changing sector: people will always need insurance, and elderly people are more likely to avail of life insurance and cancer insurance than most other members of society. The aging Japanese population, therefore, are still going to provide Aflac with plenty of income going forward.
Furthermore, sales and revenue have been strong in recent years for Aflac, and the Japanese economy's problems have been a factor for much longer. Between 2011-2015, Aflac was able to make over $20 billion annually. That trend does not appear to be diminishing.
Valuation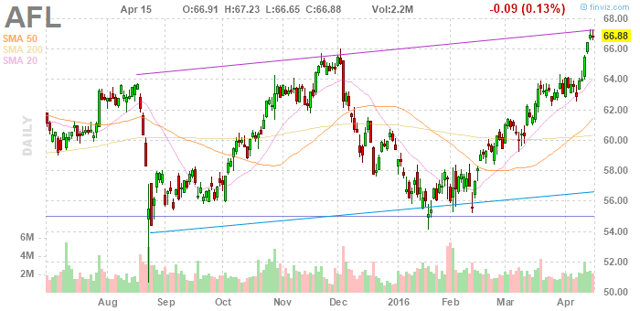 Click to enlarge
Currently, Aflac is trading in the mid-$60 range at a price-to-earnings ratio of 11.43, a forward price-to-earnings ratio of 9.89, and offers a dividend yield of 2.45%, with a payout ratio of 25.5%. Its long-term annual growth estimate is 5.37%, which shows that the declining Japanese economy is not expected to adversely affect Aflac's own operations.
Furthermore, management has taken advantage of the low valuation by reducing the outstanding share count: between 2011-2015, outstanding shares were reduced from 466.52 million to 430.65 million. This shows that management are confident in the company and are providing value to their existing shareholders by increasing the value of their shares.
Conclusion
Aflac is an undervalued bargain for the long-term investor. It offers a nice dividend yield, and the low payout ratio ensures not only that the dividend is unlikely to be cut, but will grow. Japanese exposure has not had a deleterious impact on Aflac previously, nor is it expected to in future.
DISCLAIMER: I am not a financial professional and accept no responsibility for any investment decisions a reader makes. This article is presented for information purposes only.
Disclosure: I/we have no positions in any stocks mentioned, and no plans to initiate any positions within the next 72 hours.
I wrote this article myself, and it expresses my own opinions. I am not receiving compensation for it (other than from Seeking Alpha). I have no business relationship with any company whose stock is mentioned in this article.