There are few companies which can boast to having as great a presence in territories all over the world than McDonald's (NYSE:MCD). Whether you're walking through New York or New Zealand you're never far from those Golden Arches. Although many consumers are becoming more health-conscious and companies with reasonably healthier options could be stealing market share, we still see a long-term investment opportunity in the company today as it makes changes to its business model.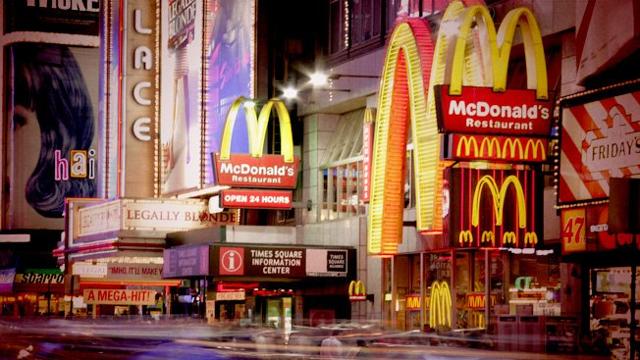 Click to enlarge
We believe a good gauge of how McDonald's is doing is the survey of franchisees taken by research firm Nomura (NMR). The company surveys 26 franchisees who collectively own and operate over 200 restaurants around the country. In January's survey the results were very positive with a great fourth and first quarter expected by the franchisees.
As it turns out they were spot on with the fourth quarter. The all-day breakfast menu was a big hit and helped the company smash revenue and earnings expectations. The company delivered earnings per share of $1.31 on revenue of $6.34 billion. This was an 8 cents and $120 million beat on earnings per share and revenue, respectively.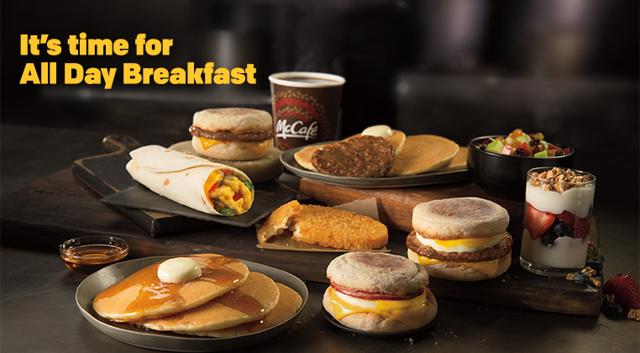 Click to enlarge
The survey by Nomura is also very beneficial for the company. One of the major complaints from consumers that franchisees reported was that the all-day breakfast menu was too limited. Well the company responded a couple of weeks ago by extending the menu to cover the popular McGriddle at 1,000 restaurants. The company will use these restaurants for testing, with presumably a view to extend it across all its 14,000+ restaurants in the United States. If the tests are successful and it is possible to roll out across its store network without negatively impacting service, then we would expect this to be a boost to the bottom line through increases in traffic and ticket.
So when the company reports its first quarter results next week we would not be surprised to see another beat on earnings. There has been a lot of buying pressure leading up to these earnings, taking the share price 9% higher in the last 6 weeks. For us we think it is clear that the market is very bullish and is expecting good things this quarter. It is worth considering that a failure to beat earnings could take the share price on a steep decline, but consumer spending and rises in disposable income appear to support the view of another great quarter.
But we are not just looking at McDonald's for the immediate future. We see a great long-term investment here too. The company's goal of becoming 95% franchised is something we find attractive. Restaurant Brands (NYSE:QSR) and Wendy's (NYSE:WEN) have had great success in growing their earnings at a strong rate by moving to an asset-light model and there is little doubt McDonald's would do likewise.
The company is busy looking for buyers for around 2,800 restaurants in northern Asia. We don't think it will be hard to find a willing suitor, and look forward to seeing the business model start to transform. It will be a reasonably long process, but ultimately very rewarding for the company and its shareholders.
We have heard many describe McDonald's share price as being expensive right now, but we think it is good value. It may be trading on a higher price-to-earnings ratio than more or less any stage in the last ten years, but we might argue that this is the new norm for it.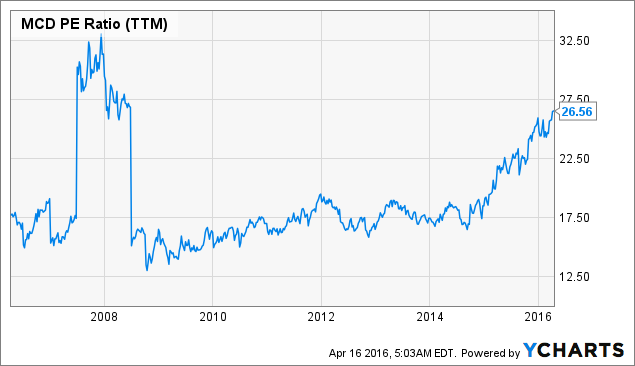 Investors have been willing to pay more and more for each $1 of earnings in the last 18 months. But this multiple still means the stock trades at a discount to a number of its peers such as Starbucks (NASDAQ:SBUX), Yum Brands (NYSE:YUM), and Chipotle (NYSE:CMG). These three stocks are currently trading at approximately 37, 31, and 28 times trailing earnings, respectively.
We expect the all-day breakfast menu will continue to help the company produce strong results this year and envisage full year earnings of $5.50 per share on revenue of $24.8 billion. At 26 times earnings this means a price target of $143.00 and further upside of close to 12%.
It currently pays a dividend that yield 2.79%, but we expect this to show significant levels of growth when the company reaches its 95% franchise target. Buying in at this point with a view for the long-term could make this a key dividend stock one day.
It wasn't that long ago that McDonald's looked doomed, but this invigorated McDonald's under new leadership looks like a great investment today.
Disclosure: I am/we are long MCD.
I wrote this article myself, and it expresses my own opinions. I am not receiving compensation for it (other than from Seeking Alpha). I have no business relationship with any company whose stock is mentioned in this article.