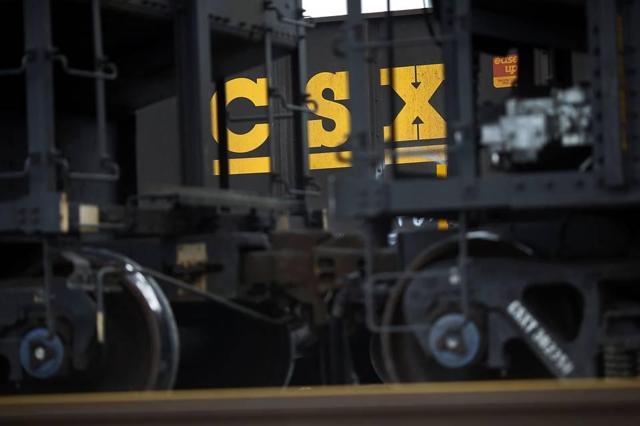 Click to enlarge
The shale oil boom has nearly come to an end amid the rout in oil prices. While prices have dropped, energy companies' debt service obligations have not. Through mid-December 2015, 41 oil & gas companies went belly up. Deloitte believes another 175 oil & gas companies with $150 billion in debt could go bankrupt. That's not good for vendors like American Railcar (NASDAQ:ARII), a leading North American manufacturer of hoppers and tank cars.
A year ago oil & gas companies and oilfield services companies could not transport oil and frac sand cross country fast enough. They were stockpiling tank cars to ensure they would not run out of modes of transportation. That demand has now changed. Cumulative year-to-date U.S. rail traffic for the week ending April 9th was down 7%; it was off 21% for petroleum and petroleum products. American Railcar put up gaudy numbers in Q4 2015 - revenue and EBITDA were up Y/Y by 73% and 42%, respectively.
The company benefited from a backlog built up during the shale boom; it may have reached an inflection point. Its backlog grew from 1,050 units in 2010 to 11,732 at the end of 2014. The backlog fell to 7,081 at year-end 2015. Analysts expect Q1 2016 revenue to fall 25% Q/Q to $196.04 million. The past is no longer prologue. I attempted to capture this phenomenon when valuing the company.
ARII Is Worth $31
Based on a bottom up analysis, ARII is worth $31 or 30% below its current price of $44.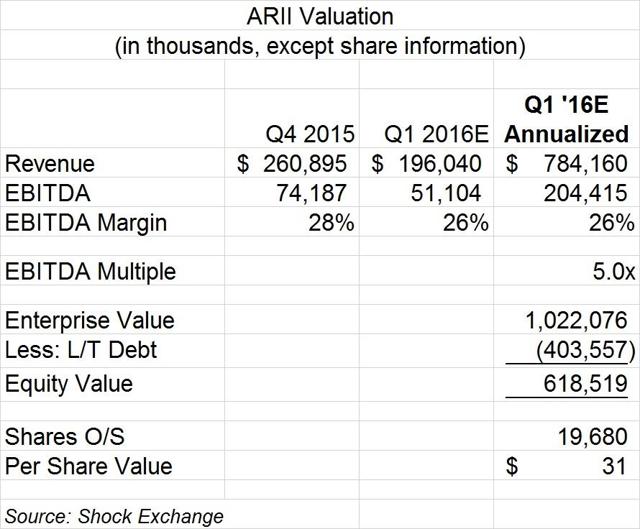 Click to enlarge
Run-Rate Revenue
Run-rate revenue of $784 million equates to Q1 2016E revenue of $196 million annualized. Since revenue and the backlog are expected to decline precipitously, forward expectations are a better proxy for American Railcar's earnings potential. I expect revenue and earnings to continue to retrench throughout the rest of the year.
Run-Rate EBITDA
Run-rate EBITDA is Q1 2016E EBITDA annualized. Revenue is expected to decline by 25% Q/Q. I assumed the company would be able to cut operating costs of $187 million at 90% of the rate of revenue declines (22%). That would equate to EBITDA of $51 million and a 26% margin. A margin decline from 28% in Q4 to 26% appears optimistic.
EBITDA Multiple
A multiple of 5.0x to 7.0x is appropriate for an industry leader in a cyclical industry in decline. I chose the bottom of the range given the expected dearth in new orders and rapid decline in the company's backlog.
Enterprise Value
The company's enterprise value (equity and debt) is $1.0 billion.
Equity Value
After subtracting net debt (debt less cash and equivalents) of $404 million, I derived an equity value of $618 million.
Per Share Price
I assumed 19.7 million shares outstanding which was sourced from Yahoo!. The per share price is about $31.
Conclusion
ARII is down 18% over the past year versus a flat return for the S&P 500 (NYSEARCA:SPY). It is in the same sector as Greenbrier (NYSE:GBX) and Trinity (NYSE:TRN) yet its revenue stream is less diversified. It is much more dependent on selling into the oil industry which is in free fall. Once Q1 revenue is announced and management opines on the outlook for the rest of the year, I expect the stock to fall faster than its peers. Avoid ARII.
Disclosure: I am/we are short ARII.
I wrote this article myself, and it expresses my own opinions. I am not receiving compensation for it. I have no business relationship with any company whose stock is mentioned in this article.