Of all the energy companies, the highly-levered shale companies face perhaps the most difficult road ahead if crude oil prices are going to stay low for a long time. With high decline rates, shale drillers must keep drilling new wells just to keep production even. The more levered names in the Bakken Shale, in my opinion, could be the most vulnerable because that is where the discounts to NYMEX crude are the highest, and therefore it is also where realized prices are also the lowest.
Of the Bakken producers, Whiting Petroleum (NYSE:WLL) is either the biggest or second biggest, depending on how you calculate it. Just months before crude prices began plummeting, Whiting completed its major acquisition of Kodiak Oil and Gas. Whiting racked up over $5 billion in debt. This has made me pretty bearish about Whiting.
Indeed, the numbers looked pretty challenging last year: Whiting generated a little over $1 billion, but spent $2.5 billion in capital expenditure. With credit markets shutting off to energy companies, Whiting obviously couldn't continue on like this. As of late February, Whiting has greatly altered its course by bringing capex down to just $500 million, a drop of 80%. Most upstream companies are indeed cutting capex, but I've seen few cuts as steep as this.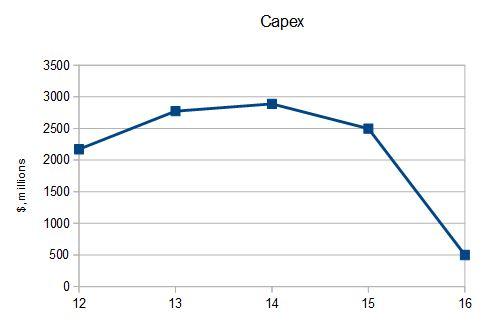 This chart gives an idea of the significance of this capex cut. It's a big one, and I think that it's just the right thing for this environment. But what effects will it have?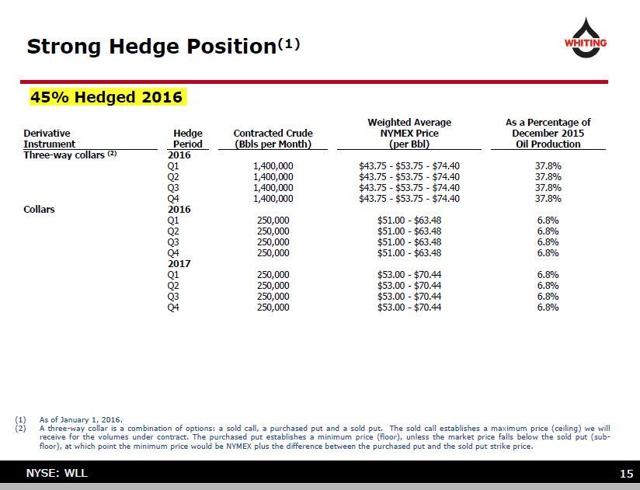 Click to enlarge
Courtesy of Whiting Petroleum Investor Relations.
Here is a snapshot of Whiting's hedges. For 2016, cash flow coverage remains significant; about 38% of production is hedged at an average of $53.75 per barrel. Ultimately, Whiting's cash flow this year will largely be decided by where oil prices settle. If we assume a situation with oil prices similar to or a little less than that of 2015, Whiting could generate less than a billion in operating cash flow, but should generate well more than the $500 million needed to pay for the capex budget. Once 2017 comes around, however, Whiting's hedge protection largely comes off, and the company will be more effected by the spot price.
Whiting's hedges are pretty significant in 2016. Debt isn't yet a problem, either: Whiting doesn't have any significant debt coming due until 2019, so there are a couple more years before anyone has to worry about that.
But one thing I am concerned about is the long-run effect on production from this steep capex cut. Production is going from 155,000 barrels per day in the fourth quarter to just 133,000 barrels per day on average in 2016. That's not an apples-to-apples comparison, but you get the idea of what the production drop will look like; somewhere in the mid-teens.
In particular, production momentum is important. An 80% capex cut only leads to a 14% production decrease because production has been boosted from high drilling activity in the previous year. Another year of just $500 million in capex could lead to sharper production declines later on. For that matter, Whiting might still face further production declines in 2017, even if it raises capex in 2017, just because drilling activity in 2016 will have dropped by so much.
While I think Whiting's capex cut was the right thing to do given the circumstances, I worry about the downward production momentum Whiting is building here, and I worry about how the cash flow situation might be effected in 2017.
In a good scenario, WTI oil recovers to $50 by next year, and credit markets ease up. At $50 WTI, Whiting can squeak out a 30% rate of return in the Bakken. In that case, I suspect that Whiting will be able to fall back on its untapped $2.5 billion credit line in order to plug the gap while the company rebuilds production momentum.
In a "bad" scenario, with WTI still at $40 or lower with hedges rolling off, Whiting still may be able to lean on its credit line while production falls and if operating cash flow drops below capex, but that assumption ignores any possible redetermination of the credit line. Credit markets may continue to sour on Whiting and others if crude oil remains where it is now. After all, most creditors value these producers by the value of their oil reserves.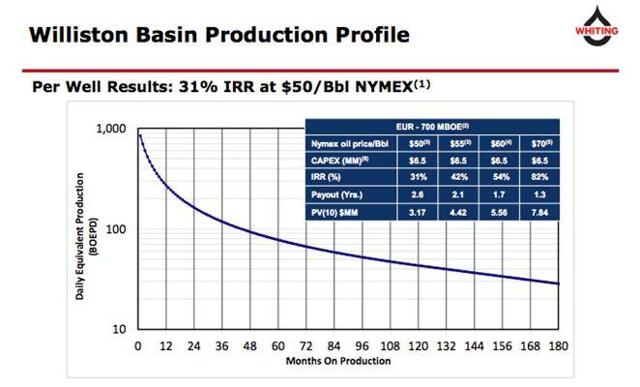 Click to enlarge
Courtesy of Whiting Petroleum Investor Relations.
To boil down Whiting's risk factors, the company is hoping that WTI recovers to where the company can generate sufficient cash flow without hedges. Most of Whiting's hedges roll off by 2017. According to the latest data we have, $50 WTI gets about a 30% rate of return. The rule of thumb is that a company needs 20% or above for a well to be worth it. In other words, Whiting can generate a decent profit in the Bakken with WTI somewhere below $50, but not much below it.
Conclusion
I do not consider Whiting a buy right now, because I more prefer companies in lower-cost shale areas, such as the Permian and Eagle Ford. However, current holders of Whiting can take heart that by radically cutting capex, the company has taken any serious trouble off the table in 2016.
Disclosure: I/we have no positions in any stocks mentioned, and no plans to initiate any positions within the next 72 hours.
I wrote this article myself, and it expresses my own opinions. I am not receiving compensation for it (other than from Seeking Alpha). I have no business relationship with any company whose stock is mentioned in this article.