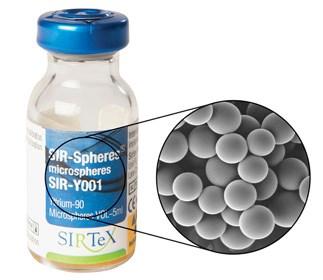 In February last year I wrote a report on Sirtex (ASX ticker is SRX)(OTCPK:SXMDF) indicating that a setback where the share price fell precipitously from $A39 to $A21.49 (low was $A18.54) was actually a buy opportunity. It ended 2015 at $A40.05, almost doubling over the year and being included in the ASX100 Index. In 2016 the share price has drifted as low as $A27.08, but this past week the share price has begun to recover with the last close being at $A31.02.
Sirtex operates in the tough space of inoperable liver cancer. Its product is SIR-Spheres, which deliver radiation as Y-90 in resin microspheres. This involves highly targeted radiation therapy where the radioactive particles are delivered to the liver tumor. A major source of patients are those with colorectal cancer, where in ~50% of cases the cancer spreads to the liver. These patients die from liver failure (not the colorectal cancer).
It dominates the space with 61,000 doses supplied at 950 medical centers in 40 countries. In fy 2015 it supplied 10,252 doses, a 19.8% increase over 2014, while in 1H 2016 it supplied 5,728 doses up 15.7% on 1H 2015.
Here I address whether Sirtex is on track to make a substantial recovery again.
Last week there was a solid report on Sirtex's result for fy 2015 (July 2014/June 2015) and 1H 2016 (i.e. 1 July 2015- 31 December 2015). It has $A73.7 million cash (up 33% year on year) and no debt.
Financials
There is a lot to like about Sirtex's financial performance, especially its performance in 2015 which, while consistent with the last 5 years, showed outstanding growth in key metrics of the business.
The top line figures are:
| | | |
| --- | --- | --- |
| Result | Fy 2015 | 1H 2016 |
| Revenue | $A176.1 mill (up 36%) | $A112.6 mill (up 40.0%) |
| Net profit after tax | $A40.3 mill (up 69%) | $A25.9 mill (up 46.9%) |
| CAGR revenues | 22.3% | 27.0% |
| CAGR dose sales | 19.7% | 19.8% |
| EPS | $A0.71 (up 68%) | |
| Dividend | $A0.20 (up 42.9%) | |
SIR-Spheres clinical development occurred in the 1990's, regulatory clearance was obtained in Australia (NASDAQ:TGA) in 1998, with FDA and CE Mark approved in 2002. The SIR-Spheres treatment is broadly approved for reimbursement in the Americas (USA, Canada, Mexico, Argentina, Brazil), EMEA (broadly Europe), and APAC (broadly China, India, Japan, Australia and Asia Pacific). This reflects a massive effort in establishing credibility and training in a very large number of clinics around the world. This kind of edge is hard to erode quickly.
Market growth opportunity
Perhaps the most arresting figure in the recent report is a comparison between the number of cases treated in 2015 (10,252) in comparison with annual number of patients eligible for SIR spheres treatment in 2016 (279,000 for inoperable metastatic colorectal cancer in the liver, plus 209,000 patients with inoperable HCC (hepatocellular carcinoma, see below). This is a big change, as before 2016 less than 10% of patients with inoperable metastatic colorectal cancer in the liver (~48,000) were eligible for SIRT treatment (last line "salvage" therapy). Today 85% of patients with inoperable liver cancer are now eligible for SIRT treatment. In 2016 the 1st line treatment is "warranted", with an expectation that in 2017 this may change to "mandated" use based on survival data on an ongoing trial.
With ~10,000 patients treated out of an annual pool of 488,000 eligible patients, this means Sirtex is only treating 2% of eligible patients. This 2% treatment occurs across Sirtex's global markets (the Americas, EMEA, APAC) so there is a very broad opportunity for market expansion.
Primary liver cancer (NYSE:HCC) announcement by UK National Institute for Health and Care Excellence (NASDAQ:NICE)
At the end of March Sirtex received good news from NICE which reported that it considers SIR-Spheres are an alternative to standard therapy using trans-arterial chemoembolization (TACE) or sorafenib in treating patients with inoperable primary liver cancer. This widens the market by 209,000 patients worldwide.
Cloud on the horizon?
A potential cloud on the horizon is that another company BTG Interventional Medicine (OTC:BTGYY) received a similar but broader approval for TheraSpheres, its version of Y-90 glass microspheres. In this case NICE reported it considers TheraSpheres are an alternative to standard therapy for both operable and inoperable HCC.
Trial results are critical for acceptance of this kind of treatment, so BTG is initiating a multi-Centre TARGET study to evaluate their personalised, more targeted treatment with TheraSpheres.
A key issue for me concerning this competitor is that Sirtex got its CE mark in 2002, while TheraSpheres got CE marking in 2014. That is a long time to get a competitive advantage, given that it takes forever for surgeons to adopt a technology. TheraSpheres are approved in the EU, Singapore, South Korea and Canada for treatment of hepatic neoplasia (liver cancer). In the US TheraSpheres have approval under a Humanitarian Device Exemption (HDE) for use in radiation for inoperable liver cancer with special conditions.
Balanced against this is that TheraSpheres has been able to observe Sirtex, and they may have incorporated innovations. I don't know enough about the technology to be able to assess whether BTG's use of glass microspheres has advantages over the Sirtex resin to encapsulate the Y-90.
Kidney trial completes patient enrolment, initial results expected at end of 2016
In news just in Sirtex announced the completion of enrolment in its RESIRT study investigating SIR-Sphere Y-90 resin microspheres for treating primary Renal Cell Carcinoma (RCC) which is the most common kidney cancer. 21 patients are enrolled in a dose escalation study with the primary endpoint being safety and toxicity, with secondary endpoints being tumor response rates. With initial results by the end of the year, this will give some indication of whether the SIR-Sphere therapy will have utility in treating kidney cancer. Thus far SIR-Sphere treatment has been limited to the liver.
Plans for the next 5 years
Sirtex reports three growth opportunities in the next 5 years:
1) Expand SIR-Spheres to treat primary & secondary liver cancer, kidney and other cancers
2) Continue R&D to further develop the SIR-Spheres technology and adopt new (un-named) platform technologies
3) M&A activity to add value to existing product and use the Sirtex capabilities and infrastructure to broaden product offerings.
The above programs will be conducted in the context of a company that has a long term record of performance and growing a complicated product offering.
Conclusion
Sirtex is a highly professional business in a space with big barriers to entry. Looking at the last few years, the business has been a very strong performer and only now is it in a position to aggressively grow its patient base. With only 2% of prospective patients treated, there is a lot for room for growth, even though it no longer has the space all to itself. The company is actively exploring expanding its treatment base with near term expectations about expanding the treatment to include kidney cancer.
The opportunities for significant positive share price performance in the near future seem excellent. It would be disappointing if Sirtex doesn't see a $A40 share price in 2016 and the potential seems good for outperformance. Of course investors need to do their own due diligence and exercise their own judgment, as I am not a financial advisor.
Disclosure: I am/we are long SXMDF.
I wrote this article myself, and it expresses my own opinions. I am not receiving compensation for it (other than from Seeking Alpha). I have no business relationship with any company whose stock is mentioned in this article.
Editor's Note: This article discusses one or more securities that do not trade on a major U.S. exchange. Please be aware of the risks associated with these stocks.