Just over a month ago I wrote an article called " A REIT Portfolio For Average Joe". In that article I explained that "in general terms, owning a REIT basket based on market cap weighted indexes is not going to produce the same wealth building characteristics as owning a more tactical REIT basket would".
As I pointed out, "I have found over time that there are generally two types of investors - those who we call "DIYs" - or do it yourselfers - and those more passive investors who prefer buying their own baskets".
One of the things that I do here on Seeking Alpha, as well as in my newsletter (Forbes Real Estate Investor), is to assist investors with necessary research to help build a basket of high-quality dividend growing REITs.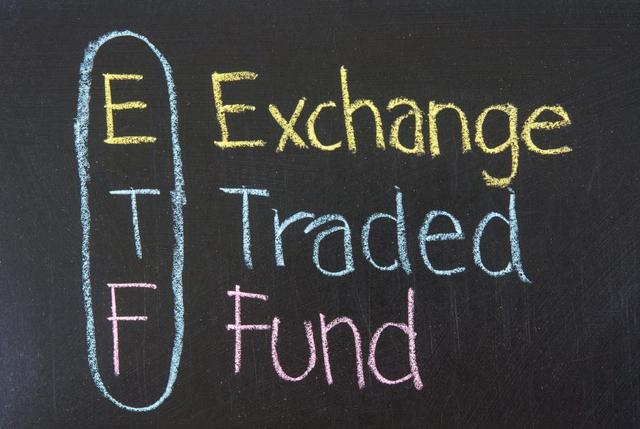 Click to enlarge
In theory, active investing is better than passive investing, but there are costs related to active management. That means hiring a portfolio manager, a stock broker, or even spending time on research - something that I do around 90% of my waking time.
When you seek out a portfolio manager there are generally higher costs as the fund manager must garner returns to cover the costs before the investor begins to see performance kick-in.
But for the "average Joe" it becomes even more difficult to hire professional REIT managers so it becomes a choice of either "doing it yourself" or selecting a REIT ETF.
Recognizing that there are quite a few investors who are limited with time and/or money to build their own basket of REITs, I decided to include a quarterly REIT ETF Lab in my Forbes Real Estate Investor newsletter. In the upcoming edition (May 2016) I will provide a rundown on around 30 REIT ETFs.
Don't' worry, I'm still going to maintain my core REIT research model - both on Seeking Alpha and Forbes - but I recognize that ETFs offer powerful diversification attributes while also reducing portfolio volatility, allowing investors to execute simple, passive investment strategies.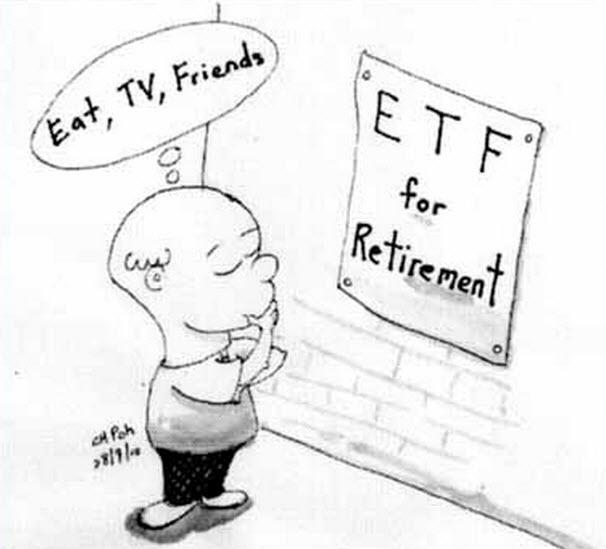 ETFs aren't just for "Average Joe's", they have a broad base of growing admirers - their simplicity attracts both retail investors and financial advisors. ETFs are simple to explain to clients, and they limit the amount of career risk for advisors who can blame the movements of broad indices, not their own stock-picking ability.
Always remember, an ETF portfolio will perform in line with the indices, and the advisor can also charge fees in addition to the underlying ETF fees. The ability to mimic the indices, without the risk of deviating far from them, has been a boon for financial advisors.
Keep in mind, there is a difference between index underperformance and underperformance from asset allocation. An ETF portfolio can underperform due to misallocation between sectors or asset classes on the part of financial advisors. Since there will typically not be noticeable index underperformance in an ETF portfolio, the chances of the advisor being fired are minimized.
That is, unless the client or advisor has a copy of my newsletter.
As I said, I provide a comparison of the Top 30 REIT ETFs and include valuable research data including fees charged, top 10 REITs, dividend yield, YTD performance, and other benchmarks. Armed with research, it's also possible to become an Intelligent REIT ETF Investor too.
It is a beautiful thing: Gaining market exposure without the risk of significant underperformance, without the necessity to understand company specific fundamentals, and without having to pay for active management.
But there's never a free lunch, when it comes to investing, and even though Average Joe may be enjoying his days on the golf course, it's important to check his REIT ETF scorecard on a regular basis.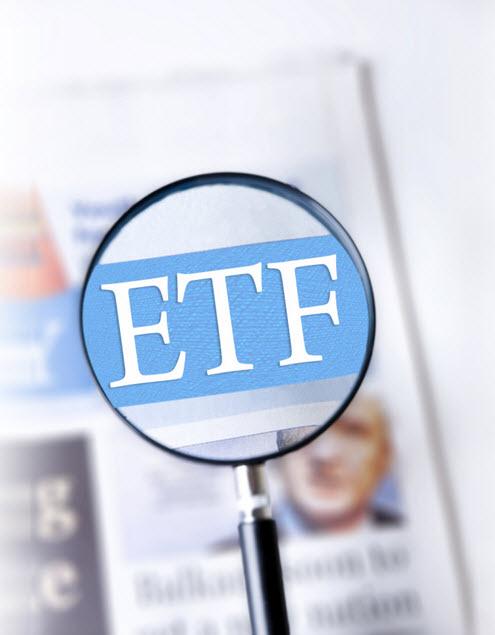 The REIT ETF Scorecard
I'll provide all of my research in my newsletter; however, I wanted to provide Average Joe with a summary of year-to-date performance. Here's a snapshot of the Top REIT ETFs (that I cover in my research lab), based on YTD Total Return performance:

Click to enlarge
Many of you may not know much about these REIT ETFs so I will provide a quick summary of the top 4 (based on YTD Total Return). As you can see (NASDAQ:SRET), (NYSEARCA:KBWY), (NYSEARCA:URE), and (NYSEARCA:VNQ) are the top performers YTD. Also, as you can see below, (NYSEARCA:IYR) and are the "big dogs" with around 7.7 billion in trading volume (3 months) compared with the others.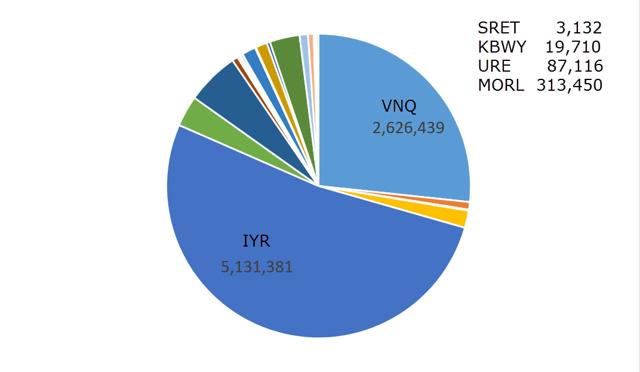 Click to enlarge
The top REIT ETF year-to-date is Global X SuperDividend REIT ETF . This fund invests at least 80% of its total assets in the securities of the underlying index and in American Depositary Receipts ("ADRs") and Global Depositary Receipts ("GDRs") based on the securities in the underlying index.
The underlying index tracks the performance of REITs that rank among the highest yielding REITs globally, as determined by Solactive AG, the provider of the underlying index. The fund is non-diversified. Here's a snapshot of the top 10 holdings: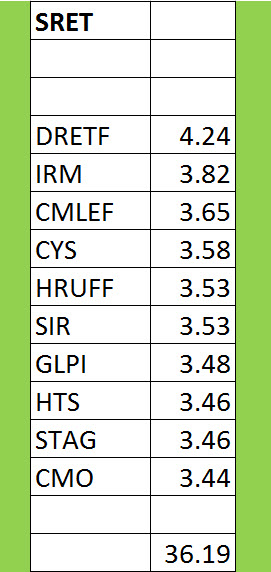 The second top performing REIT year-to-date is PowerShares KBW Premium Yld Eq REIT ETF . This fund generally invests at least 90% of its total assets in the securities of small- and mid-cap equity REITs in the United States that comprise the underlying index. It generally invests in all of the securities comprising the underlying index in proportion to their weightings in the underlying index. Here's a snapshot of the 10 holdings: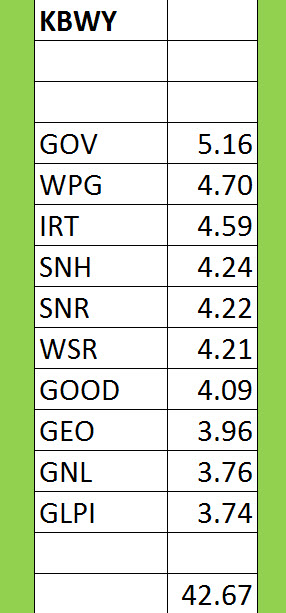 The third best performing REIT ETF is ProShares Ultra Real Estate and this fund is unique since its not a traditional REIT ETF, this fund invests in securities and derivatives that ProShare Advisors believes, in combination, should have similar daily return characteristics as two times (2x) the daily return of the index.
The index measures the performance of the real estate sector of the U.S. equity market. Component companies include, among others, real estate holding and development and real estate services companies and REITs.
The fourth best performing REIT ETF is UBS ETRACS Mthly Py 2xLvg Mortg REIT ETN (NYSEARCA:MORL). The index tracks the overall performance of publicly-traded mortgage REITs that derive at least 50% of their revenues from mortgage-related activities. The Securities are senior unsecured debt securities issued by UBS AG (NYSE:UBS). The Securities provide a monthly compounded two times leveraged long exposure to the performance of the Index, reduced by the Accrued Fees.
In case you didn't know, MORL is a screaming "sucker yield".

Click to enlarge
The fifth best performing REIT ETF, and also one of the most popular, is Vanguard REIT ETF . With over $57 billion in assets this fund employs an indexing investment approach designed to track the performance of the MSCI U.S. REIT Index. The index is composed of stocks of publicly traded equity REITs.
The fund attempts to replicate the index by investing all, or substantially all, of its assets in the stocks that make up the index, holding each stock in approximately the same proportion as its weighting in the index. Here's a snapshot of VNQ's Top 10 holdings: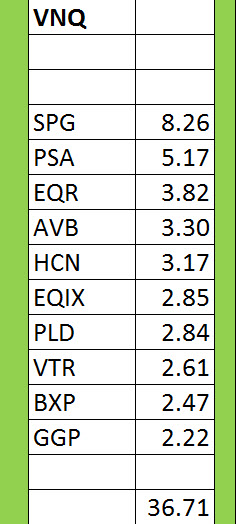 In conclusion, there are many varieties of ETFs it's important to research REIT ETFs just as you would the underlying properties owned by a REIT. The top performing REIT ETF, SRET, owns a number of REITs that I own, such as Iron Mountain (NYSE:IRM) and STAG Industrial (NYSE:STAG).
However, the fund also owns a number of higher-leveraged and more volatile mortgage REITs that I would not own, such as CYS Investments (NYSE:CYS), Capstead Mortgage (NYSE:CMO), and Hatteras Financial (NYSE:HTS).
In addition, the second best performing REIT ETF, KBWY, owns a number of REITs that I consider higher risk including Government Property Trust (NYSE:GOV), Senior Housing Properties (NYSE:SNH), and Gladstone Commercial (NASDAQ:GOOD), allow which are eternally-managed (and underperform traditional internally-managed REITs).
Also, KBWY owns several higher risk REITs that I also own including New Senior (NYSE:SNR), Whitestone (NYSE:WSR), and W.P. Glimcher (NYSE:WPG). The difference is that I own a modest number of shares in these REITs, whereas KBWY has a majority of higher risk REITs and is subject to out-sized volatility.
It's easy to see why VNQ is such a popular REIT ETF alternative. The fund owns a majority of high-quality REITs and while the overall performance will likely be mediocre, that's what Average Joe is looking for, after all he's "average" Joe.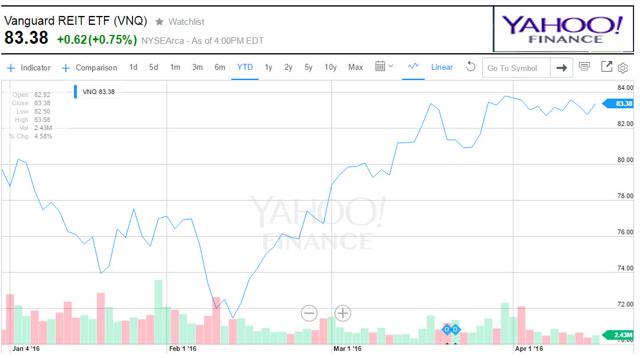 Click to enlarge
Author's Note: I'm a Wall Street writer, and that means that I am not always right with my predictions or recommendations. That also applies to my grammar. Please excuse any typos, and I assure you that I will do my best to correct any errors if they are overlooked.
Finally, this article is free, and my sole purpose for writing it is to assist with my research (I am the editor of a newsletter, Forbes Real Estate Investor) while also providing a forum for second-level thinking. If you have not followed me, please take five seconds and click my name above (top of the page).
The only guarantee that I will give you is that I will uncover each and every rock I can in an effort to find satisfactory investments that "upon thorough analysis promises safety of principal and satisfactory return. Operations not meeting these requirements are speculative." (Ben Graham).
Sources: Yahoo Finance.
Disclaimer: This article is intended to provide information to interested parties. As I have no knowledge of individual investor circumstances, goals, and/or portfolio concentration or diversification, readers are expected to complete their own due diligence before purchasing any stocks mentioned or recommended.
Disclosure: I am/we are long O, DLR, VTR, HTA , STAG, GPT, ROIC, HCN, OHI, LXP, KIM, WPC, DOC, EXR, MYCC, BX, TCO, SKT, UBA, STWD, CONE, BRX, CLDT, HST, APTS, FPI, CORR, NHI, CCP, WSR, CTRE, WPG, KRG, SNR, LADR, HCP, PEB.
I wrote this article myself, and it expresses my own opinions. I am not receiving compensation for it (other than from Seeking Alpha). I have no business relationship with any company whose stock is mentioned in this article.