On Monday, National Oilwell Varco (NYSE:NOV), the leading US maker of oilfield services equipment which has been struggling in the ongoing oil crash, slashed its quarterly dividend by 89% from $0.46 to $0.05 per share, citing "market conditions which continued to deteriorate through the first quarter of 2016." But the latest report from the International Energy Agency suggests improvement in market conditions as soon as the second half of this year.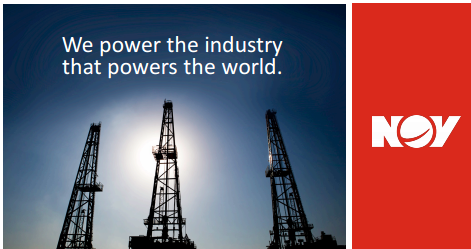 Image: National Oilwell Varco presentation
National Oilwell Varco has seen its revenues drop to $2.7 billion in the fourth quarter of 2015 from $5.7 billion a year earlier. In the latest update, the company predicted 20% sequential drop in revenues for the first quarter of the current year, which implies almost 55% year-over-year drop to $2.18 billion. The company has also closed nearly 75 plants and reduced its workforce by more than a quarter since the start of 2015, and is expecting further cuts in the future.
The dividend cut is painful for income-seeking investors, but it's not going to significantly damage the company's reputation or investor's sentiment. National Oilwell Varco is a well-run and well-respected company with a talented management team that has been operating for decades, but it is not exactly a high-yielding dividend champion. Prior to the ongoing downturn, National Oilwell Varco stock offered an average yield of close to just 1%. Moreover, unlike a number of other energy companies that have set dividend maintenance as their "top priority", National Oilwell Varco has made no dividend-related promises. In fact, during its conference calls, the company has talked about "increasingly uncertain environment" that has "very little near-term visibility."
But for the street, the large dividend cut was still surprising. Even Credit Suisse's James Wicklund, who has been one of the most bearish analysts on the oil and gas equipment and services sectors and has maintained an underperform rating on National Oilwell Varco since early 2015, wrote in a research report emailed to me that he saw a dividend "cut as unlikely near-term."
That's because despite deteriorating top and bottom-line, the Houston, Texas based company has maintained a strong balance sheet. It has one of the least levered balance sheets in the industry. At the end of last year, National Oilwell Varco had the third lowest debt-to-equity ratio among S&P-500 energy and material companies. The company has said that it has reduced its total debt by more than $500 million in the first three months of this year. It could, therefore, retain its position as one of the least levered oilfield equipment and services companies. It had a strong $5.7 billion of liquidity, including $2.1 billion cash.
Moreover, National Oilwell Varco has been generating enough cash flows to fully fund the capital expenditure and dividends. Last year, for instance, it generated $1.33 billion in operating cash flows which compares against capital expenditure of $453 million and cash dividends of $710 million. Considering the company's habit of living within its cash flows, it could have easily withstood the downturn without cutting dividends.
Furthermore, on Thursday, the IEA said that the supply glut in the global oil market could almost evaporate by the second half of this year, which can have a positive impact on oil prices. The Paris based organization sees the excess supply dwindling from 1.5 million barrels a day in the first half to just 200,000 barrels in the second. Theoretically, a rebound in oil prices will have a positive impact on drilling activity, which will lift the demand for National Oilwell Varco's products. But practically, the demand recovery is likely going to be a very slow process, particularly for National Oilwell Varco.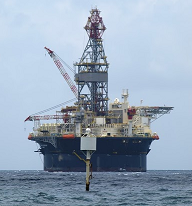 Stock image
That's because firstly, oil producers have likely become more cautious and are not going to meaningfully increase drilling activity in the initial stages of oil market's recovery. Some of the major independents who kept growing oil production until last year, like Devon Energy (NYSE:DVN), have taken dramatic steps to bolster their financial health, as I discussed previously. With oil having recently touched $27 a barrel and oil-related bankruptcies on the rise, the producers have become more focused than ever on protecting their balance sheets. I believe that even if oil prices begin to recover, the shale drillers will likely wait until a bullish trend gets firmly established before ramping up drilling activity. The demand for oil and gas equipment and services, therefore, may remain subdued even if the excess supply of oil drops significantly this year.
Secondly, National Oilwell Varco's operations are tilted towards offshore industry. Its single-largest segment, Rig Systems, gets nearly 70% of its revenues from the offshore market. This puts the company in a difficult spot since the recovery in the offshore market will likely lag the overall industry since it is more capital-intensive than the onshore market.
Thirdly, even if the drilling activity picks up, the industry is first going to utilize more than 1,350 rigs that were idled last year before ordering new units. Besides, the land and offshore drillers have cut down on costs by using equipment from inventories and stacked rigs. That means National Oilwell Varco's Rig Systems and Rig Aftermarket segments, that together generated 64% of the company's revenues last year, could remain under pressure until there's a large drawdown of rigs and spare parts inventory.
In short, although oil's outlook is improving, National Oilwell Varco's future continues to look uncertain. What we can say with a fair amount of certainty is that as oil prices improve, this company will be one of the last one's to rebound. Considering this, National Oilwell Varco needed to preserve cash in any way it can. And that's what dividend cut will do, with $615 million in cash savings each year.
Moreover, National Oilwell Varco has been talking about making a big purchase for more than a year and even increased the size of its revolving credit facility in the second quarter of last year for this purpose. The above-mentioned cash savings will come in handy whenever it makes a major acquisition.
I believe the market will react positively to such an announcement, considering acquisitions have been at the heart of National Oilwell Varco's growth strategy and that the downturn can be a great opportunity to buy depressed rivals at a great price. Leading companies like Forum Energy Technologies (NYSE:FET) one of the biggest makers of steel storage tanks, or business units of Weatherford International (NYSE:WFT), the fourth largest oilfield services company, or asset sales emerging from Baker Hughes (NYSE:BHI) - Halliburton (NYSE:HAL) merger could be on National Oilwell Varco's radar.
Disclosure: I/we have no positions in any stocks mentioned, and no plans to initiate any positions within the next 72 hours.
I wrote this article myself, and it expresses my own opinions. I am not receiving compensation for it (other than from Seeking Alpha). I have no business relationship with any company whose stock is mentioned in this article.